Hi everyone, Yvonne here with a hip textured bohemian notebook. With Scrapbook Adhesives by 3L Adhesives, it's so easy to give a plain notebook a gorgeous textured faux leather cover.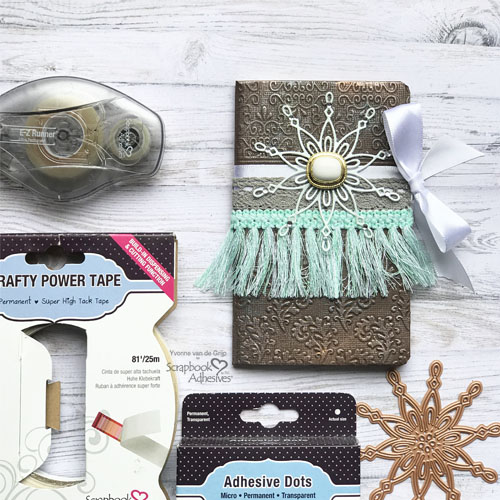 The E-Z Runner® Ultra Strong Refillable Dispenser is a great tool for an extra strong bond that a cover needs. Let me show you how!
Starting the Textured Bohemian Notebook Cover
Put a piece of chocolate brown cardstock inside a large embossing folder and run through your die-cutting and embossing machine.
Fold the cardstock to establish front and back covers. Then put some dark grey gilding wax on your finger and rub over the textured paper. Repeat with copper, silver and gold gilding wax until you get your desired worn, faux leather look.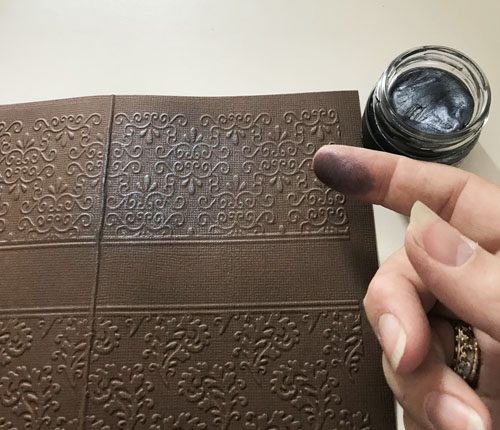 Flip your embossed/ textured cardstock with the waxed side down and lay your open notebook on top.
With a pair of scissors, cut out the tabs as shown in the photo. Start with the back of the notebook and repeat for the front.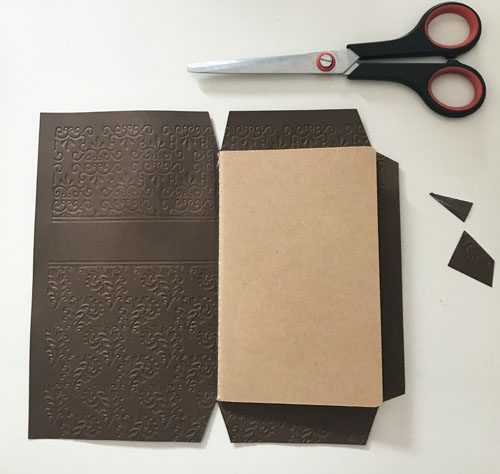 Next, apply the E-Z Runner® Ultra Strong to cover the backside of the cut cardstock piece. Start adhering the back of the notebook to the textured cardstock and fold the tabs to the inside of the cover, as shown below. Repeat for the front of the notebook.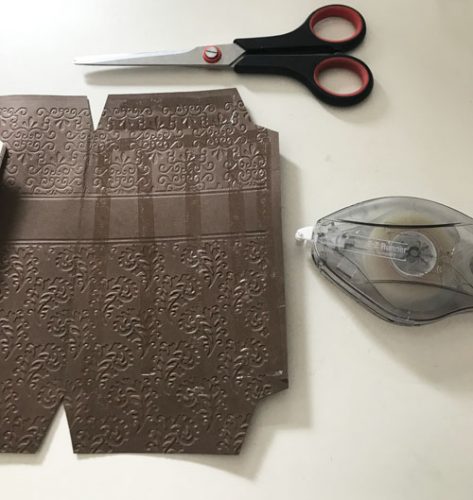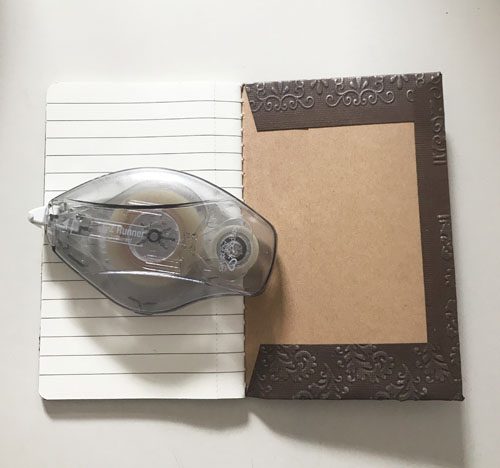 Add Ribbon and Trim
Use Crafty Power Tape to adhere white satin ribbon to the front and back of the notebook. Make sure the ends are long enough to make a bow, which will be tied later on.
Adhere a piece of grey lace below the white satin ribbon. Next, a piece of fringed trim under the grey lace. All are secured with the Crafty Power Tape.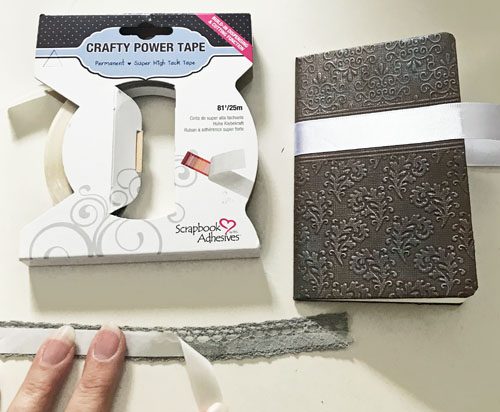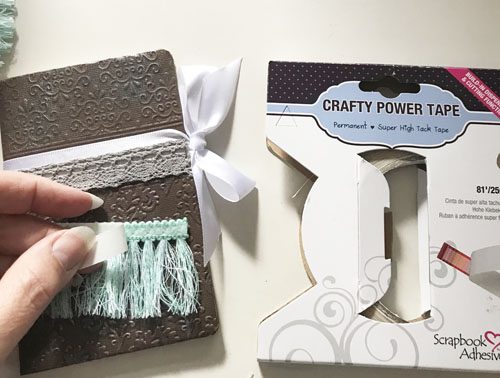 Finishing Touches
Die-cut a star-shape from soft green metallic cardstock and adhere it to the notebook using Thin 3D Foam Squares White Mix.
Then adhere a button to the star's center with Thin 3D Foam Squares White Mix and tie a bow with the satin ribbon.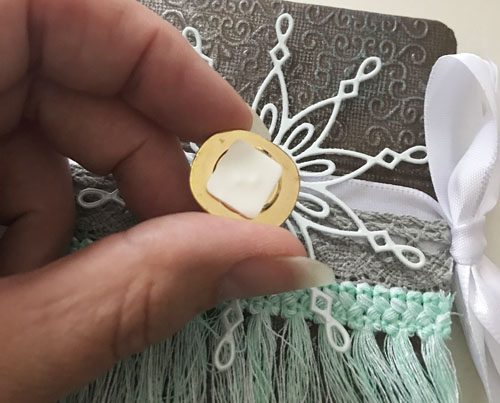 Finally, adhere rhinestones to the star's ends with Adhesive Dots Micro.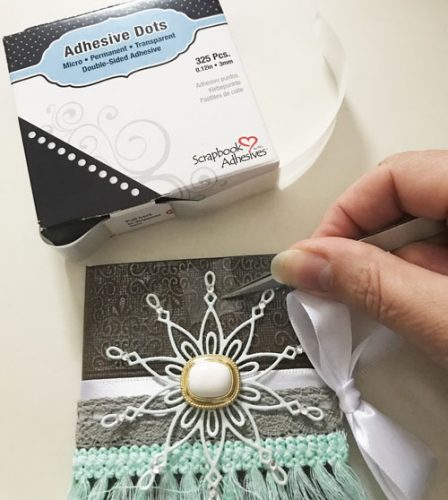 And voila…your DIY Textured Bohemian Notebook Cover is ready!
Wishing you happy crafting,
Yvonne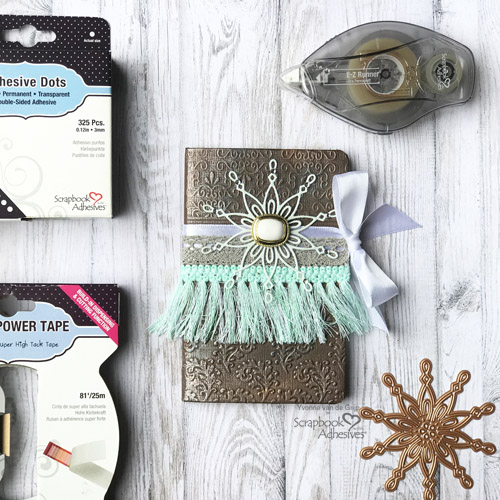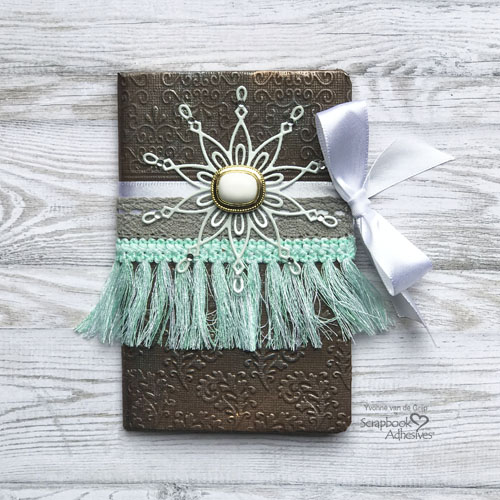 Creative Time: 40 minutes
Skill Level: Intermediate
Materials Needed
Scrapbook Adhesives by 3L®
E-Z Runner® Ultra Strong Refillable Dispenser
Crafty Power Tape Dispenser 81ft
Thin 3D Foam Squares White Mix
Adhesive Dots Micro
Other
Embossing Folder (Crafter's Companion: Die'sire 8"x8"Embossalicious Elegance); Die-cutting and Embossing Machine (Spellbinders® Paper Arts: Platinum Die Cutting and Embossing Machine 8.5"Platform); cardstock (Chocolate Brown, soft green metallic); Gilding Wax (Coosa Creative); Ribbon (White Satin, grey lace, green fringed); self-adhesive Rhinestones; Button; Scissors
Love It. Pin It!