Hi friends! Dana Tatar here today sharing a scrapbook layout that was inspired by the night sky. My husband and two daughters are the shining stars in my life. I created my own constellation for a scrapbook layout using their photos, 3D Foam Stars, and Holographic Metallic Transfer Foil Sheets.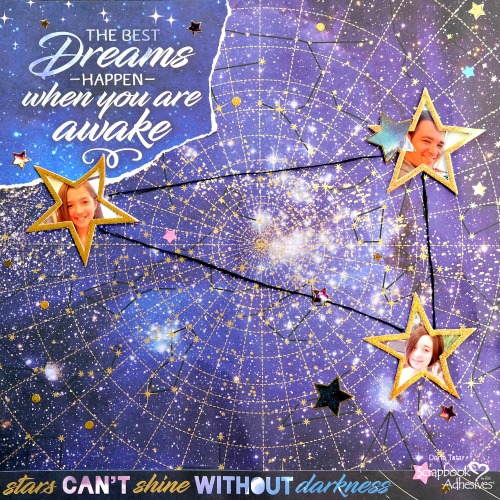 Making Frames with Foiled 3D Foam Stars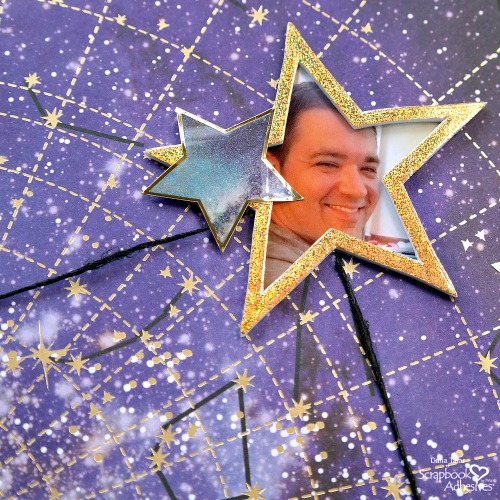 Start by printing wallet size photos and place 3D Foam Stars onto them. Next, cut around the outer edge of the shape, creating a star-shaped photo frame. Secure them to the layout using the E-Z Runner Ultra Strong Refillable Dispenser. To add gold sparkle, I peeled off the top paper liner, pressed the gold Holographic Transfer Foil onto the adhesive, and then gently lifted the foil away from the foam.
The three star photos are connected with black twine and secured to the page using the Dual Tip Glue Pen. I created my own constellation to mimic the print of the patterned paper.
Adding Texture and Dimension with Layers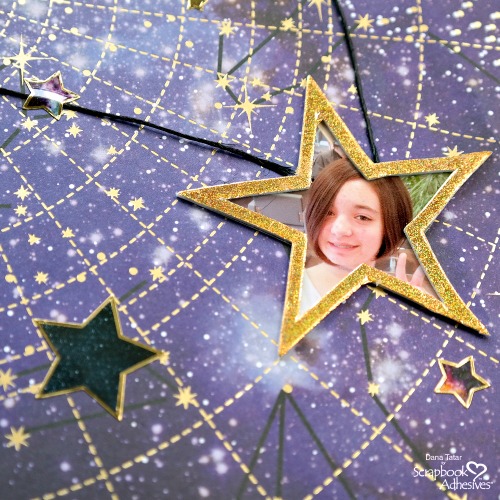 Stickers are a great way to add a second layer to a design without adding extra bulk. I applied several sizes of gold-edged stickers to help add depth to the galaxy background.
Tearing, instead of cutting patterned paper adds contrast to the page. The raw edge of the paper helps to balance the sparkly foil accents on the scrapbook page.
An Adhesive Dot Galaxy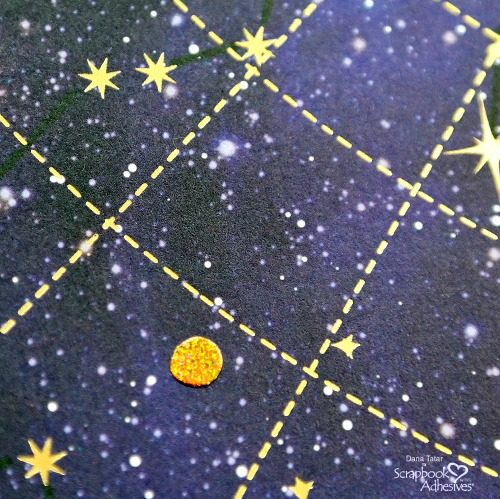 Mini Adhesive Dots make great twinkle stars! They have a strong bond that makes them perfect for intricate surfaces and small objects such as sequins and foil. I applied gold Holographic Transfer Foil (using the same method as above) to Mini Adhesive Dots placed randomly around the page.
Thanks so much for joining me today!
~Dana Tatar
Creative Time: 45 Minutes
Skill Level: Intermediate
Materials Needed
Scrapbook Adhesives by 3L®
E-Z Runner® Ultra Strong Refillable Dispenser
Adhesive Dots Mini
3D Foam Stars
Metallic Transfer Foil Sheets Holographic Colors
HomeHobby by 3L®
Dual Tip Glue Pen
Other
Patterned Paper (Paper House Productions); Stickers (Paper House Productions); Black Twine (American Crafts)
Love It! Pin It!