It's time for the Fall/Winter 2019 Coffee Lovers Blog Hop with this adorable coffee-themed traveler's notebook! As a SUPER SPONSOR, we've provided great prizes too! Grab a cuppa and join the hop with your own coffee themed artwork!
What is Coffee Lovers? It is a coffee-loving (or tea or cocoa) community of card makers open to everyone. Their blog offers inspirational coffee-related posts and bi-annual coffee blog hops that YOU can join. You get a chance to win the giveaways as a blogger! Read to the very end!
Dana shows you how she embellished this colorful notebook with Scrapbook Adhesives by 3L® products. Follow along and learn a few tips and ideas.
Coffee Lovers Traveler's Notebook
Hi, coffee loving friends! Dana Tatar here today sharing a coffee-themed traveler's notebook insert. One of my biggest challenges while traveling is finding a good cup of coffee. Hotel coffee bars and even coffee shops can be hit or miss.
To help me get my coffee fix while on the road, I embellished a traveler's notebook insert. I used the super cute Cream and Sugar collection from Doodlebug Designs and some of my favorite Scrapbook Adhesives by 3L® products. In addition to patterned papers and embellishments, inside the insert are 15 delicious iced, hot, and spiked coffee recipes. No matter what I'm in the mood for, I have a yummy brew to pair it with!
Embellishing with Felt and 3D Foam
I started this project with a blank notebook and then added embellishments. It is fun to create an insert from scratch using patterned paper. Please read how to create a Traveler's Notebook from scratch if you want to DIY the entire TN.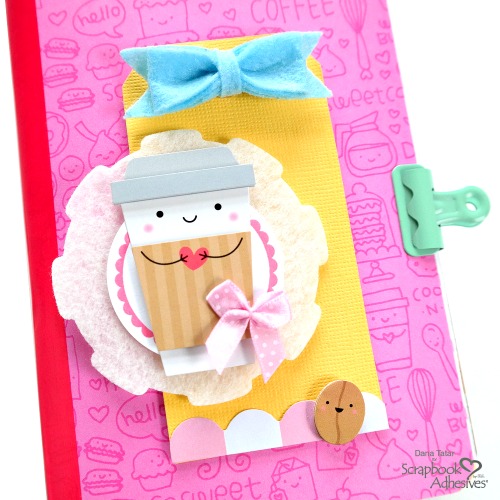 I had a lot of fun embellishing the cover of this notebook! First, I used the E-Z Runner® Ultra Strong Refillable Dispenser to apply patterned paper to the front and back covers. Next, I created a layered tag for the cover. I stacked die-cut tags and felt pieces between layers of Thin 3D Foam Squares. Thin 3D Foam is a great way to add a subtle dimension when space is limited. The layers of felt help add texture and are also strong enough to hold up inside the notebook.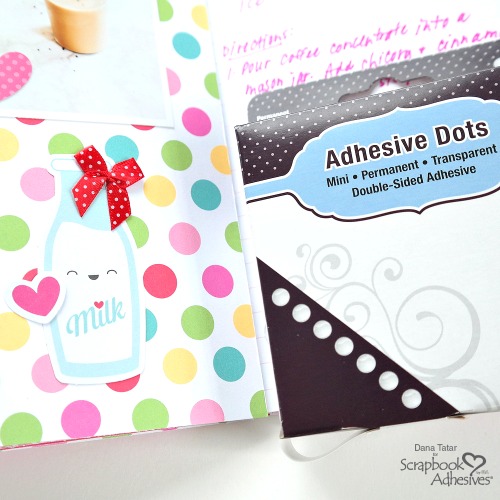 Mini Adhesive Dots are perfect for securing tiny bows and small die-cuts to notebook and planner pages.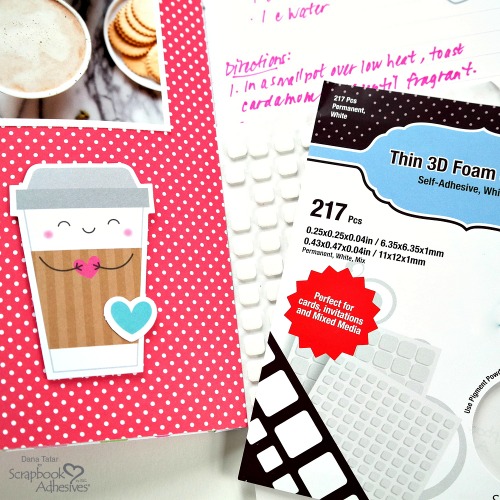 Thin 3D Foam Squares add a subtle dimension to die-cuts when space is limited. Thin 3D Foam Squares are half the height of the standard 3D Foam. The high-density foam will not crush and maintains a strong permanent bond no matter what media you use!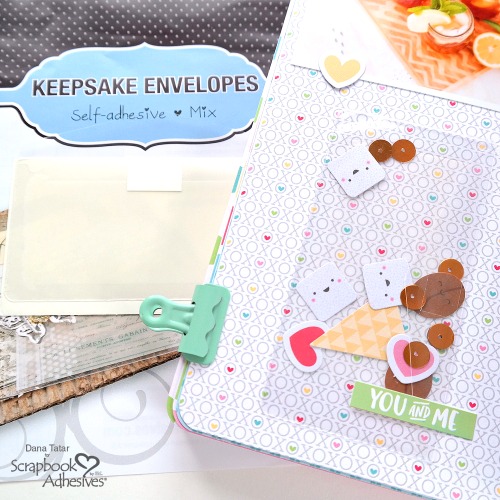 Create an Easy Shaker
Tuck die-cuts and sequins inside Keepsake Envelopes to create a fast and tidy shaker pocket. Simply insert items into the envelope and close with the resealable flap. Your embellishments are secure yet accessible in a see-through envelope with clear, permanent adhesive on the back side.
Thanks so much for stopping by today! If you're looking to try some new coffee recipes, I'd love to have you stop by my blog. I share links to all 15 of the recipes I included in my traveler's notebook.
Keep reading for the Coffee Lover's giveaway details!
Until next time!
~Dana
Creative Time: 90 minutes
Skill Level: Intermediate
Materials Needed:
Scrapbook Adhesives by 3L®
Thin 3D Foam Squares White Mix
E-Z Runner Ultra Strong Refillable Dispenser
Adhesive Dots Mini
Keepsake Envelopes Mix
Other
Traveler's Notebook Insert; Stickers (Doodlebug Designs); Die-Cuts (Doodlebug Designs); Patterned Paper (Doodlebug Designs); Felt Bow (Prima); Tag (Core'dinations); Binder Clip (Heidi Swapp); Coffee Epoxy Clips (Paper House Productions); Coffee Paper Clips (Doodlebug Designs); Mini Bows
Click the button to participate, and/or see more ideas and inspiration
If you can't find the comment section at the bottom of this post, click on this button and scroll down to the bottom of the post and leave a comment.
Save It on Pinterest!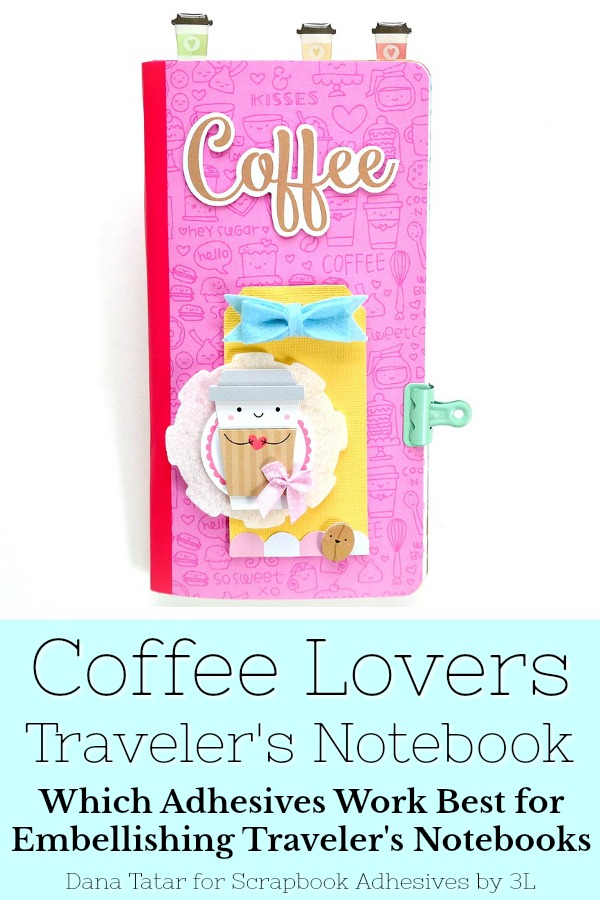 Let's Connect!