A quick shopping trip into my stash resulted in a shadow box, some paint, velvet paper and an idea to make a witch look like she was flying!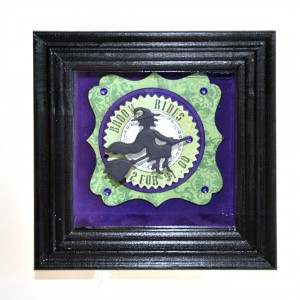 To start, I painted the frame of the shadow box with glossy black acrylic paint and set it aside to dry.  I spelled out "BROOM RIDES" and "2 FOR $1.00" and stamped onto patterned paper with black ink.  I stamped a round border onto white paper.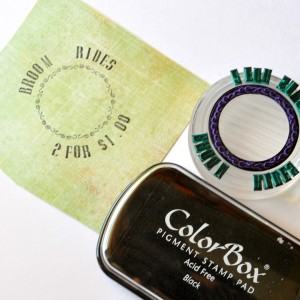 I die cut and embossed the stamped images, along with a few other sizes and shapes of Spellbinders die templates. One of the circle die cuts is the purple velvet paper.  Now this is kind of flimsy, so I backed it with cardstock to give it some stability.  I placed the cardstock piece onto an Adhesive Sheet.  I peeled off the backing and added the back of the velvet paper, then die cut and embossed it.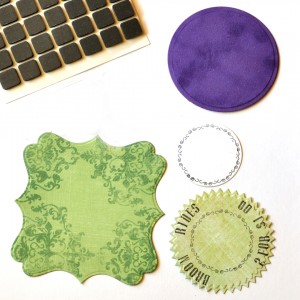 I applied Black 3D Foam Squares to the back of each die cut including one in the center of each.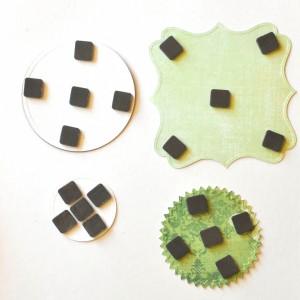 For the largest die cut, I stacked two 3D Foam Squares, one on top of the other, to give it just a bit more of a lift off of the back of the shadow box.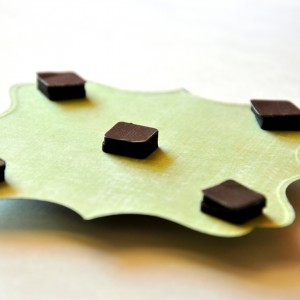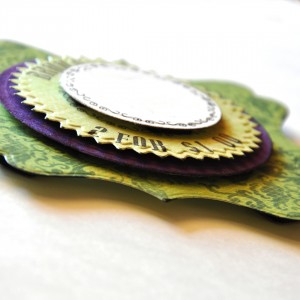 Once the paint was dry I applied Crafty Power Tape to the wood on the inside back and sides of the box.  I trimmed the velvet paper to fit and adhered to the inside of the shadow box.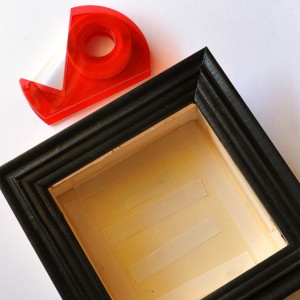 Next I added some bling to the die cuts, and then adhered the stack to the back of the box.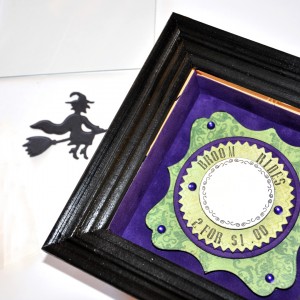 I placed a piece of black cardstock onto an Adhesive Sheet, and then die cut/embossed this for the flying witch.  The glass was slid into position in the box and I centered the witch over the white circle, onto the front of the glass.  Now she looks like she's really flying!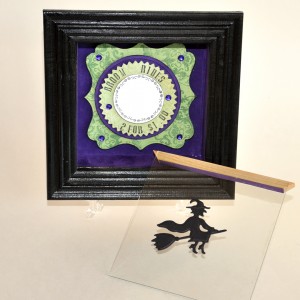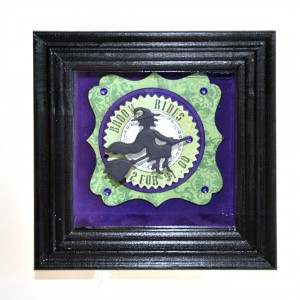 I used Crafty Power Tape to adhere paper to wood, velvet paper and glass in creating this whimsical shadow box.  3D Foam Squares add depth between elements.
Thanks for stopping by!
Supplies:
SCRAPBOOK ADHESIVES BY 3L – Crafty Power Tape, Black 3D Foam Squares, Adhesive Sheets
Spellbinders – Grand Calibur, S4-301 Labels Sixteen, S4-116 Standard Circles SM, S4-172 Pinking Circles SM, S4-282 Witches Brew
JustRite Stampers – Round Stamper, Brayton 25 pt. Font, Border
Clearsnap – Colorbox Black Pigment Ink
Fancy Pants Designs – Trick or Treat Collection, Haunted Mansion paper
WorldWin – Treasures White, Black Cardstock
Creative Impressions – Bling
Velvet Paper, Wood Shadow Box, Black Paint
Save
Save
Save