Tami here today with a quick and easy card that can be made in minutes using the new MyStik™ adhesives and a few 3D Foam Squares.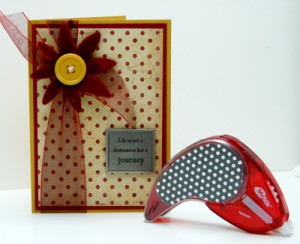 Here are the supplies I began with: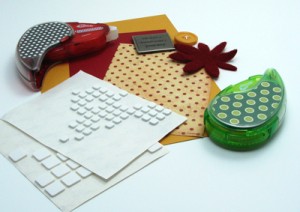 I began by lining the edges of my patterned paper with the re-positionable MyStik™. I was planning on stitching the edges so I chose this particular adhesive for a couple of different reasons. I like to have my papers in place and not have to worry about them slipping while I am sewing. By using the repositionable adhesive I won't gunk up my needle if I get it too close to the edge. In addition, many times I like to curl the edges after I stitch (especially is it's not straight!). With the repositionable adhesive I don't have to worry about adhesive showing from the underside. It simply rubs off.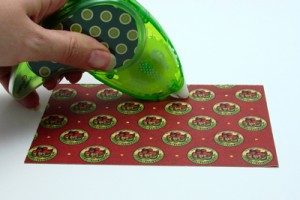 After stitching the pattern to the dark red panel I lined the back with the permanent MyStik™. This is great for adhering the piece but also to hold any loose ends that may be left from stitching.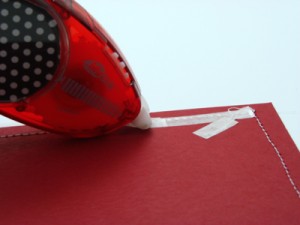 Once the base was created I added my metal greeting. These embellishments were designed to be set with an eyelet tool. I am not a fan of this type of attachment so I simply apply mini foam squares to the corners. This gives it a good strong hold and makes it sit high enough that the metal sticking out on the back doesn't come in contact with the paper.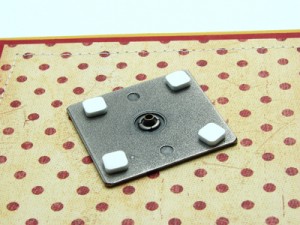 Next, the flower. I ran thread through the holes and the ends with a 3D Foam Square. I then layered it onto the flower.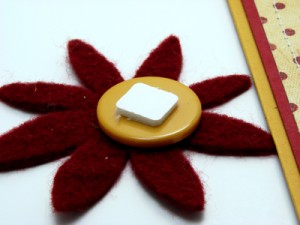 Finally, the card was wrapped with ribbon, the flower attached with another 3D Foam Square and it's done!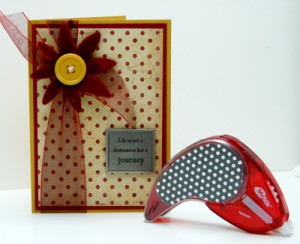 Thanks for stopping by!
Tami Mayberry
Save