I fell in love with the bright colors of this paper, and I love the trendy banners I've been seeing.  Layers and dimension add so much to the project and allow you to see the contrast between patterned paper and solid colors. Glitter and bling make it festive and fun, glitter is a great way to dress up a plain supply.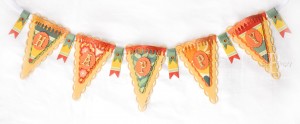 I used SCRAPBOOK ADHESIVES BY 3L products to assemble the banner.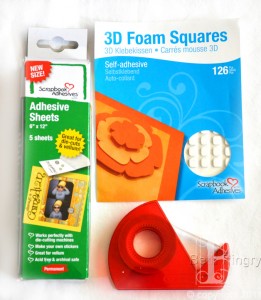 The banner is created from die cuts that I cut/embossed in the Spellbinders™ Grand Calibur™ machine and die templates. All the die templates to create one pennant fit on the plate and cut/emboss in one pass, making this a quick project!!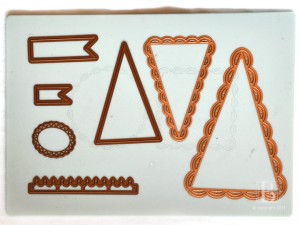 1.       Arrange die templates on Grand Calibur Base Plate, cover each with paper, die cut and emboss.
2.       Assemble pennants with largest size on the bottom, using 3D Foam Squares to adhere layers.
3.       Place small 3D Foam Square at the ends of the banner toppers, adhere so that the topper arches over the pennant.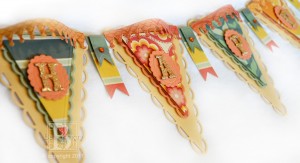 4.       Cut letter stickers and backing from packaging, keep stickers on the backing.  Cover the top of letters with an Adhesive Sheet and rub to cover the top of the letter with adhesive.  Sprinkle glitter over the top of letters.
5.       If glitter gets under the sticker, place it on an adhesive sheet to make it stick to the Beaded Oval die cut.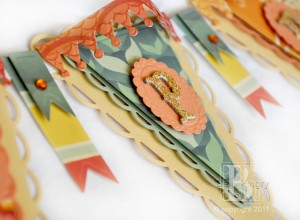 6.       Weave ribbon through the sides of the lacey pennants, leaving some space for the little paper ribbons.
7.       Layer the paper ribbons with 3D Foam squares, add Bling to top layer.  Adhere to the fabric ribbon with Crafty Power Tape, evenly spaced between pennants.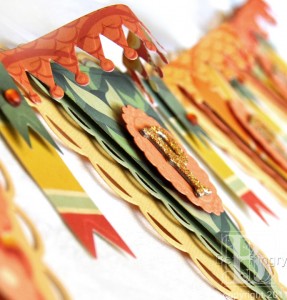 Supplies:
SCRAPBOOK ADHESIVES BY 3L: Adhesive Sheets, 3D Foam Squares, Crafty Power Tape
Spellbinders: Grand Calibur, S4-294 Beaded Ovals, S5-028 Nested Pennants, S5-029 Lacey Nested Pennants, S5-046 Banner Basic Three Topper
Clearsnap: Bits of Bling: Bright smooth Circle bling orange
Sparkle N sprinkle: Sunset Semi-Transparent Glitter
Cosmo Cricket: Salt Air – Sea Garden Fish Tales, Deck Chairs, Coral Bloom
WorldWin Papers:  Treasures (Honey), ColorMates ( Deep Caribbean Coral, Med Spring Green)
Ribbon:  Michaels
American Crafts:  Thickers (Platforms chipboard)
Hang and enjoy!