Photo corners, they're not just for photos anymore! Since I opened my Design Team supply package and saw the great collection of colors, my mojo has been working overtime. Today I have two cards that use Creative Photo Corners differently.
Feeling a bit sassy, I pulled out a Crafty Secrets Heartwarming Vintage Creative Scraps sheet, the Domestic Goddess theme.  And then I dug into my Echo Park Paper collection, full of bright and playful patterns!
This first card features my mantra 'Housework Stinks'.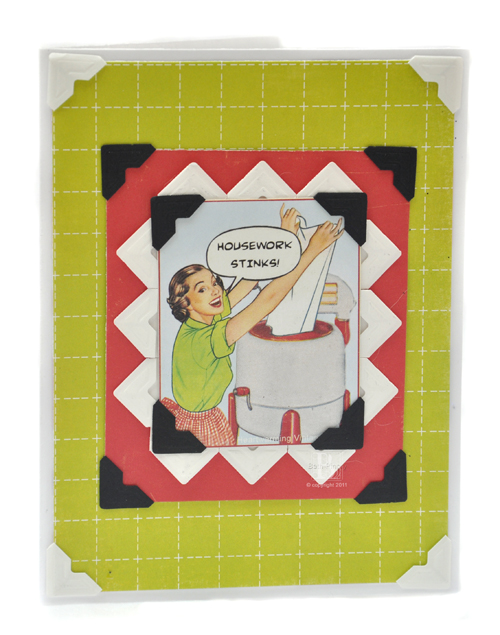 I created a frame for the image by cutting a piece of scrap paper exactly the same size as the image, applying White Photo Corners around the outside edge, and then attaching the image on top with Black Photo Corners.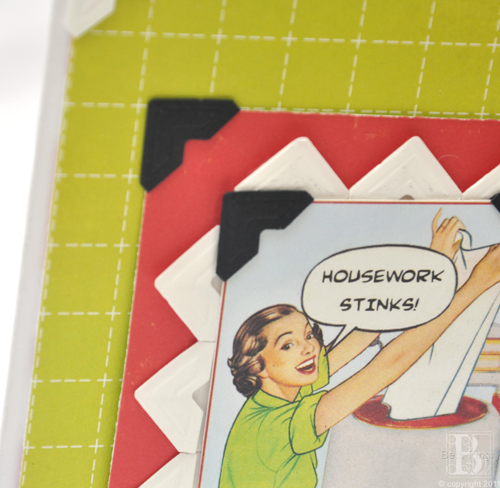 The red paper (Strawberry) is attached with a set of Black Photo Corners, and then layered onto green paper (Big Dots), and the attached to the card front with another set of White Photo Corners.
Honey-Do Guy Card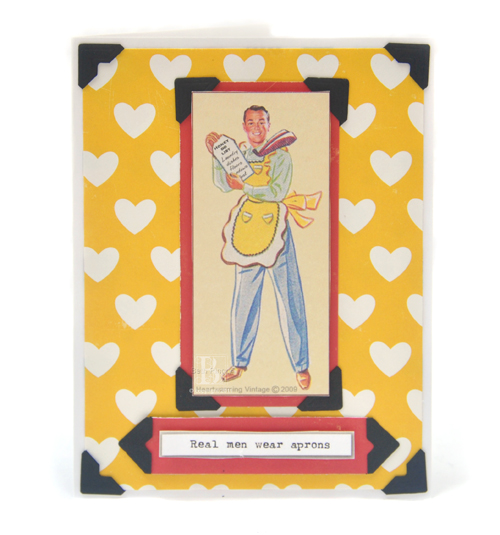 My second card starts with the Honey Do List Guy mounted onto red paper using 3D Foam Squares, then mounted onto the heart patterned paper (Cupcake Casey) and the card front with Black Photo Corners.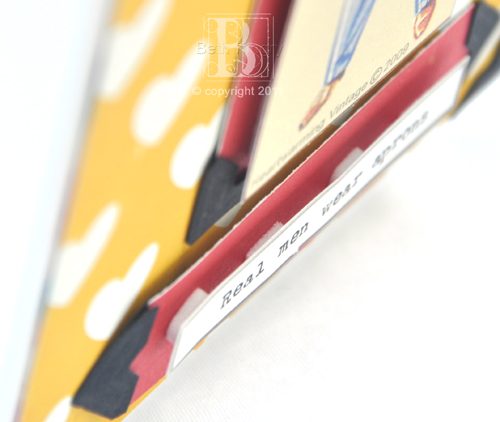 For the comment "Real Men Wear Aprons", I used scissors to snip small 3D Foam Squares in half and adhered it to a strip of red paper. I scissor trimmed the ends of the red strip to fit into Black Photo Corners.
Use Creative Photo Corners on your next project, they'll add interest and fun, and they're easy to use!
Supplies:
SCRAPBOOK ADHESIVES BY 3L™: Black Photo Corners and White Photo Corners, White 3D Foam Squares
Echo Park Paper Co.:  Little Boy "Strawberry", Summer Days "Big Dots", Little Girl "Cupcake Casey" patterned Papers
Crafty Secrets: Heartwarming Vintage Creative Scraps "Domestic Goddess"
Have a wonderful day!
Save
Save
Save