The Holidays are in full swing, and if you are like me, this means you are busy crafting and making pretty things to give out as gifts.  For today's post, I am showing you a quick and easy handmade glass block home decor gift using SCRAPBOOKS by 3L™, Epiphany Crafts, Spellbinders, and Graphic 45 products.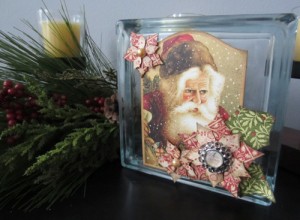 I started with a glass block from a craft store.  The vintage Santa is from the Christmas Past Frames from Graphic 45.  I punched him out, and then applied an Adhesive Sheet to the back.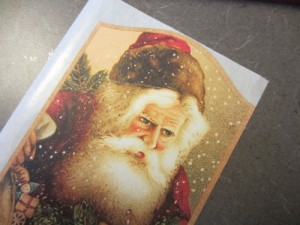 Once applied, because the adhesive is transparent, when you view the glass block from behind, all you will see it the pretty pattern on the back – NOT the adhesive 🙂  Once the Santa was applied to the block, I die cut some gorgeous poinsettias using the Layered Poinsettia die from Spellbinders.  I mixed and matched the papers and layered them using a mix of 3D Foam Squares and the NEW Thin 3D Foam Squares.  The different thicknesses allowed for a more realistic depth to the flowers.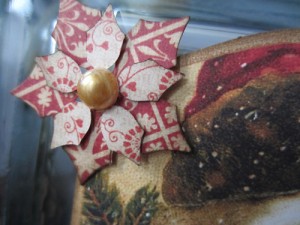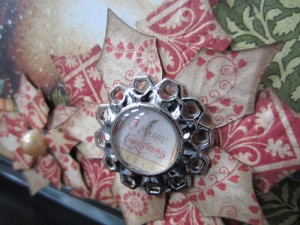 See that wonderfully vintage looking metal center? It was just the touch I needed to finish off that flower and add some visual weight to the arrangement.  The center is a custom made accent using Epiphany Crafts products!  Let me give you some tips –
First, I found an image that would work nicely with the center bubble cap –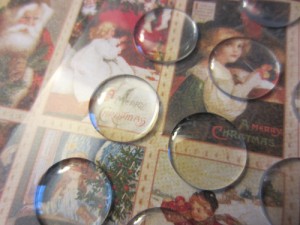 Next, and here is the important part – before using the EC Shape Studio Tool , I applied an adhesive sheet to the back of the image.  This way, once it is punched out, the back will be sticky and I can easily apply it to the metal charm setting.  The adhesive sheets are so thin, they do not add any additional bulk to the paper – so they easily punch out with the tool. 🙂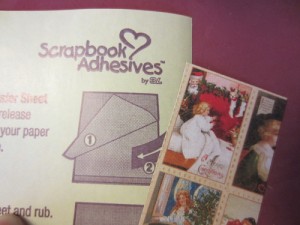 The last step is to adhere the metal charm to the center of the poinsettia – for this, I used more 3D Foam Squares. Easy Peasy.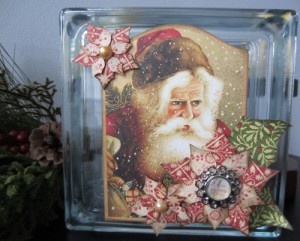 Thanks for stopping by!
Kristen 🙂
SUPPLIES
SCRAPBOOK ADHESIVES BY 3L™: 3D Foam Squares,  Thin 3D Foam Squares, Adhesive Sheets, Crafty Power Tape
Epiphany Crafts: EC Shape Studio Tool Round 14, Charm Settings Round 14, Bubble Caps Round 14
Spellbinders: Layered Poinsettia die template
Graphic 45: Christmas Past Collection
Save