Happy New Year, on behalf of everyone at Scrapbook Adhesives by 3L®, we wish you a wonderful 2014!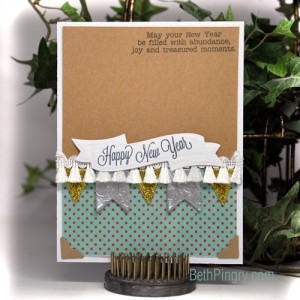 I made this card using the technique first shown by Shell Carman a little bit ago, and shown in detail in our Wear Your Adhesives on the Outside Techniques page, for heat embossing 3D Foam Custom Shapes.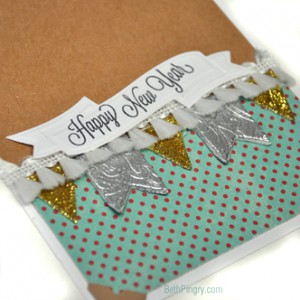 The 3D Foam Pennants are covered in gold glitter and silver embossing powder.
Thanks for coming today, and watch tomorrow for a Sneak Peek at some of our new products that will be revealed next week at the Craft and Hobby Association (CHA) show!
Also, check out my blog today for a designer blog hop, where there are lots of blogs and lots of prizes!
Cookies for Breakfast by Beth Pingry
I used these supplies: