Hello, Angela Ploegman here with a tutorial for making your own mosaic stamps as used on this sweet Valentine's Day card!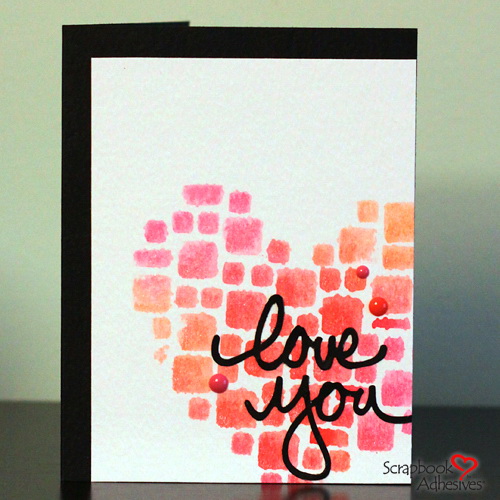 Mosaic Instructions:
1. First print a basic shape in the size you'd like to make your stamp…I used a heart shape and distorted it a bit to make it a bit less 'perfect'.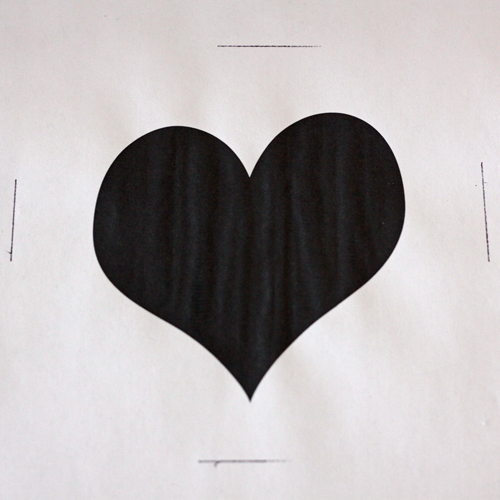 2. Lay a 6×6 piece of heavy acetate down on the printed shape.Adhere 3D Foam Squares White Regular and 3D Foam Squares White Small to the acetate, filling in the shape. I cut some of the regular sized 3D Foam Squares in half to fill some gaps.
Tip: as you can see above, I marked the four edges to allow for alignment in case things 'slipped' in process.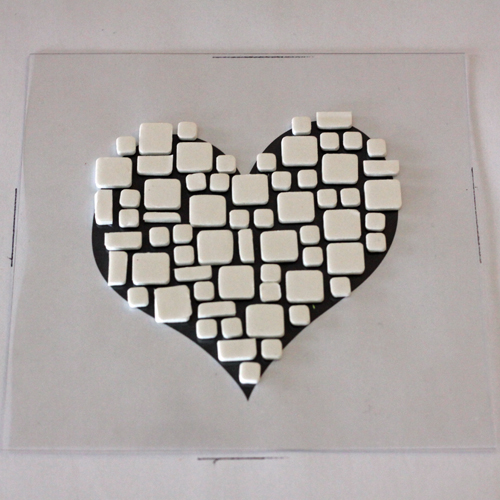 3. Remove the backing for the 3D Foam Squares. Stamp 2 or 3 colors of Distress Inks onto a craft mat of palette board, then spritz with ClearSnap Smooch Spritz in Vanilla Shimmer to blend colors. Ink the handmade stamp and place face up on a flat surface.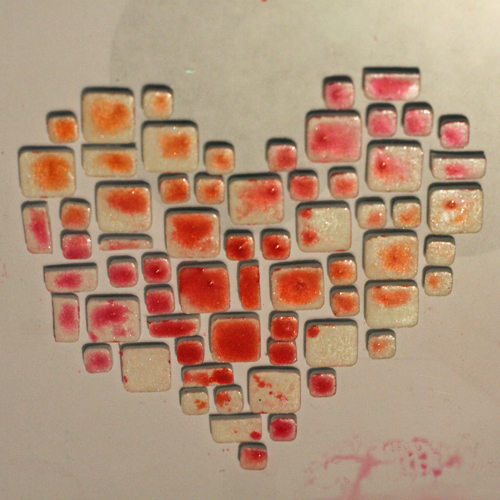 4. Wipe the excess ink from the edges of the acetate and press a piece of watercolor paper down onto the inked 3D Foam Squares. Remove paper from stamp (1st impressions don't stick at all, 2nd impressions will stick a bit, but are easily separated).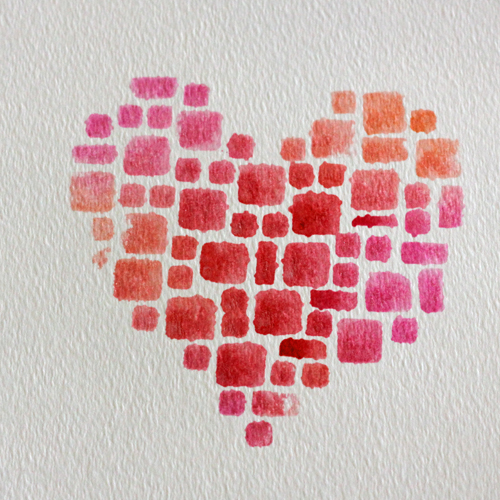 5. Trim the stamped image to 3-7/8 x 5-1/8 inches. Adhere using an E-Z Runner Permanent Strips Refillable dispenser to a 4-1/4 x 5-1/2 inch black card base.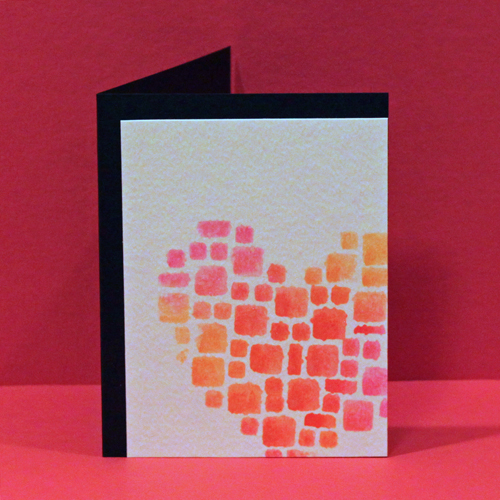 6. Add card stock sticker sentiment, changing the color with black gesso. Reinforce the adhesive layer by using an Adhesive Sheet 4×6″. Embellish with some enamel dots and you're done!
Here's a close up view of the stamped area…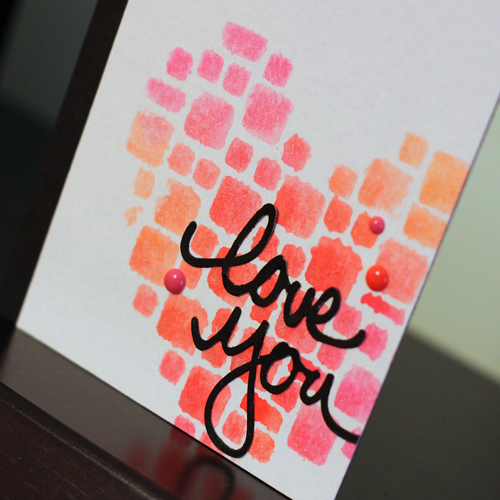 just love how this look is on trend and SO EASY to accomplish using the supplies I have on hand!
Thanks for joining me today!
Angela Ploegman
---
Follow us!
Join our email list for news, product information and giveaways!
Find us here, just click on the icons:
Scrapbook Adhesives by 3L used: 3D Foam Squares White, Regular, 3D Foam Squares White, Small, Adhesive Sheets 4×6″, E-Z Runner Permanent Strips Refillable
Other Supplies: ClearSnap Smooch Spritz in Vanilla Shimmer, Tim Holtz for Ranger Distress Inks, Bazzill Basics card stock, My Mind's Eye Enamel Dots, Jillibean Soup card stock stickers, Claudine Hellmuth for Ranger black gesso, misc. Clearscraps Acetate sheet, watercolor paper