Hello Blog Readers!
It's Angela today, sharing a trio of items I made using ALL of my favorite Scrapbook Adhesives by 3L® products and some copper leaf.
The first item in this anniversary trio is a vellum envelope filled with mini envelopes containing love notes.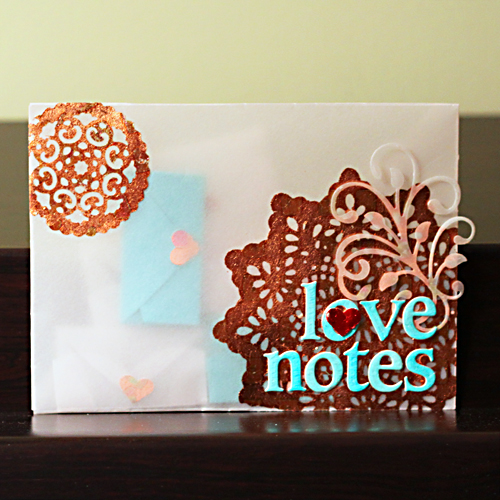 The large vellum envelope was assembled with E-Z Runner® Permanent Fine adhesive. The mini envelopes were sealed with 3D Foam Hearts covered with Copper Leaf. The doily like accents on the outside of the large envelope were die cut from Adhesive Sheets 12 x 12″ and add a perfect finishing touch!
The next item is a photo display created with 3D Foam Squares White Mix: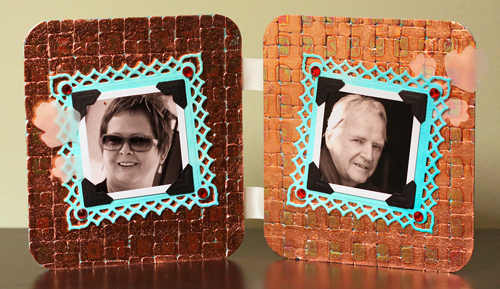 To create this look, I assemble the small and large 3D Foam Squares into a tile like pattern on turquoise card stock. When happy with the design, I removed the top backing from all the squares and applied the Copper Leaf. I tapped the Leaf down with a large paint brush and then brushed away the excess. Die cut water color paper, vellum and some Creative Photo Corners – Black finish this photo display.
Last, but not least is a simple card made with die cut Adhesive Sheets – 4×6″ and some more 3D Foam Squares: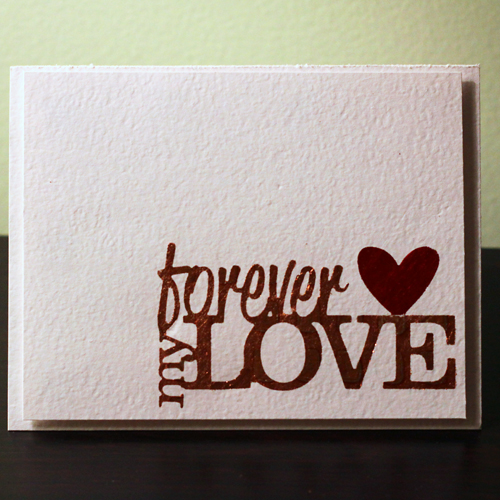 The die cut sentiment is a single cut applied to a piece of white card stock. The protective top layer of the Adhesive Sheet was cut at the base of the heart. The backing material from the sentiment was then removed and Copper Leafing applied. The backing material was then removed from the heart and red foil applied. The white card stock piece was then adhered to a white card base with 3D Foam Squares.
Thanks for stopping by today!
Scrapbook Adhesives by 3L® products used: 3D Foam Hearts, Adhesive Sheets 12 x 12″, E-Z Runner® Permanent Fine, Adhesive Sheets 4 x 6″, Creative Photo Corners Black, 3D Foam Squares White Mix
Other Supplies used: Bazzill Basics Paper card stock, Worldwin Papers vellum, Spellbinders and Tim Holtz dies, My Mind's Eye gems, May Arts ribbon, ClearSnap Red Foil, Miscellaneous Copper Leaf Sheets