Hello, Latisha here. I have been experimenting with metals (metal/aluminum sheets) the last few days. I'm not going to lie, metal sheets are a little hard for me to work with, so playing with this type of material, helps to stretch my creativity. I made this super cute money or gift card holder.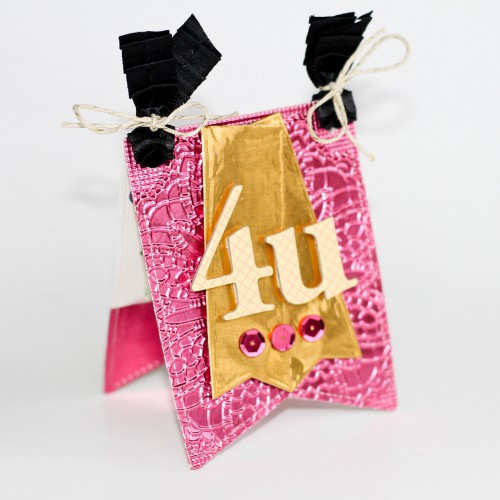 Using metal sheets, dies, a few embellishments and adhesives that I thought would work well with this kind of material, I made this bright & shiny money holder/gift card.
How to Make the Metal Money or Gift Card Holder

1.  Trim metal sheet to size (so there is no waste) and cut an Adhesive Sheet the same size.
2.  Adhesive Sheets are double sided, so carefully peel off the yellow top, and adhere it to the back of the metal sheet.
3.  Die cut the metal sheet.
4.  Die cut a piece of double sided pattern paper using the same die (you will need 2 of these).
5.  Peel off the adhesive sheet protector on the back of the metal diecut, and adhere is to the pattern paper.

6.  Diecut another piece of metal.  Cut the bottom off so its around 1 1/2 inches tall.
7.  Using Crafty Power Tape, place two strip on the back of the cut metal die cut.
8.  Adhere to the remaining paper die cut.
9.  Using a smaller banner die, die cut 2 yellow metal banners.  Place 3D Foam Squares on the back, and adhere to the front embossed die cut.
10.  I used old alphabet chipboard letters that lost its adhesive, so I placed 3D Foam Squares on the back of the letters.  I had to trim the squares a little using scissors.
11.  Apply sequins to the card front using Adhesive Dots Small.
12. Add ribbon and twine to secure the two pieces.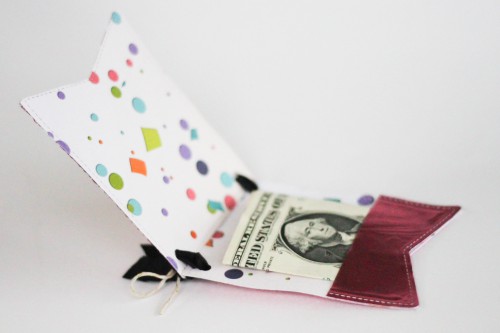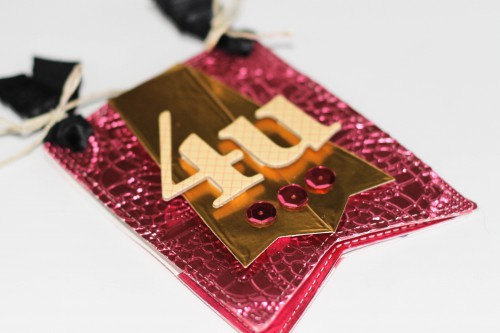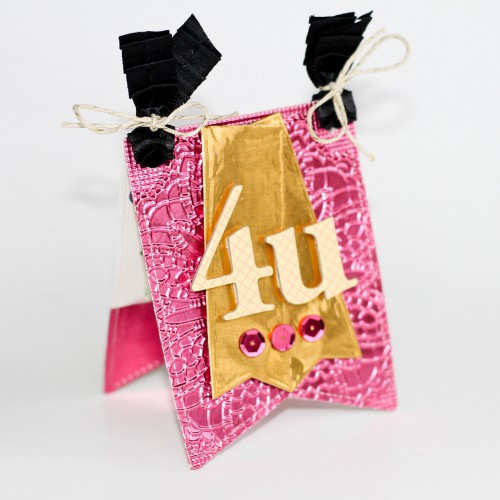 Materials Used:
Lawn Fawn Stitched Banner Dies
Lawn Fawn 4×6 Stitched Borders (small banner)
Lawn Fawn gold/natural twine
Lawn Fawn sequins
May Arts ribbon
Spellbinders Celebrations pattern paper
scissors
Spellbinders Doily Art embossing folder