Hello Friends! Asia King here and today I would like to show you how easy it is to use your favourite adhesives in a mixed media project. I wanted to have a little play with paints so I created this happy journal page.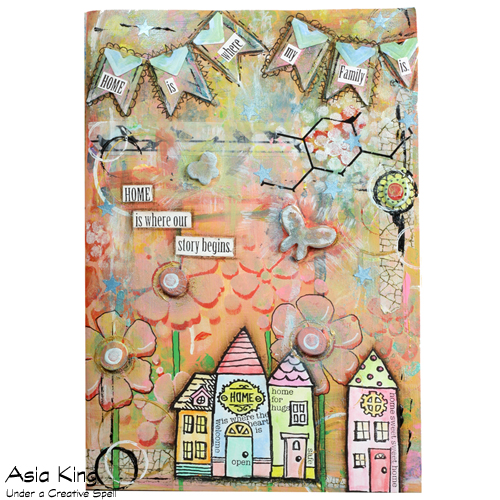 F0r my background I added layers and layers of paint, adding depth and detail with washi tapes, stencils, bottle caps and sequin waste. Next I created a banner at the top of my page with 3D Foam Pennants and Creative Photo Corners – White and also threw in a couple of 3D Foam Butterflies. To blend them in I added more paint and lashings of ink sprays as well as my DIY Blue and Gold Pigment Powder sprays.
TIP: To create your own mica spray simply fill a small spray bottle with water, put a couple of beads in and add the Pigment Powder in. Vary the amount of powder depending on how intense you would like your mist to be. After a while the powders naturally settle on the bottom of the bottles so the beads will help you stir the powders before each use. The mists work best over sticky surfaces so use it on your foam shapes etc or over wet paint.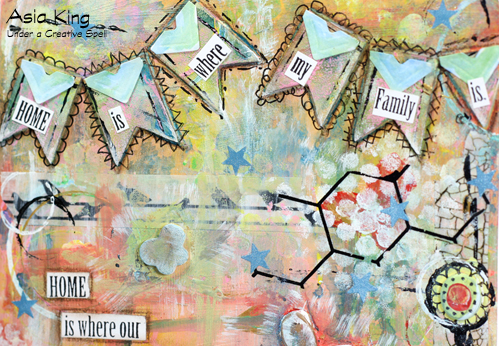 After stenciling through the blooms I added the flower centres with DODZ 3D  which I also covered in paint. Finally I added some cute little stars and I covered them with Blue Pigment Powder.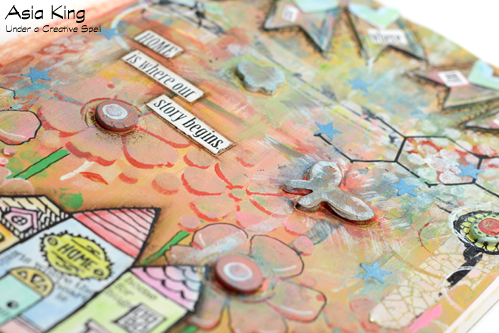 My houses and quotes were stamped onto white card, coloured in and adhered to the page using Adhesive Sheets 4×6″. I added some shading using a chalk pencil. To finish the page I added some rub-ons and some doodling using a black fine liner pen.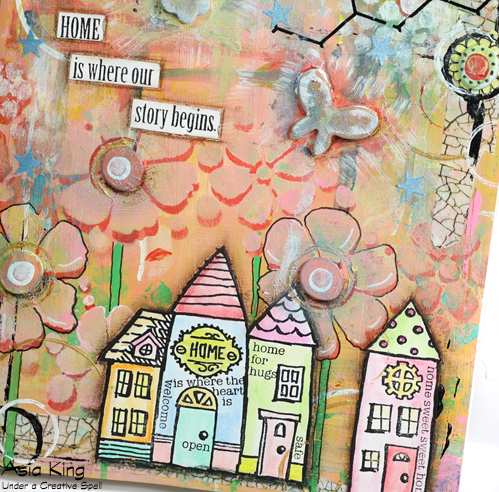 Supplies:
3D Foam Pennants, 3D Foam Butterflies, Creative Photo Corners – White, Adhesive Sheets 4×6″, DODZ 3D,
Other supplies:
Stampendous Family Home Perfectly Clear stamps
Bloom stencil – PaperArtsy
Media: Inktense pencils; DecoArt Americana Acrylics, Prima Marketing Color Bloom sprays; Black Archival ink (Ranger)
Thank you for stopping by today! See you next time!
Bug crafty hugs

Save