Happy Monday everyone! It's Lisa here with you and I have an elegant, but fun "Hello" card to share using some of the newer adhesives in some interesting ways.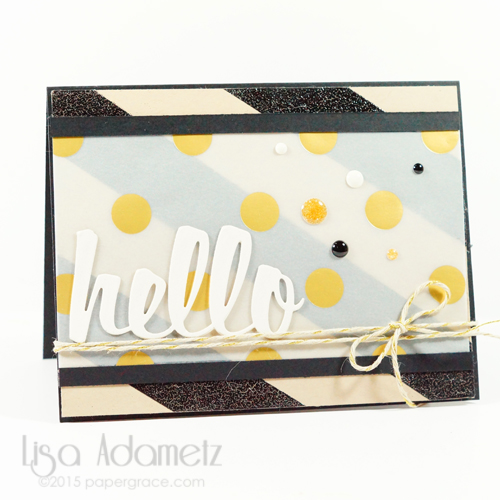 I made a little tutorial to show how easy this was to put together. I hope it helps. I'm a visual learner, so I know how seeing how things are made helps me, too.
Start with a black A2 card base, folded on the horizontal edge. (An A2 card is 4¼" x 5½".) Then cut a Kraft card front ¼" smaller than your card base — this is the piece that we'll be working with.
Start by turning your card front on the diagonal and marking off 1″ increments with a T-Ruler. We'll be using the Premium Double Sided Tape 1″ to create stripes.
At every other inch mark, and still using the ruler as a guide, lay down strips of tape. If you're using a non-stick surface it's okay if the strips are a little long as you can trim them once complete.
Once all the tape is down and straight, burnish it down, lift it up and trim off the excess. Carefully remove the liner pieces at this time. (Since I embossed my tape I used an anti-static pouch prior to removing the tape.)
Shake embossing powder over each exposed tape strip and heat emboss.  I found that it's easiest to do this one strip at a time.
You can see how shiny the black embossing powder gets!
Next I cut a strip of patterned vellum 5″ wide x 3⅛". And to this I added a strip of the Extreme-Double Sided Tape ¼" – Permanent at the top and bottom of the back of the vellum. *TIP – when this is applied if you leave enough of an "edge" you can use it to adhere to TWO surfaces. I applied it to the vellum AND used the other "edge" for my black strip of paper in the next step.
Adhere the vellum to the card front.  Cut two ¼" black strips of paper to cover the adhesive.
Wrap twine around the card front and secure with a Dodz™ Small.
Secure card front to card base with 3D Foam Squares, Black Regular.
Add embellishments and your card is FINISHED!!
Hope you all enjoyed the card and have a wonderful week!
Products by Scrapbook Adhesives by 3L®:
Premium Double Sided Tape 1″
Extreme-Double Sided Tape ¼" – Permanent
Dodz™ Small
3D Foam Squares, Black Regular