Happy Tuesday, my crafty friends. It's Lisa here and I'd like to share with you a card I made in an Autumn theme.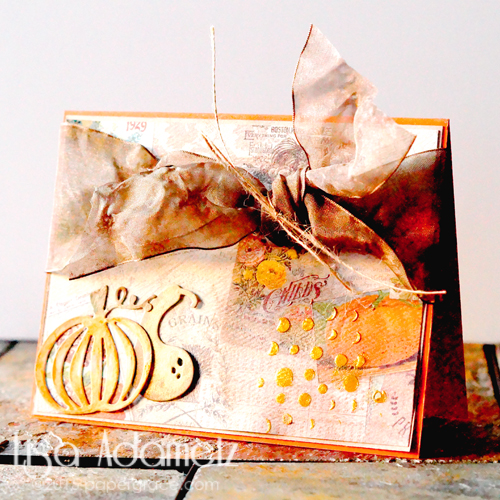 I used pigment powders to totally make the organza ribbons ROCK!! And the gourd and pumpkin die-cuts have such beautiful shiny highlights that were painted on with the gold and brown pigment powders. A little water, a little pigment powder, and a brush…and you're ready to go. So easy!
To get the ribbon to look so beautiful is very simple. Cut it to length (plus a bit extra), and mist the ribbon heavily with water. Tap out the desired colors of pigment powders onto a craft sheet. A little goes a long way! Then smoosh your damp ribbon VERY thoroughly into the pigment and into your hands so that it is fully coated with pigment. *Tip – your hands will get discolored, so it is important to use something like a craft sheet or something you don't mind turning colors. Wash your hands right away.
Then, using a heat tool, dry the ribbon. It will start to shrivel and shrink as it MELTS! That is the key. You can get it super shrivelly or not, it's entirely up to you and your preference. Tap off as much excess pigment as possible.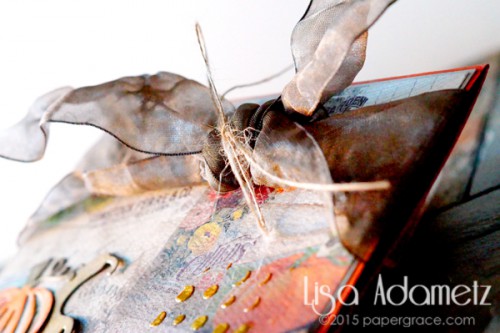 This entire card is so elegant and would be really pretty made into small tags for Thanksgiving. The pumpkin and gourd were water colored and die cut with Adhesive Sheets as backing for easy placement and maximum adhesion. (I love using the Adhesive Sheets with my dies. Perfect placement with those teeny pieces.)
All the card panels are adhered into place using my trusty E-Z Dots® Permanent Refillable Adhesive.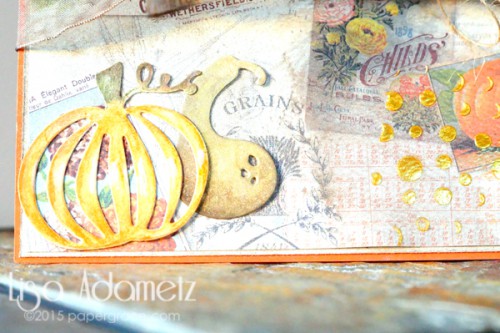 Thank you so much for joining me on the blog today for this Autumn Card. I hope you learned a few new tricks. 🙂 Have a wonderful week!
Supplies from Scrapbook Adhesives by 3L®:
E-Z Dots® Permanent Refillable
Adhesive Sheets 4 x 6-inch

Visit our Website and Blog!
Sign up for our Newsletter so you never miss a contest or giveaway!
Save