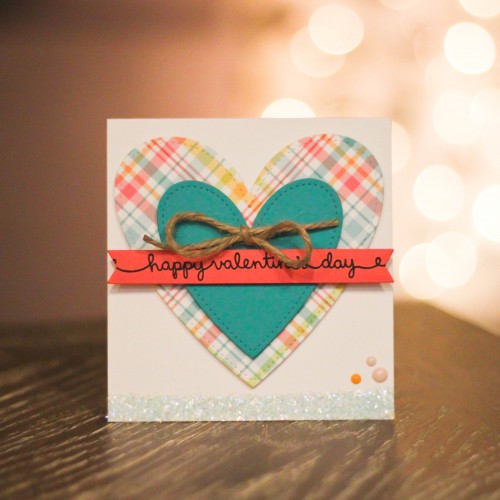 Hello, Latisha here with you today! It seems like we were celebrating New Years, and now all of the sudden Valentine's Day is in a few days!  Is there anything special you are doing to celebrate the day of love? My husband is currently deployed, so I went to dinner with a few girlfriends the other night and bought myself a new handbag. I think on the actual day, a friend will come over and we will just hang out, so we are not alone.
Well, if you are like me holidays seem to sneak up on you, so I am sharing a fairly easy to reproduce Valentine's Day card with you today.
Instructions:
 Cut/score cardstock to 4.25 x 4.5 inches.
Die cut a few different sized hearts using patterned paper and card stock.
Using Scrapbook Adhesives by 3L® 3D Foam Squares (white, regular), adhere the hearts onto the the card base.
Die cut a banner, stamp sentiment in black ink, and adhere the diecut over the hearts using foam squares.
Apply Scrapbook Adhesives by 3L® E-Z Dots® Permanent Refillable Dispenser adhesive at the bottom of the card.
Apply sparkle glitter over the adhesive.
Tie a bow using thick jute twine, adhere to the heart using a Scrapbook Adhesives by 3L® Dodz™ Small.
Materials Used:
Scrapbook Adhesives by 3L® 3D Foam Squares (white, regular)
Scrapbook Adhesives by 3L® E-Z Dots® Permanent Refillable Dispenser
Scrapbook Adhesives by 3L® Dodz™ Small
white, pink and teal card stock
patterned paper
diecuts (hearts and banner)
jute twine
black ink
stamps
glitter