Hello, my friends Lisa here with you today. It's May 30th and Memorial Day. Today we are remembering all the heroes that gave their lives so selfishly in service to our great nation.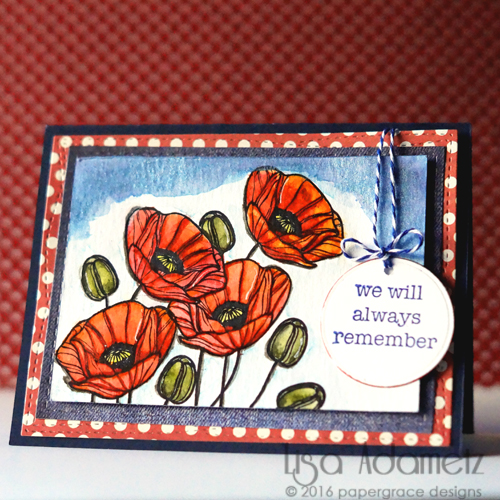 Poppies hold a special significance for Memorial Day.
The use of the poppy was inspired by the World War I poem "In Flanders Fields". Its opening lines refer to the many poppies that were the first flowers to grow in the churned-up earth of soldiers' graves in Flanders, a region of Europe that overlies a part of Belgium. (Source: Wikipedia)

In Flanders fields the poppies blow
Between the crosses, row on row,
That mark our place; and in the sky
The larks, still bravely singing, fly
Scarce heard amid the guns below.

We are the Dead. Short days ago
We lived, felt dawn, saw sunset glow,
Loved and were loved, and now we lie
In Flanders fields.

Take up our quarrel with the foe:
To you from failing hands we throw
The torch; be yours to hold it high.
If ye break faith with us who die
We shall not sleep, though poppies grow
In Flanders fields. — John McCrae
My card is a simple tribute to those who served our country and fought for our freedoms…and paid the ultimate sacrifice. We will NOT forget you.
I stamped the flowers, masked one off and stamped again to create a more "clustered" look and then used Distress Markers to water-color them.
Using the Distress Markers again I created the background.  At the top I used water and blue Pigment Powder to create a shimmery "sky" effect.
The panel was trimmed to size and two pieces of patterned paper were die-cut.
The water-color panel was adhered to the first piece of patterned paper using 3D Foam Squares – White, Regular.
A small scrap of paper was stamped with the sentiment using Archival Ink in Cobalt. The scrap was die-cut into a small circle and a hole was made near the top..
Navy Twine was looped through the hole created and a small bow was made. An Adhesive Dots Mini was adhered to the back and it was attached to the front of the card.
Using the E-Z Dots® Permanent Refillable Dispenser, I added adhesive to the back of the water-color panel/patterned paper piece and attached this to the second die-cut patterned paper. HOWEVER…just before completely adhering, I tucked in the ends of the twine from the sentiment circle. This piece also got the same adhesive and was attached to a 4¼" x 5½" Navy base card.
Here are some close-ups of my card: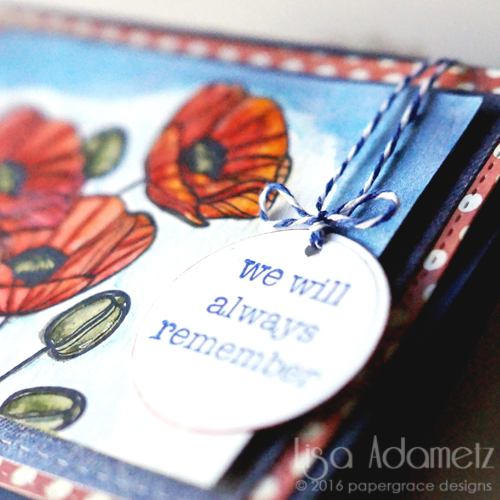 A little bit better look of the poppies: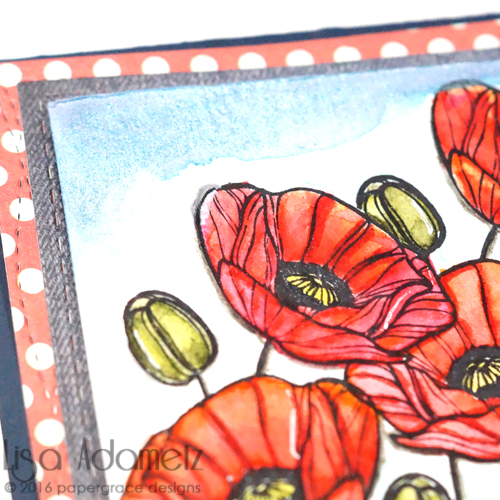 Whatever you are doing today, I hope you take a moment to pay your respects.
SUPPLIES by Scrapbook Adhesives by 3L®:
E-Z Dots® Permanent Refillable Dispenser
Adhesive Dots Mini
3D Foam Squares – White, Regular
Other products:
Stamp, Sentiment: Technique Tuesday
Dies: My Favorite Things Die-Namics
Patterned Paper: Chickaniddy Crafts, Fancy Pants Designs
Cardstock: Bazill Cardstock
Ink: Ranger Archival and Ranger Distress Watercolor Markers
Other: We-R-Memory Keepers Crop-A-Dile, twine, pigment powder

Save
Let's Connect!