Welcome to Day 1 of Blog Hop with the fabulous folks at Bo Bunny Press! We are excited to be sharing inspiration from both design teams and products this week. Enjoy lots of eye candy and don't forget to enter to win , we have 3 prizes! Find the details at the end of the post. Now for the FUN part – take it away team!
Don't miss the rest of the week's posts: Day 2 and Day 3
Christine Emberson
I adored the patterned papers in Bo Bunny's Felicity Collection! They are very floral and feminine in design and with the touch of weatherboard wood, it is a great combination. I choose to use the wood design to be the center piece of my 6 x 6″ card base.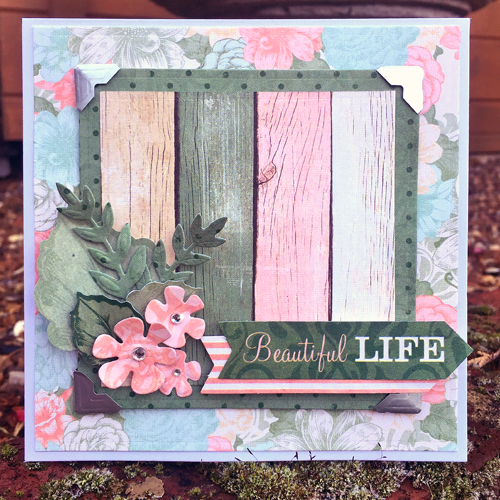 Crafty Foam Tape was used for the inner frame (the one with the creative photo corners) and I used the 3D squares for the sentiment banner and flowers to add dimension and interest.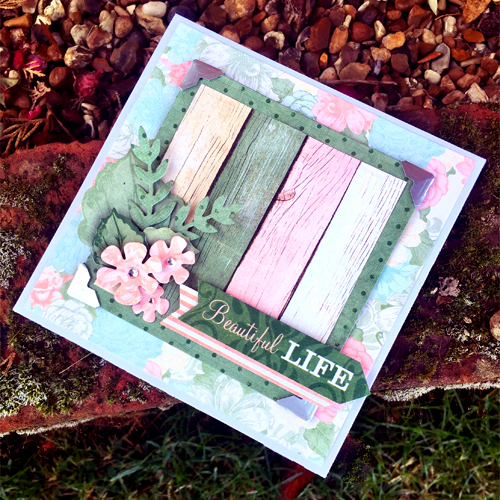 Products used:
Scrapbook Adhesives by 3L®:
E-Z Runner® Permanent Strips Refillable Dispenser
Crafty Foam Tape White
3D Squares White Small
Creative Photo Corners Silver
Bo Bunny:
Felicity Collection (Serendipity, Splendor and Dreamer patterned papers)
Felicity Noteworthy Pack
Others:
Die set (Spellbinders® Paper Arts: Floral Berry Accents); Gemstones; White Card Blank
Latisha Yoast
I love giving sweet treats and gift cards around the holiday, so I decided to create a fun altered bag, that is ready to give away. Using the Bo Bunny Kiss The Cook papers, stickers and die cuts, all I needed was my favorite adhesives to put it all together. Today I used E-Z Runner Grand Dispenser and 3D Foam Squares White Regular.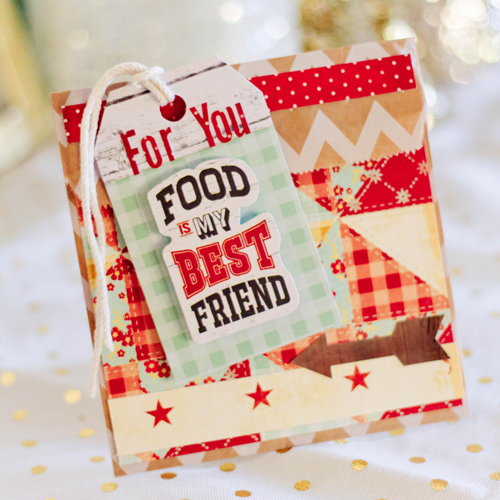 I cannot imagine how many bags I could decorate with just the Bo Bunny Noteworthy die cuts alone! Aren't they fabulous?! Hope my project inspires you to personalize your gift giving ideas.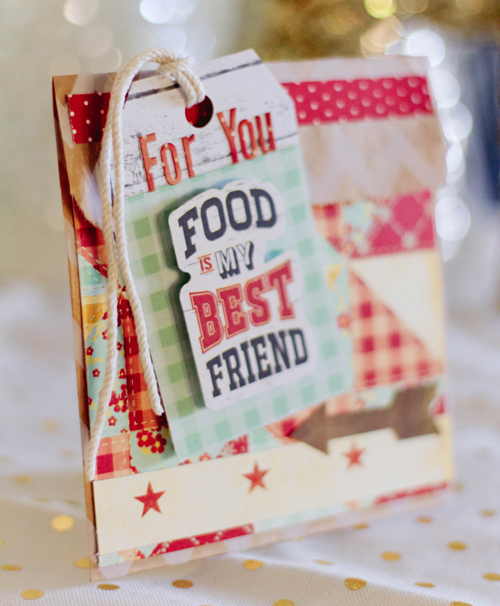 Supplies:
Scrapbook Adhesives by 3L®:
E-Z Runner Grand Dispenser
3D Foam Squares White, Regular
Bo Bunny:
Kiss The Cook Collection
Kiss The Cook Noteworthy Pack
Don't forget to hop over to our friends at Bo Bunny by clicking:
Blog Hop with Bo Bunny – Day 1
Blog Hop Prize Details
Enter to win by leaving a comment through the Rafflecopter App. A winner will be randomly picked. International entries are welcome.
If you cannot see the comment section (at the bottom of this post), please click: 2016 Blog Hop with Bo Bunny – Day 1 and scroll down to the bottom of the post.
Connect with Scrapbook Adhesives by 3L®:
Facebook – https://www.facebook.com/ScrapbookAdhesives
Website – https://www.scrapbook-adhesives.com/
Blog – https://www.scrapbook-adhesives.com/blog/
Instagram – https://www.instagram.com/scrapbookadhesivesby3l/
Pinterest – https://www.pinterest.com/SBAdhesivesby3L/
Twitter – https://twitter.com/SBADHESIVESBY3L
YouTube – https://www.youtube.com/user/ScrapbookAdhesives
Newsletter – http://eepurl.com/I6dPj
Connect with Bo Bunny Press:
Facebook – www.facebook.com/BoBunny
Website – www.bobunny.com
Blog – www.bobunny.blogspot.com
Instagram – https://www.instagram.com/mybobunny/
Pinterest – www.pinterest.com/bobunny
Twitter – https://twitter.com/BoBunnyPress
YouTube – http://www.youtube.com/BoBunnyFun
Email – bopress@bobunny.com