As scrapbookers, we always feel like we're behind or not caught up. Am I right? I've learned not to stress about it. I really love to scrapbook my family pages from six months or more. Want to know why? Because I can relive those special moments.
Today I'm sharing our family photos – I like to use multiple photos on layouts like this. There's a tip I want to share about adhering those photos with E-Z Dots® Repositionable Refillable Dispenser so let's get started!
Scrapbooking with E-Z Dots® Repositionable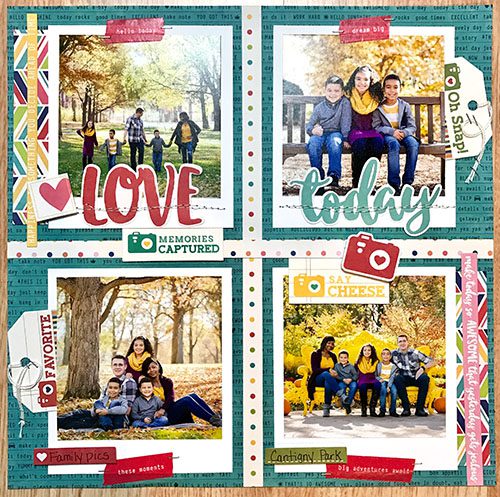 First up here is my sketch I used to create this page.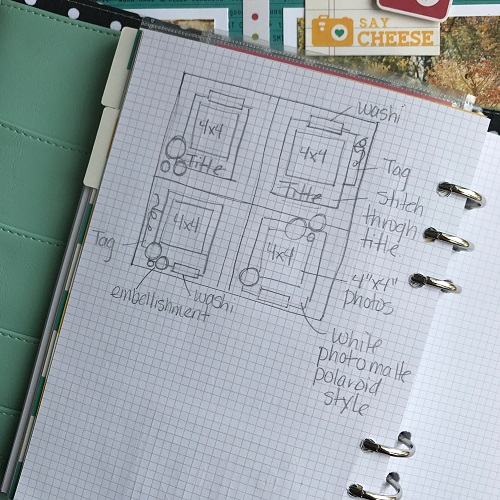 I print my photos to a 4 x 4″ size to create a Polaroid type of photo matte.
TIP: Any pieces that I knew would be sewn down later were placed on the layout using the E-Z Dots® Repositionable Refillable Dispenser. I use it because it's easier to sew through without leaving residue on my machine needle. So try this tip when you stitch your photos, die cuts or any elements in your page!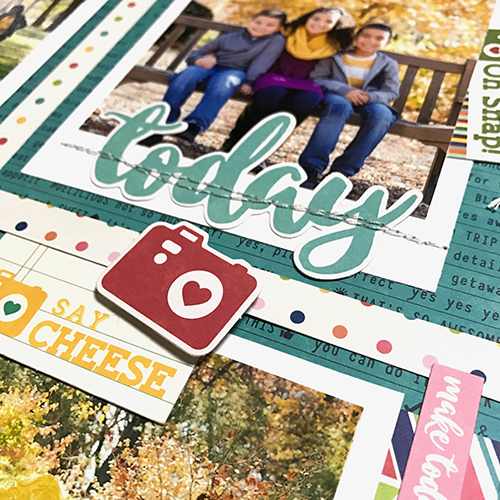 I then stuck with a collection from Jillibean Soup and used all the bit and pieces from it including the tags, washi tape and cardstock stickers. Cardstock stickers were raised up with the Crafty Foam Tape White. Tags were trimmed down since only a little peeked out and added under photos with the E-Z Dots® Permanent Refillable Dispenser. Washi tape sometimes likes to come undone so I always add a couple staples to keep it in place perfectly.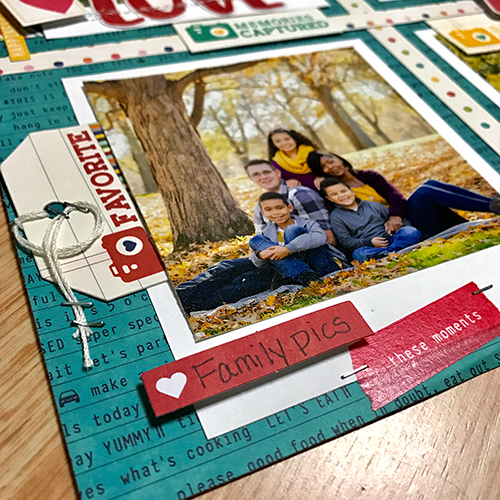 Bonus Card! I created a quick card with my left over paper pieces as I usually do. Today's card is the perfect one to send to a friend who you'd like to get together with over coffee or lunch. Just slip a gift card in the front and say hello to someone special.
I used the Home and Hobby Dual Tip Glue Pen to adhere the sequins on this card.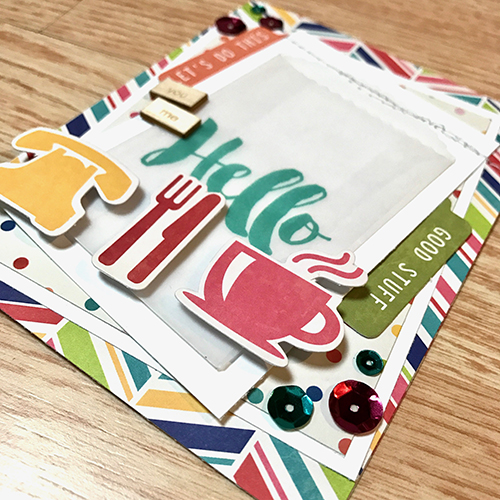 I hope this inspires you to maybe pull out some older photos from last year and realize some past moments.
Supplies:
E-Z Dots ® Repositionable Refillable Dispenser
E-Z Dots ® Permanent Refillable Dispenser
Crafty Foam Tape White
Home Hobby Dual Tip Glue Pen
Other:
Patterned Papers, Washi Tape, Stickers, Wood Veneer Tags and Sequins (Jillibean Soup Designs); Cardstock (American Crafts and Recollections)
Happy crafting!
Latrice