The more I play with E-Z Dots Repositionable Adhesives the more I find that they are a necessity in my crafting arsenal.  They have a wide variety of uses and my current favorite is to use them to create unique backgrounds.  Today I am going to showcase how you can use the E-Z Dots® Repositionable Refillable Dispenser to create a unique background on your paper crafts.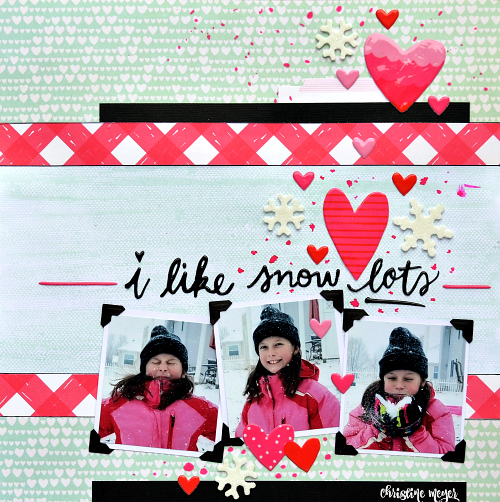 A Closer Look at the Background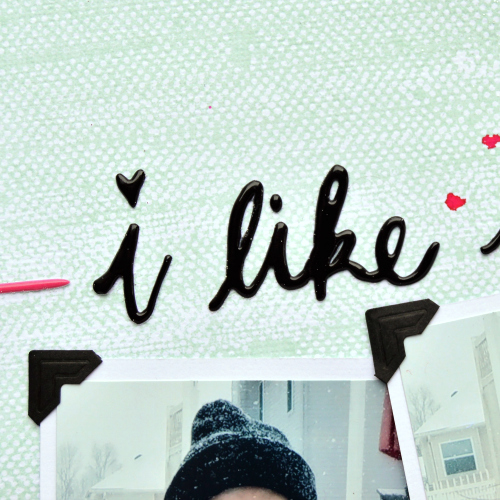 I used the  E-Z Dots® Repositionable Refillable Dispenser as a mask on my background.  First I applied it and then I painted over it with mist.  Once it dried I just rubbed the adhesive right off. As you can see it creates a unique but subtle background. This was a completely new technique for me but I am so happy with the end result!
Additionally I had to bring in another favorite of mine these days: 3D Foam Embellishments, more specifically 3D Foam Snowflakes! I've been foiling these adhesives like crazy lately, but today I opted for glitter. Mostly because I wanted them to be white. Believe me, if I could have found a way to use foil, I would have gone for it! I'm all about the "Wear Your Adhesive on the Outside" approach these days!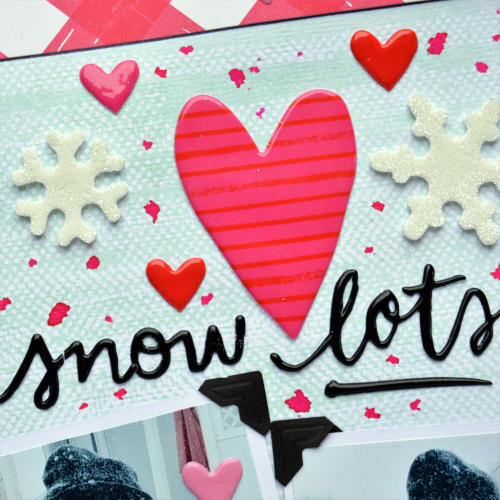 I also incorporated Creative Photo Corners into the layout – adding them to my pictures.  The black ones were a perfect choice to bring out not only the black in the pictures but also the black title! They are available in a variety of colors from white to gold to kraft and more!
Process Video
All of these details and my process for doing them can be found in my process video below:
Thanks so much for joining me today!
–Christine
Scrapbook Adhesives by 3L®:
3D Foam Snowflakes
E-Z Dots® Repositionable Refillable Dispenser
Creative Photo Corners
E-Z Runner® Grand Refillable Dispenser
Other:
February Kit from The ScrapRoom Kit Club, Mist from Dylusions