Wear Your Adhesive on the Outside with 3D Foam Stars are a fun way to add sparkle and shine to handmade cards! Hello, Linsey here today sharing some card inspiration featuring limited edition 3D Foam Stars.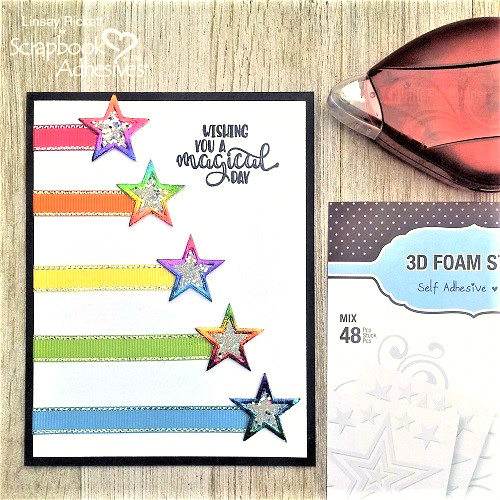 Sparkle and Shine with 3D Foam Stars
After finding inspiring star CAS design cards on Pinterest, I created one of my own using 3D Foam Stars and ribbon. The ribbons were cut to size and adhered to the white cardstock panel with E-Z Runner® Permanent Strips Refillable Dispenser.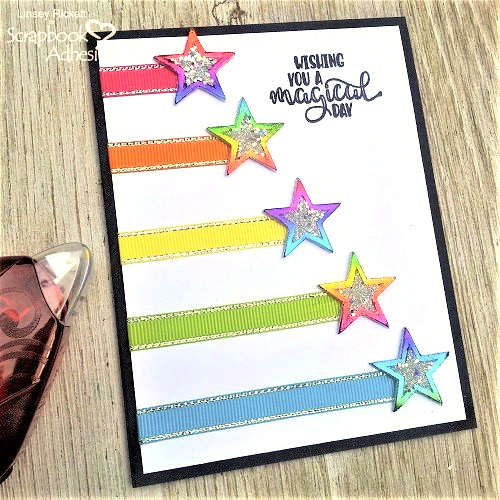 3D Foam Stars can be embellished in many different ways. Place two nesting medium size 3D Stars together onto the card panel at the end of each ribbon. To keep its shape, make sure to have the top liner on until you're ready to embellish.
Remove the outer line of the star and apply with silver foil from the 3D Foam Holiday Embellishment Kit. Make sure the color side is facing you. Gently rub to transfer the foil to the star. It's that simple…no tools! Next, color in rainbow colors using alcohol markers.
Now for the sparkle, remove the inner liner of the star and sprinkle glitter and press down to secure before tapping off the excess. Repeat these steps for embellishing the rest of the stars.
Stamp the sentiment in black ink and then heat emboss with clear embossing powder.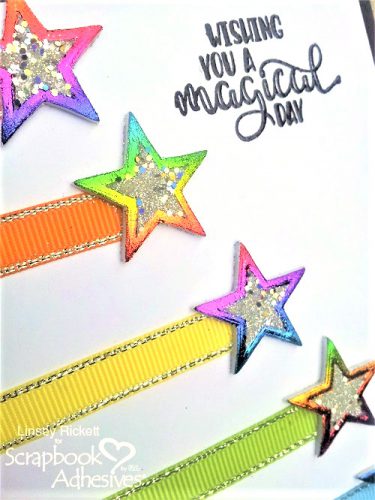 This is just one example of how you can make quick and easy cards with a superstar Wow! factor, using 3D Foam Stars. How would you add them to your cards? Your imagination is the limit!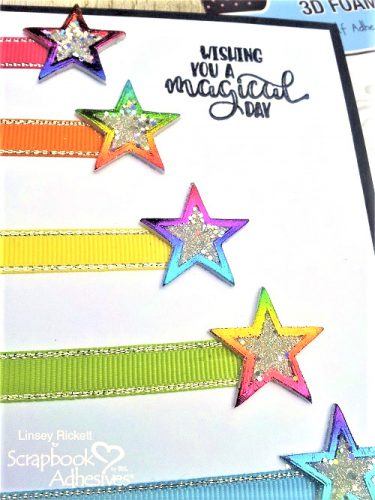 Thanks so much for stopping by! I hope you've been inspired to create something fabulous with 3D Foam Stars! Share your beautiful cards and projects using Scrapbook Adhesives by 3L® products on Instagram with hashtag #scrapbookadhesivesby3l.
Happy crafting!
Linsey
Creative Time: 20 minutes
Skill Level: Beginners Level
Materials Needed:
Scrapbook Adhesives by 3L®:
3D Foam Stars
E-Z Runner® Permanent Strips Refillable Dispenser
3D Foam Holiday Embellishment Kit