Welcome back crafty friends, Tracy McLennon here and today I have a fun and easy wreath layout tutorial using Adhesive Lines.
I don't know what it is about circles, but I love a layout that incorporates circular elements. One of my favourite ways to do this is by creating a wreath. A wreath focuses the eye to the inside and essentially your photograph. Here is how I created my layout.
Creating a Wreath Shape
First I started by creating my layered background with cardstock and patterned paper. Then I traced a circle with pencil onto the white patterned paper. Sometimes a dinner plate works great for this.
Then I took Adhesive Lines and adhered them all around the circle. Using cotton string, I cut 3 long pieces. These pieces have to be long enough to go all the way around the circle. Tie a knot on one end and adhere the knot in the bottom left-hand corner, where the layered flowers will be. Then in a random fashion, twist the 3 pieces of string. As you twist, adhere the string to the Adhesive Lines all the way around the circle.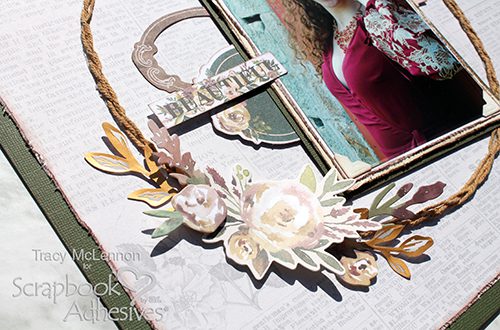 Then I was able to add the layered flowers and leaves using 3D Foam Squares White Mix and Adhesive Dots Mini. The perfect finishing touch to my matted photo was the Creative Photo Corners Ivory. Then I adhered the matted photo to the layout using 3D Foam Squares White Mix.
The rest of my paper elements I used my E-Z Runner Grand Refillable Dispenser and E-Z Runner Grand Permanent Strips Refill.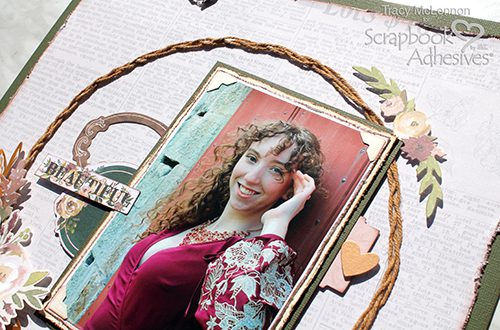 Thanks so much for popping by!
Tracy McLennon
Creative Time: 45 mins
Skill Level: Intermediate
Materials Needed:
Scrapbook Adhesives by 3L® used:
Adhesive Dots Mini
3D Foam Squares White Mix
Creative Photo Corners Ivory
Adhesive Lines
E-Z Runner Grand Refillable Dispenser and E-Z Runner Grand Permanent Strips Refill
Other Products Used:
Pink Paislee- patterned paper and embellishments, Cotton String, Edge Distresser, Brown Ink, Cardstock- cream and green, Thickers