Once I get on a technique kick…I have a hard time not incorporating it into my projects or looking for other ways to use it.  Today's technique is one you've seen me do recently and as I did it, I knew it was gonna stick!  This technique incorporates the E-Z Runner Grand using the Repositionable Dots Refill to create a unique background.  Here's my layout using and Adhesive Masking Background Technique: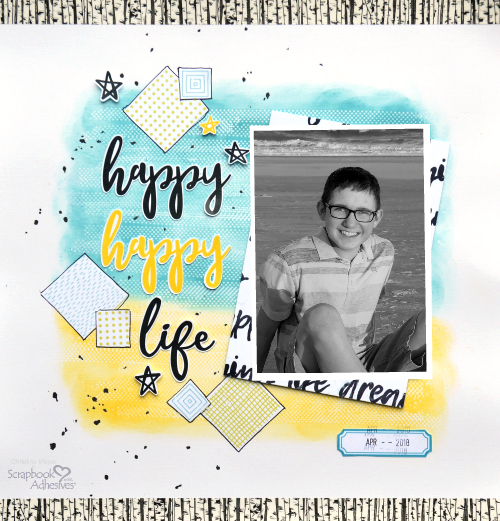 If you take a close look at my background you can see that it has dots in it as I tried to recreate a beach scene with the yellow and blue but put a twist on it with the dots.
E-Z Runner Grand Repositionable Dots Background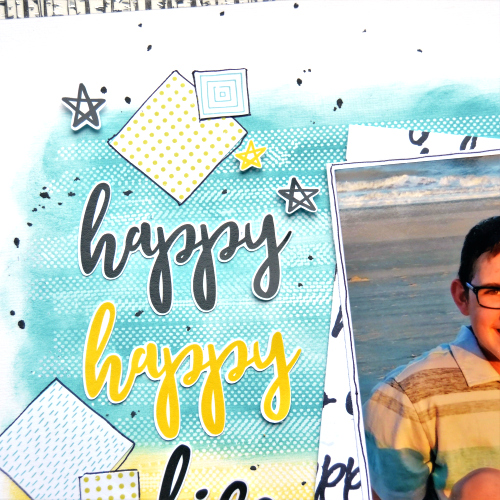 This close-up shows you the dots in more detail.  Although I could have gone with a more simple mixed media background, this technique allowed me to add a little more texture.  In order to create this, I ran my E-Z Runner Grand all over the background.  Then I used a sponge and distress oxides to apply distress oxide ink over the top.  Following that, I removed the adhesive by rubbing on it.  Essentially I used the Adhesive as a mask, while I applied the ink.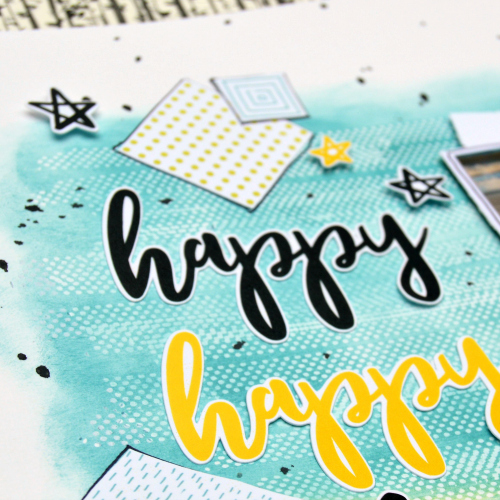 Another couple of handy adhesives on this layout were the E-Z Runner Micro Refillable Dispense and the 3D Foam Squares.  I used the Micro Refill to add adhesive to the back of my happy words. This is a smaller adhesive at only 1/8″ in height making this adhesive perfect for little die cut pieces like that!
Adhesive Masking Background Technique Process Video
Thanks for joining me today and happy creating!
–Christine
Creative Time: 60 Minutes
Creative Skill: Intermediate
Materials Needed:
Scrapbook Adhesives by 3L®:
E-Z Runner® Grand Refillable Dispenser
3D Foam Squares
E-Z Runner® Grand Repositionable Dots Refill
E-Z Runner Micro Refillable Dispenser
Other Supplies: September Flavors of the Month Kit from The ScrapRoom