Looking to add a little something to your winter home decor? This Little White Church Holiday décor piece is a great addition! It's festive for the holiday season but can stay up beyond as a winter decoration. To assemble the church structure, I used Extreme Double-Sided Tape ¼ in and Extreme Double-Sided Tape ⅛ in. But I used Adhesive Sheets 4 x 6 inch to make the shingle layers easy – isn't stunning? Loved how it turned out!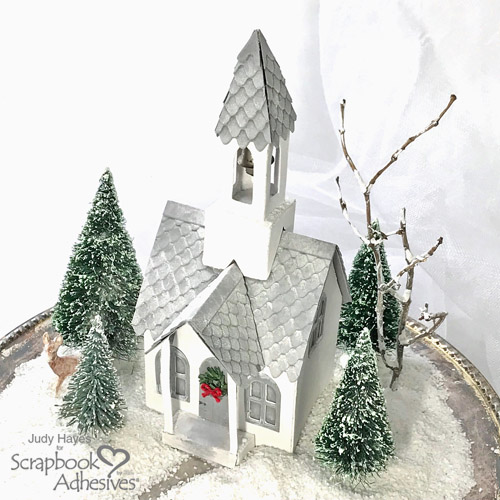 Making the Church
I used heavy cardstock in Kraft in my stash and painted it with white gesso. To cut this step out, use heavy white cardstock.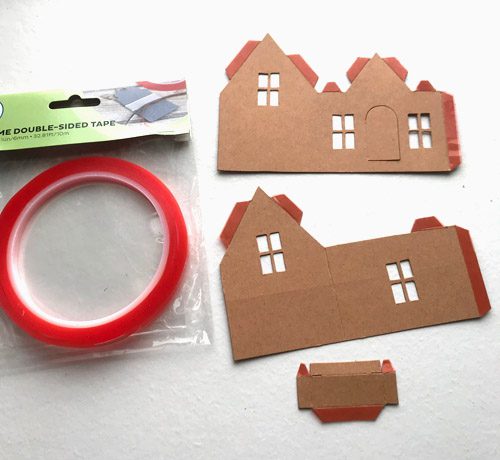 But before painting the pieces, I applied Extreme Double-Sided Tape ¼ in onto the tabs of church pieces. For the tabs on the steeple, Extreme Double-Sided Tape ⅛ in was used because they are very small and narrow. Then paint all the pieces with two coats of white gesso and set aside to dry.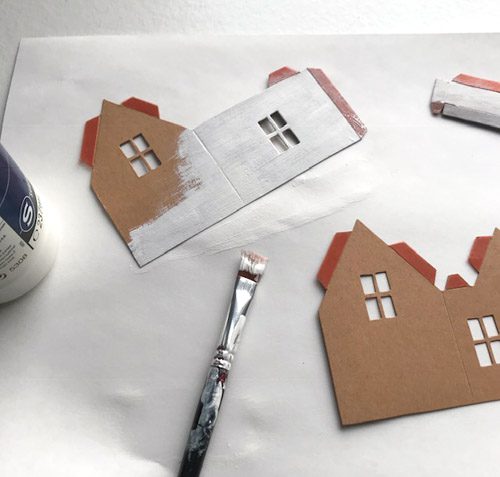 It's all in the Details
Apply Adhesive Sheets 4 x 6 inch to the back of gray cardstock. Then, die-cut all the roof pieces, windows, and door.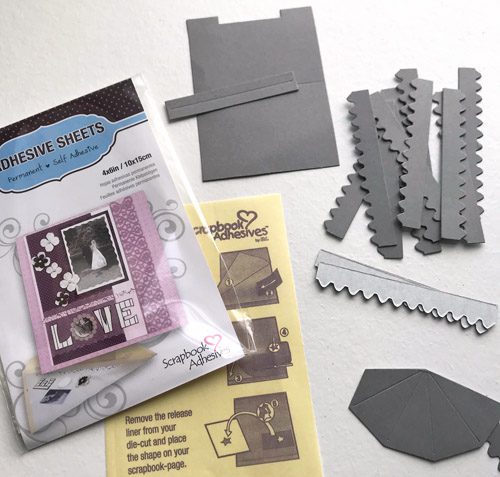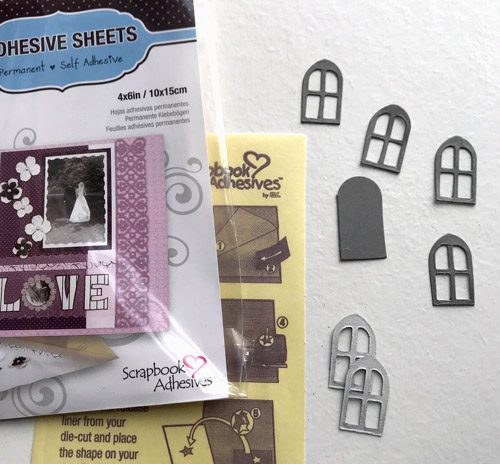 To add a variation of color and interest to the roof shingles, use an ink tool to ink along the edges with Distress Oxide ink.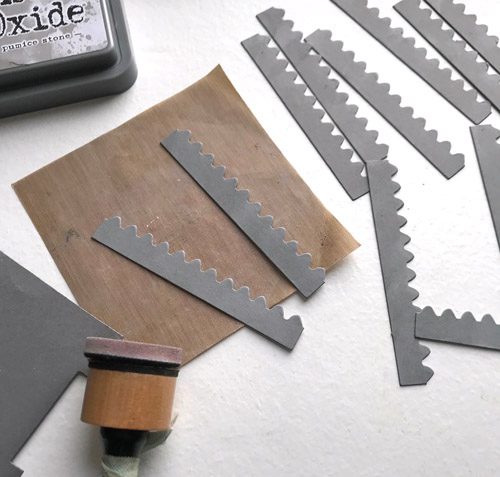 To create the roof, overlap each layer and trim the edges as needed. Using Adhesive Sheets on the back made it so easy – just press in place!
Repeat the same process for steeple roof. Make sure to trim along an angle of each section. Because the shingle pieces near the point are so small, I recommend using Extreme Double-Sided Tape ⅛ in.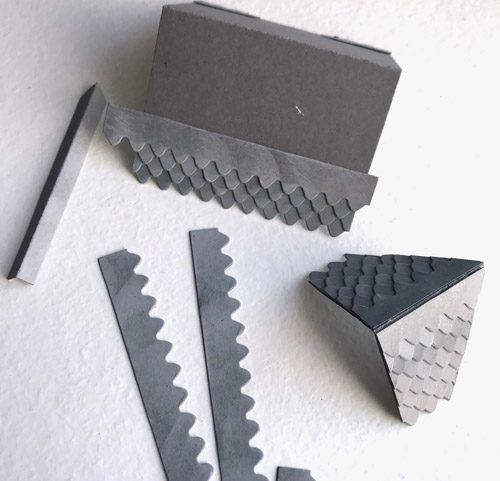 Fasten a ridge strip to the peak. On each ridge strip, I applied 2 strips of Extreme Double-Sided Tape ¼ in for a secure hold.
All windows were fastened before the church was assembled. So easy with Adhesive Sheets 4 x 6 inch on the back to simply remove adhesive backing and press window frame in place.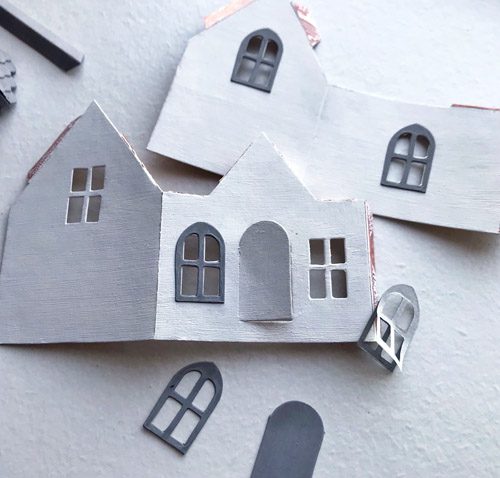 Cut translucent vellum to fit behind each window and the door. Fastened with E-Z Runner® Micro Refillable Dispenser. Its narrow adhesive strip fit well along the tiny windows.
Assembling the Church
To assemble the little white church, remove the backing from Extreme Double-Sided Tape on the tabs and press the ends together. Next, work on the roof tabs by pressing them in place to the church walls. Then the step and corner posts are fastened. Assemble the steeple without its roof and fastened to the church. Thread a small bell with string and hang in the steeple roof before it was placed on the steeple.
The little hinges and door handle on the door were hand drawn with a fine tip black marker. Wrap a pine twine around a tool handle to make a wreath. Using the Adhesive Dots Micro twice, first the tiny bow on the wreath and then, the wreath is fastened to the door. Dry brush the white gesso onto vellum in windows and its frames to look like frost and snow.
Making a Scene
The little white church sits on a white foam core board circle. To achieve this, I traced around a 7-inch plate (to fit my tray) and cut foam core board with a craft knife. Using a light tan cardstock, I cut a "path" and fastened it to the foam core with E-Z Runner® Micro Refillable Dispenser.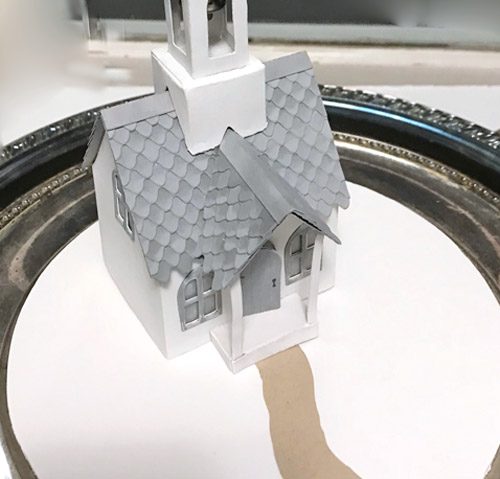 After I was happy with the placement of the trees, I fastened them in place with Adhesive Dots Ultra Thin. A real tree branch was used to create a bare tree. Randomly paint white gesso on the branches and sprinkled glitter on it to look like snow. For the "snow" on the pine trees, I achieved this look repeating the same process with the bare tree.
Once everything was arranged, white sand was spread over the foam core base and a little over the church. A powdery residue layer of sand added a dusty snowy look to the roof. A battery tea light can be placed inside the church by simply lifting it.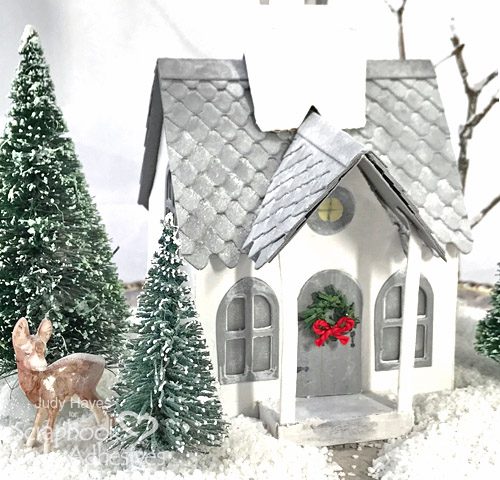 This project would be perfect for a table centerpiece because it looks good from all sides!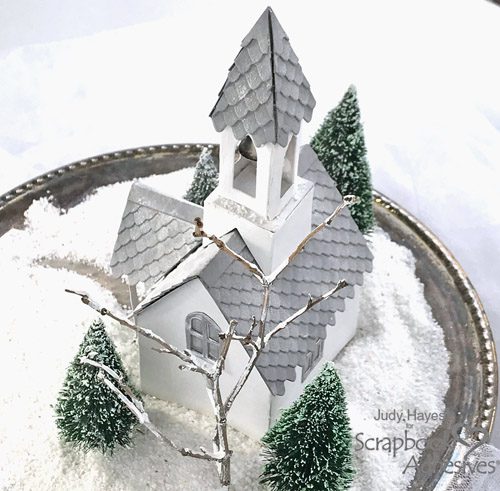 Thanks so much for visiting! I hope you enjoyed this Little White Church project!
Judy
Creative Time: 2-3 hour
Skill Level: Advanced
Materials Needed:
Scrapbook Adhesives by 3L®:
Adhesive Sheets 4 x 6 inch
E-Z Runner® Micro Refillable Dispenser
Adhesive Dots Micro
Adhesive Dots Ultra Thin
HomeHobby by 3L®
Extreme Double-Sided Tape ⅛ in
Extreme Double-Sided Tape ¼ in
Other Supplies: Kraft 100 lb. cardstock; Worldwin Gray Cardstock; Ranger Distress Oxide Pumice Stone ink; Sizzix Village Dwelling, Village Bell Tower, Village Roof Tops dies; Tim Holtz Tiny Bells, Pine Twine, Decorative Deer; White Gesso; Red Pearl Cotton; Little Pine Trees; Tree Branch and Air Dry Clay; Martha Stewart Crystal Glitter, White Foam Core Board
Pin It!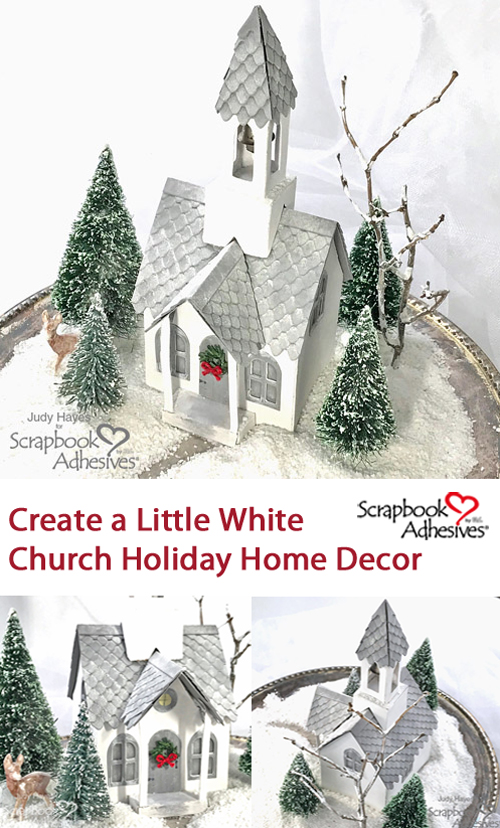 Let's Connect!