Hello friends, Terri here, and today I'm showing you some of my favorite embellishment tips for decorative stamped Christmas cards. Get ready to foil, glitter and color!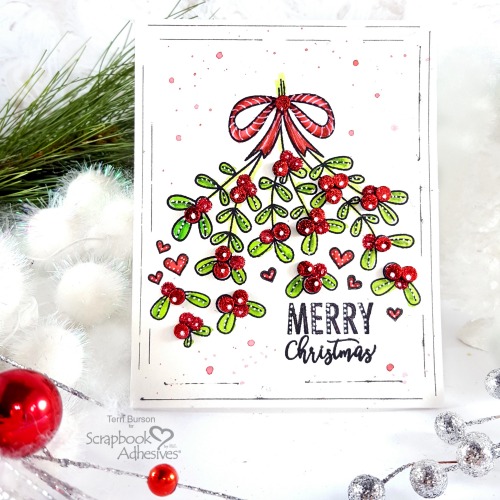 Finding Your Decorative Focal Points
This Avery Elle mistletoe stamp has lots of berries which is perfect for this project. This will be the focus for embellishing with the wonderful products from Scrapbook Adhesives by 3L. To begin, add lots of Adhesive Dots Micro to the smallest berries.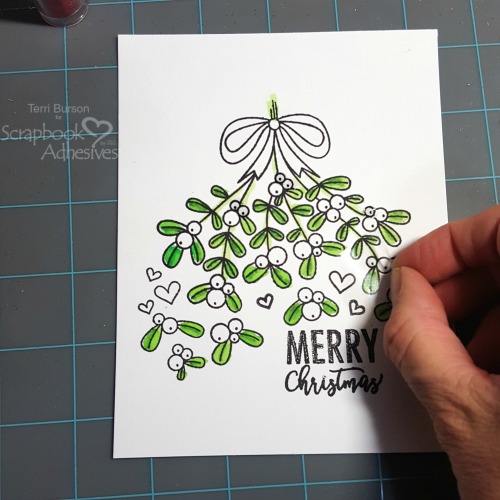 Add Glitter For Decorative Sparkle
You can top your adhesives dots in so many ways; embossing powder, glitter and foil to name a few. Today, we'll be adding red glitter. Sprinkle liberally, then press the glitter into the Adhesive Dots Micro to better fuse the glitter to the dots. Tap off the excess and replace into your glitter jar.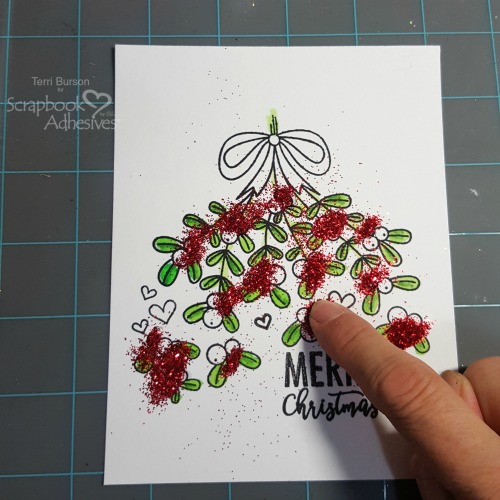 Add Dimension For That Wow Factor
Dimension is always a plus and using the 3D Foam Circles Black Mix is the perfect choice for the larger berries. Instead of glitter, I'm using the red foil from the 3D Foam Creative Embellishment Kit. Also, I'm only using the small black foam circles, as opposed to white. It offers a shadow effect that I love.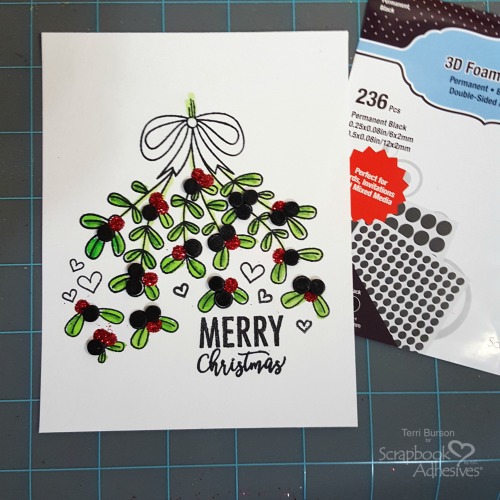 Simply lay your red foil, shiny side up, on the foam dots, gently rub, then peel off the lining. Grab your camera and show your friends how amazing you are! It's a great way to Wear Your Adhesives On The Outside!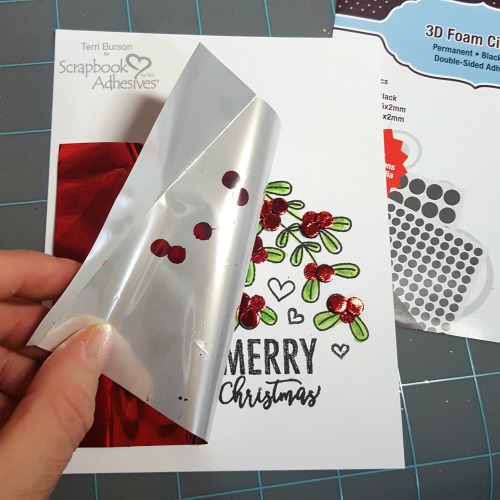 To finish off my card, I used a white gel pen and dotted my berries, my leaves and added stripes to my colored ribbon. Use whatever coloring tools that suit your needs for the leaves and ribbon.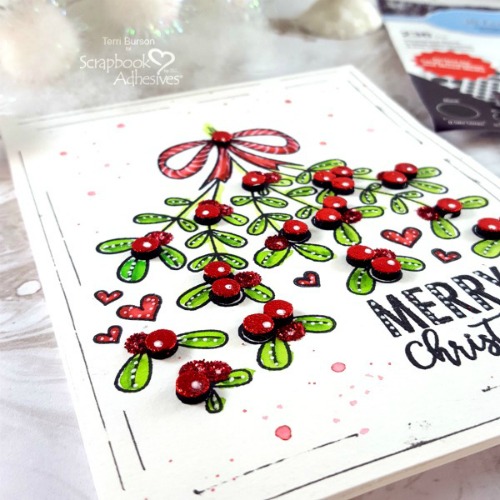 Additionally, my mixed media paper panel was popped up with Crafty Foam Tape White and applied to a 5.5 x 4.5 inch top fold white card. I also added watercolor splatters and drew a faux frame along the edges with a black glitter pen.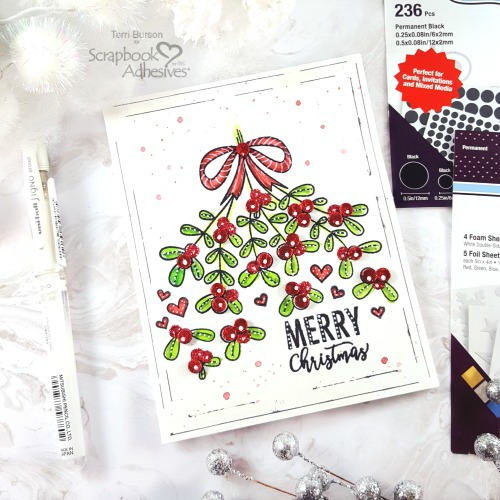 Thanks so much for following along today. If you'd like more information on the products used, please visit my blog at Waving My Wand. See you next time, Terri
Creative Time: 30 minutes
Skill Level: Beginner
Materials Needed
Scrapbook Adhesives by 3L®
Adhesive Dots Micro
3D Foam Circles Black Mix
3D Foam Creative Embellishment Kit
Crafty Foam Tape White
Other:
Neenah cardstock, Canson mixed media paper, red glitter, Signo white gel pen, Arteza black glitter pen, Kuretake Zig Real Clean Color Brush, Jane Davenport watercolor paint, Catherine Pooler Ink, Misti stamp positioner, We R Memory Keepers Trimmer, Avery Elle stamps
Pin It!