Happy Winter to all of my crafty friends out there. Tracy here, and today I have a fun little winter themed project to share. Cocoa is the perfect gift to warm the tummy of someone you care about on a cold winter's day. This is a quick and easy project to create, which also makes it easy to create multiples of for party favors, teachers gifts to name a few.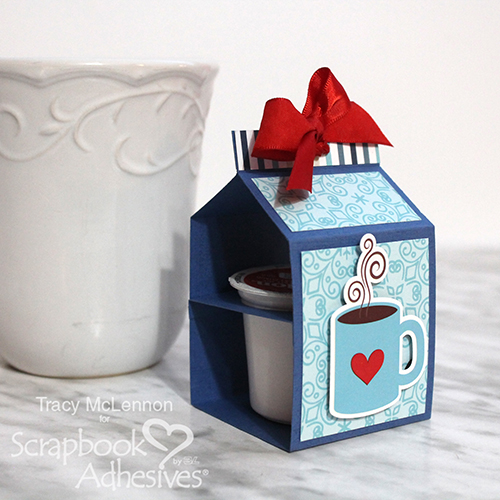 Winter Warm Gift Base
Start with two pieces of cardstock: 10.75 x 2.25-inch and 2.25 x 2.75-inch.
For the small cardstock piece (2.25 x 2.75-inch), score at the 0.25-inch mark on either end. Using a 1.75-inch circle punch or die, cut a hole in the middle of the cardstock.
With the larger cardstock piece (10.75 x 2.25-inch), score the following marks at: 0.5-inch, 1.75-inch, 4.25-inch, 6.75-inch, 9.25-inch, and 10.5-inch. This piece can be folded like the photo below. It will create a shape similar to a milk carton.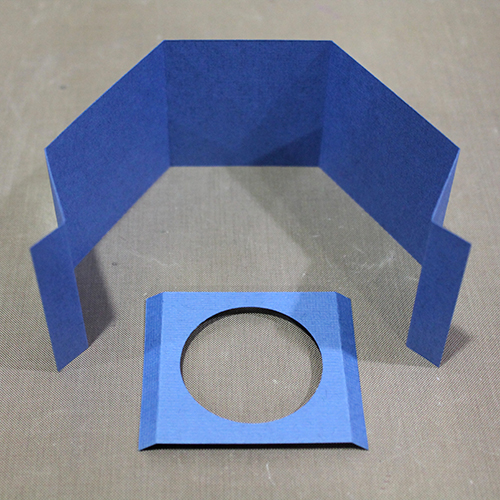 Using the Extreme Double Sided Tape 1/8 inch, you can adhere the smaller piece in place within the larger piece of cardstock.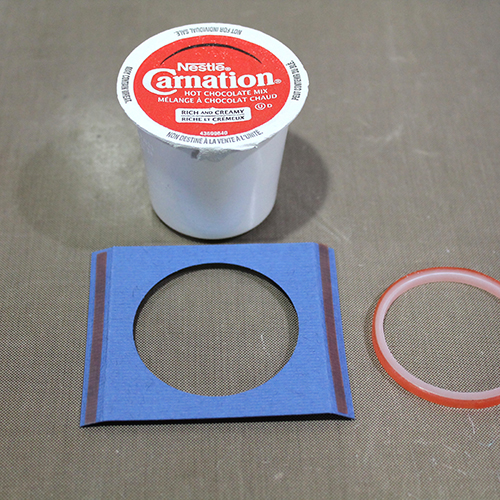 The inner piece should simply keep the K-Cup in place.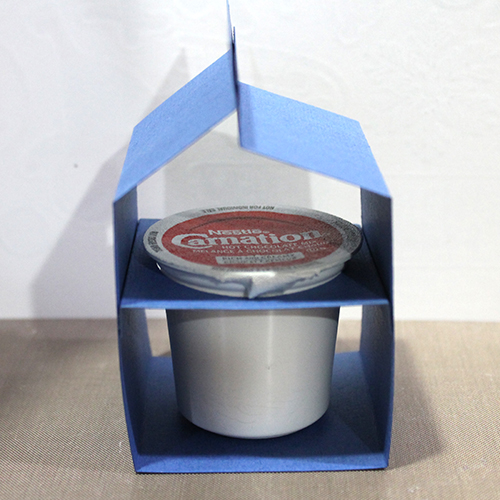 Embellishing the Package
Cut pieces of winter-themed patterned paper to cover the outside panels of the mini carton. Adhere them to the cardstock using the E-Z Runner® Ultra Strong Refillable Dispenser.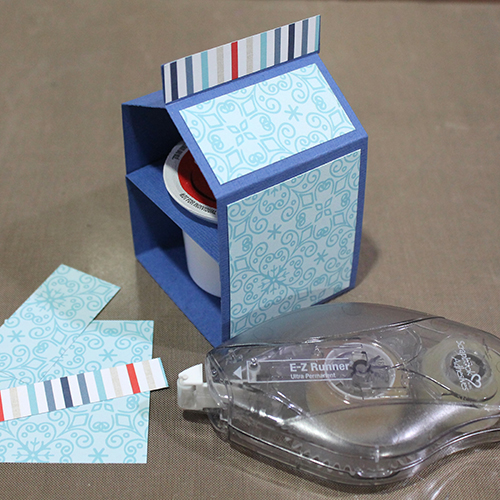 Add cardstock stickers or die cuts using 3D Foam Squares Black Small. I love this little penguin and the coffee cup with a heart!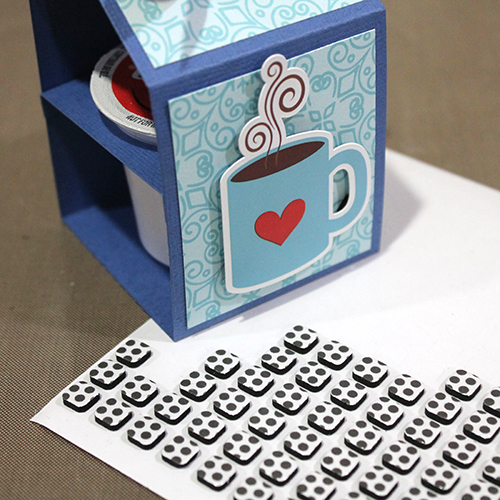 A final touch was to add a red ribbon bow to the top of the carton.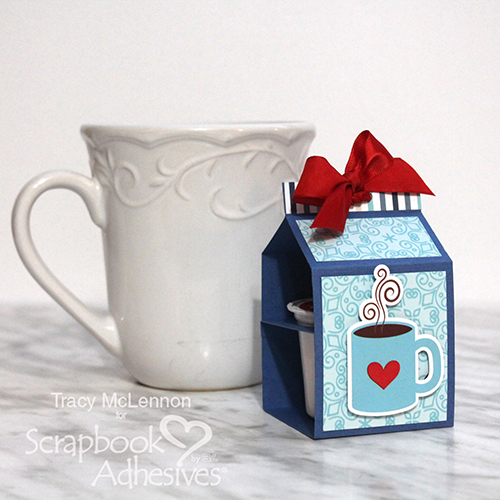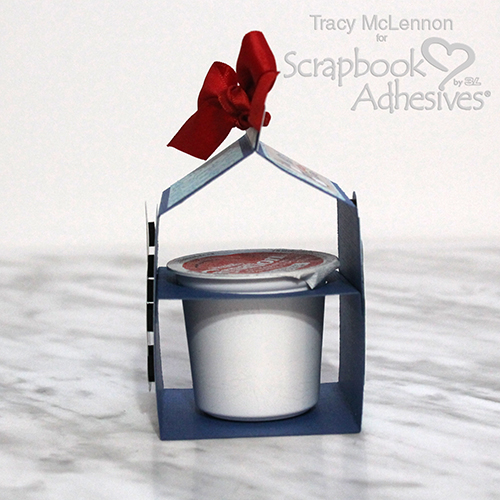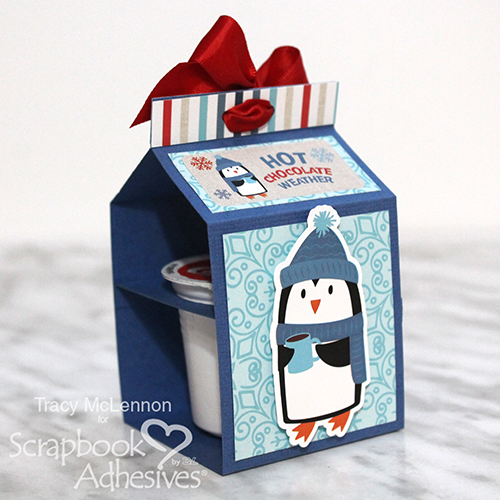 Thanks so much for stopping by! I hope a project like this can brighten your cold winter day.
Skill Level: Beginner
Creative Time: 30 minutes
Materials Needed
Scrapbook Adhesives by 3L®
3D Foam Squares Black Small Size
E-Z Runner® Ultra Strong Refillable Dispenser
HomeHobby by 3L®
Extreme Double Sided Tape 1/8in
Other
Cardstock (Blue), Red Ribbon, Echo Park Paper- Celebrate Winter Collection, 1/8″ Hole Punch, 1.75″ Circle Punch, Scoring Blade, K-Cup
Pin It!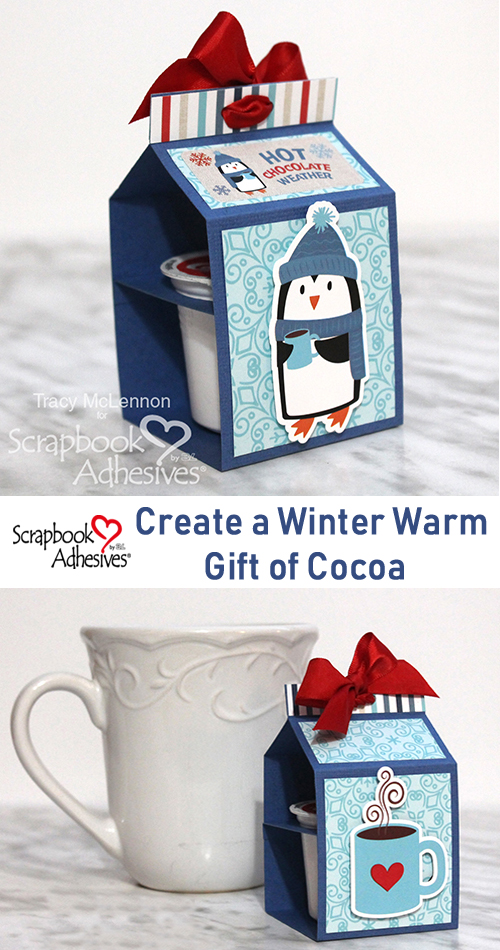 Let's Connect!