Happy Spring!  Shellye here today and I am so excited to be sharing one of my favorite "Treat Container" projects just in time for your Easter basket!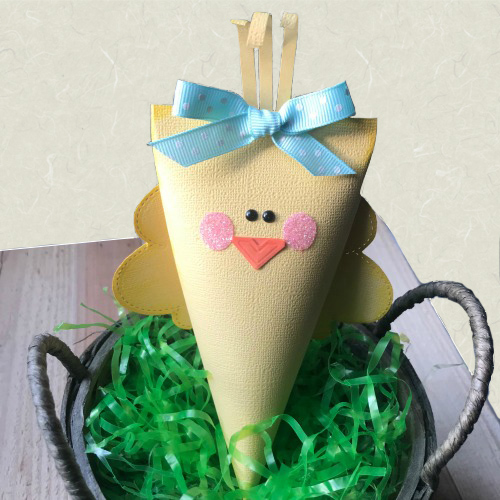 Treat Basics
To get started I have a 6 x 6-in piece of yellow cardstock (any square size will work). Apply a strip of the Extreme Double-Sided Tape1/4-in along one of the edges. Match up the taped edge to the opposite side to resemble a toilet paper roll.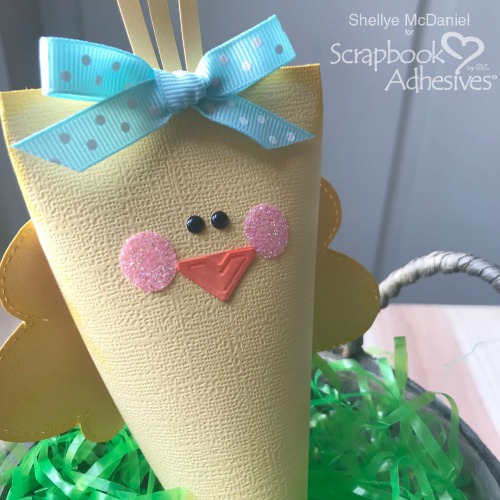 Next seal up both of the edges using two different types of adhesive: E-Z Dots® Repositionable Refillable Dispensers for the top and the Extreme Double-Sided Tape 1/4-in for the bottom.
To achieve the sour cream container shape, close up the ends so that they were both going in the opposite direction.
Chick Details
Finally, I created the wings by using a cloud die to die-cut two shapes from the yellow cardstock.  I would also suggest a heart or circle for creating the wings if you don't have a similar shape on hand!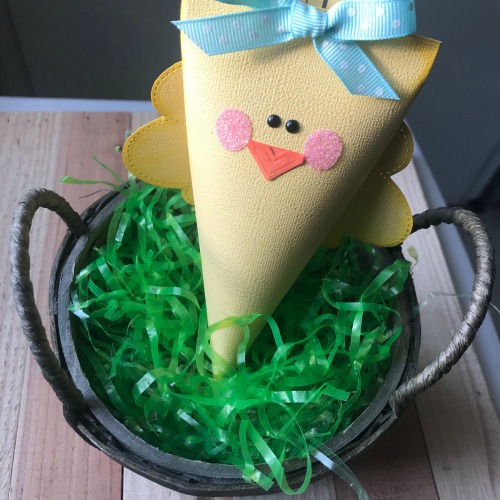 For the beak, I used one of the Creative Photo Corners Ivory and colored it with an orange alcohol marker. I added two of the Adhesive Dots Large for the cheeks and then topped with pink glitter. And one of my new favorites is the Adhesive Lines to attach ribbon bows! These are great because they cover a lot more surface area than the dots and follow the contour of whatever I'm sticking the bow too 🙂
This size container is perfect for jelly beans, robin eggs, m&m's and other small candies or trinkets!  I hope that you'll give it a try!
Creative Time: 15 minutes
Skill Level: Beginner
Materials Needed
Scrapbook Adhesives by 3L®
E-Z Dots® Repositionable Refillable Dispensers
Creative Photo Corners Ivory
Adhesive Dots Large
Adhesive Lines
HomeHobby by 3L®
Extreme Double-Sided Tape 1/4-in
Other
Doodlebug Design: Yellow cardstock, Black enamel dots, and Pink glitter; Offray: Ribbon; Orange alcohol marker
Pin It!