Hi friends! Dana Tatar here today sharing a quick tutorial for how to embellish team goody bags for a soccer party. Both of my daughters play soccer. You can usually find me looking for shin guards and cleats, washing uniforms, driving the soccer car pool, or cheering on the sidelines (rain or shine). Sometimes, my soccer mom duties include a fun craft project like this!
My younger daughter recently traveled out of state for a soccer tournament. Several of the soccer moms worked together to make goody bags for the players. Word got out that I'm crafty, so I was assigned the super fun job of decorating the bags.
Embellishing the Soccer Party Bag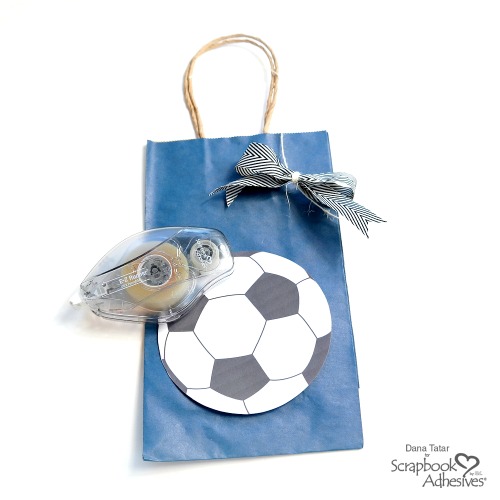 Select a sports ball image from the clip art library of a word processing program and print it out onto white cardstock and trim with scissors. Use the E-Z Runner® Ultra Strong Refillable Dispenser to secure the soccer ball to the front of the bag. This clear line of adhesive is immediately tacky and perfect for use on mixed media and paper construction such as boxes, bags, books, and other 3D projects.
Tie a ribbon bow around the handle of the gift bag.
Player Cards with Self-Laminating Pouches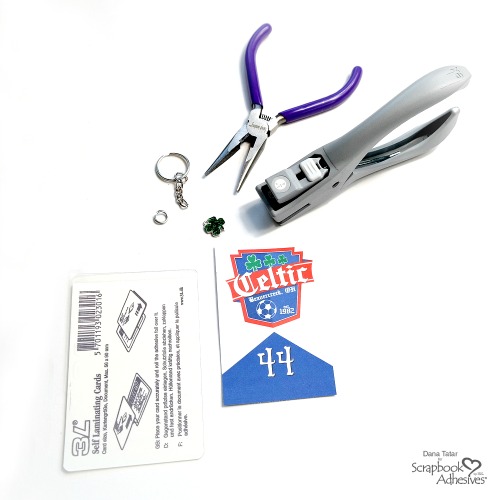 Acid-free, archival quality Self-Laminating Pouches are cold laminating, so no machine is needed for this step! First, create player cards with the soccer team logo and player numbers. Next, print the cards to size, align the card inside the pouch, and remove the liner while pressing the sides together. Self-Laminating Pouches are clear and durable, and they safely protect the contents from handling and the elements.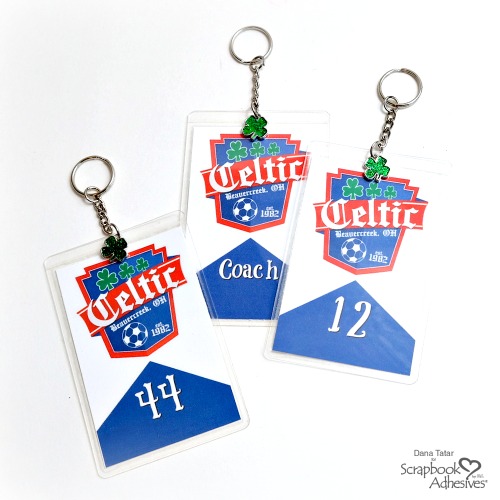 Next, punch holes in the top of each card and attach a charm and a key chain. A player initial would also look great!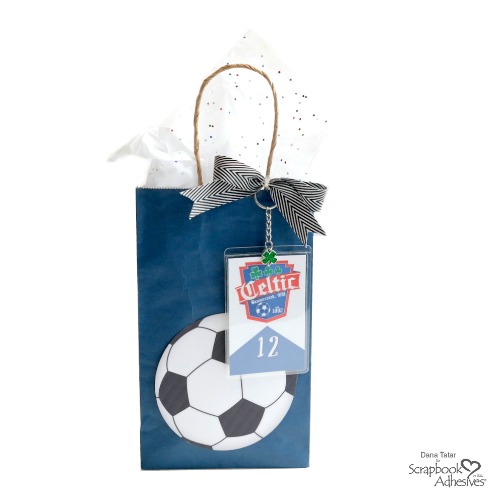 Finally, attach the key chain to the handle of the bag. Fill the goody bag with treats and pass out to the team. Once the goody bag is empty, remove the key chain charm from the bag and attach it to the soccer player's sports bag.
Thanks for stopping by today! Adapt this simple soccer party favor for any sports team by simply changing the ball embellishment and ribbon and bag colors.
Until next time,
~Dana
Creative Time: 1 Hour
Skill Level: Beginner
Materials Needed:
Scrapbook Adhesives by 3L®
E-Z Runner Ultra Strong Refillable Dispenser
HomeHobby by 3L®
Self-Laminating Pouches – Cards Small
Other
Party Favor Bags; White Cardstock; Ribbon (May Arts); Shamrock Charms; Key Chains; Tissue Paper
Love It! Pin It!