Hi everyone, it's Yvonne here with a Celebrate card showcasing a technique called Wear Your Adhesive on the Outside. With this technique, you use your Adhesive not just between layers for adhering, but on the top, as an embellishment on your card! And with lots of Metallic Transfer Foil and glitter, this card is extra sparkly!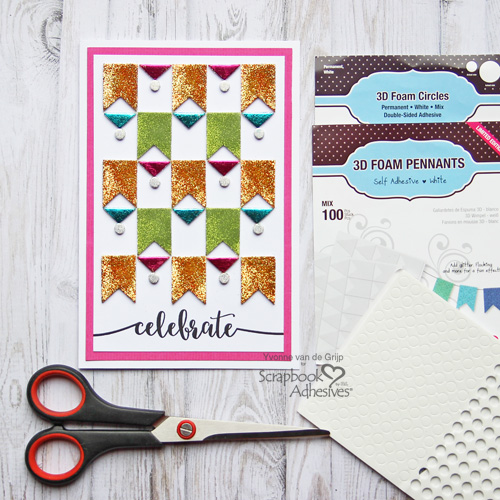 Celebrate Card with 3D Foam Pennants
I used every bit of the 3D Foam Pennants set to create a fun design and these shapes make cardmaking super easy!
Start by trimming a piece of white cardstock to a rectangle size to make the card panel. Place the pennant and triangle shapes from the 3D Foam Pennants onto the panel in a geometrical pattern. Make sure to leave space at the bottom to stamp a sentiment.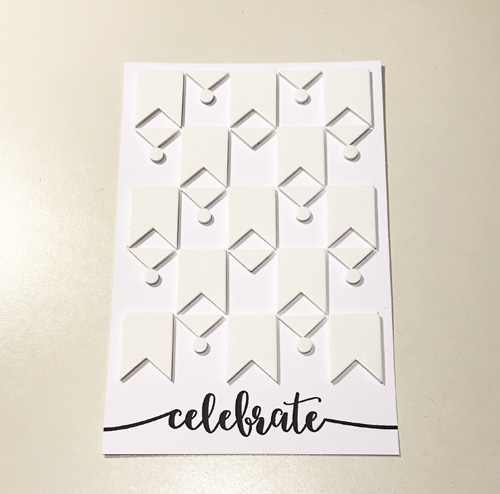 Designer's Tip: lightly draw a horizontal line in pencil to help line up the shapes easily. Simply erase the line after adhering the shapes.
Next, add 3D Foam Circles to the panel design. Then stamp the Celebrate sentiment on the panel using a black ink pad.
Wear Your Adhesive on the Outside
To Wear Your Adhesive on the Outside, remove the top liner from the 3D Foam Circles White Mix, place your desired color from the Metallic Transfer Foil Sheets Holographic Colors (color side UP), and rub with your fingertips to transfer the color to the circles.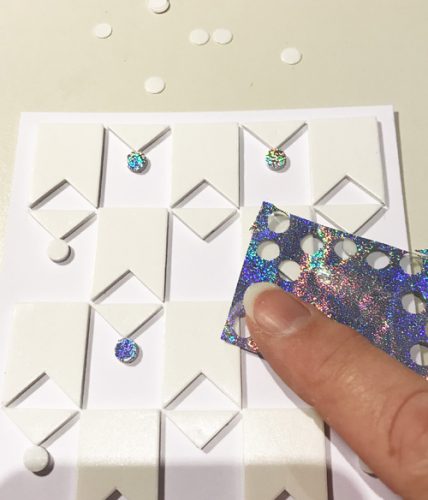 Remove the liners of the triangle shapes and repeat the same steps with the Metallic Transfer Foil Sheets Variety Colors.
For the pennant shapes, we will use a different medium glitter! Simply remove the liner of the pennant shapes, sprinkle glitter on top and gently burnish the glitter into the adhesive. Tap off the excess glitter and done. Isn't this a fun effect!
Making the
Card Base
Adhere the
glittered Pennants panel onto a slightly larger pink panel using the E-Z
Runner®
Permanent Strips Refillable Dispenser.
Secure the panel onto a white card base again using the E-Z Runner® Permanent Strips Refillable Dispenser.
And…voila…your Celebrate card is ready! I hope you enjoyed this simple tutorial and wish you happy crafting!
Yvonne van de Grijp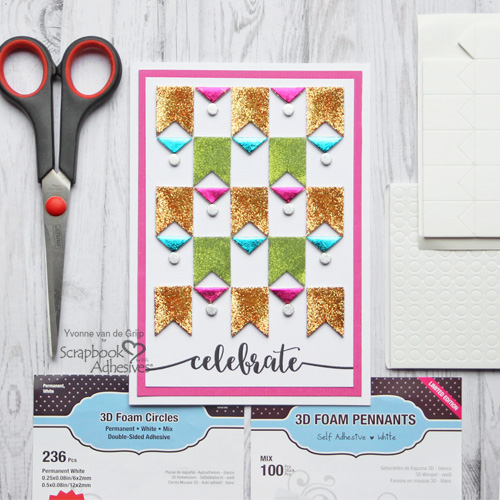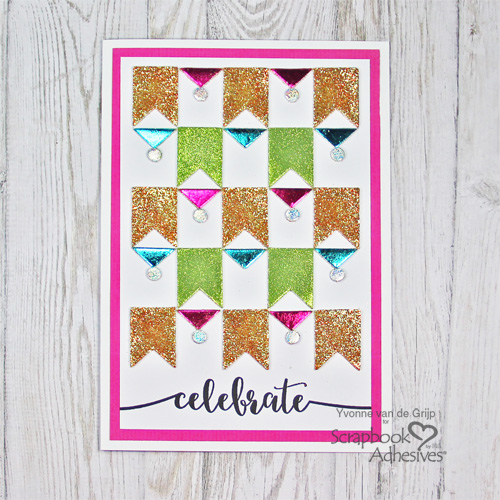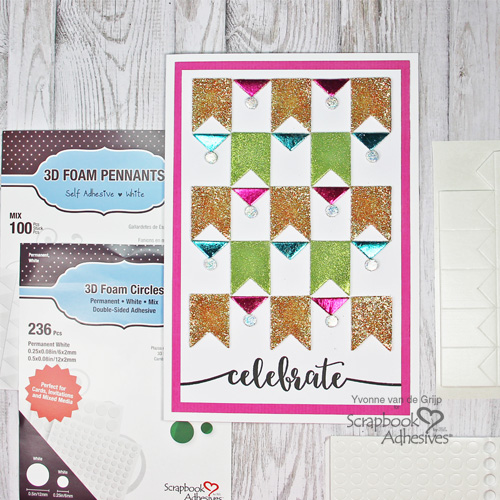 Creative Time:30 minutes
Skill Level: Beginner
Materials needed:
Scrapbook Adhesives by 3L®
Other
Cardstock (White, Pink); Clear stamps (Avery Elle: Sentimental); Black inkpad; Acrylic Stamp block; Glitter (Gold, Green); Paper Trimmer; Scissors, Ruler; Pencil; Eraser
Love It! Save It to Pinterest!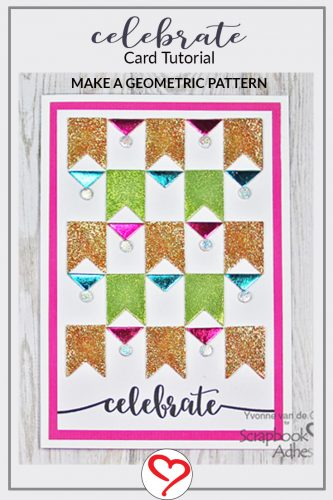 Let's Connect!