Hi friends! Dana here today sharing a scrapbook layout about one of my favorite foods — pizza. I've really enjoyed cooking more elaborate meals for my family with my extra free time. One dinner that we all always agree on is homemade pizza. I make the dough and everyone adds their preferred topping to their own pizza.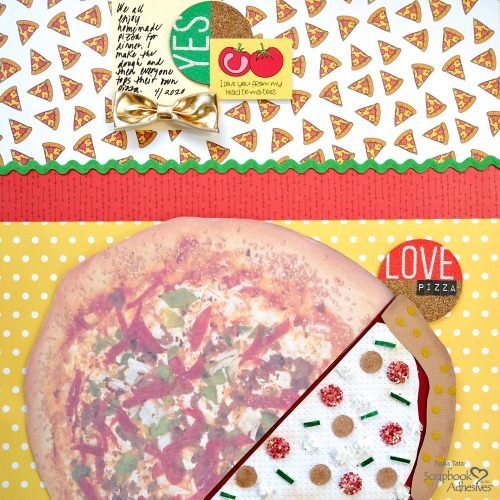 Building my own pizza slice embellishment for this scrapbook layout using cardstock, Adhesive Dots, and 3D Foam was so much fun!
Pizza Slice Embellishment Tutorial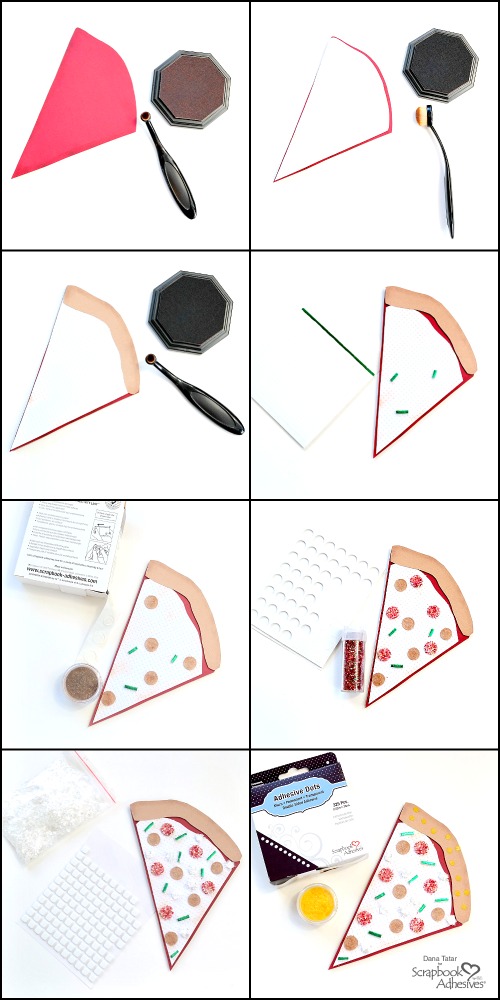 First, begin by cutting a piece of red cardstock into a triangular shape to create the base of the pizza slice. Next, cut a slightly smaller piece of white cardstock for the cheese layer. Then, cut a crust shape piece of brown cardstock to top the back edge of the slice. Apply ink to each layer to mimic browning. Secure the sauce, cheese, and crust pieces of cardstock together using the E-Z Runner Ultra Strong Dispenser.
Last, but not least, embellish the pizza slice with "toppings." Anything goes here. Have fun! I detail what products I used for my pizza slice below.
Green Peppers: Apply green Metallic Transfer Foil to 3D Foam Strips. Cut the foiled strips into smaller segments and press onto the slice.
Sausage: Press 3D Adhesive Dots onto the slice. Remove the top liner square and sprinkle on brown flocking powder. Gently tap to remove the excess powder.
Pepperoni: Apply 3D Foam Circles onto the slice. Remove the top liner and add chunky red glitter to the adhesive. Gently tap to remove the excess glitter.
Onions: Place Small 3D Foam Squares onto the slice. Peel off the liner and sprinkle mica flakes over the adhesive. Gently tap to remove the excess flakes.
Sesame Seeds: I love a flavored crust! Press Micro Adhesive Dots randomly over the crust cardstock. Remove the liner and brush on yellow flocking powder. Gently tap to remove the excess powder.
Assembling the Layout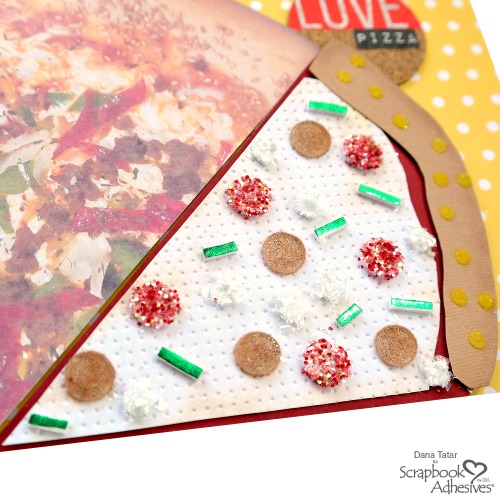 Select patterned papers for the base of the layout. I chose fun prints from the Photo Play Paper No Pun Intended (They had me at pizza print patterned paper!) and Tulla and Norbert collections. I printed a photo of my homemade pizza on an 8.5×11 inch piece of photo paper. Then, I cut the pizza photo down to about a 7 inch circle and trimmed away some of the bottom edge. I used the E-Z Runner Ultra Dispenser to secure a 4-inch pizza print and 1 inch red print to the base yellow dot patterned paper. Once I had the base complete, I attached the pizza photo and pizza slice embellishment to the page using Crafty Foam Tape.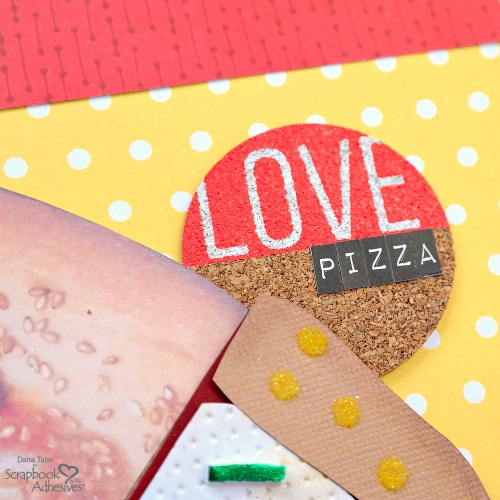 To play up the circle design theme, I added a cork circle sticker to the bottom half of the page for a fun title spot. Small letter stickers were perfect on top of the cork circle to finish the title.
Finishing Touches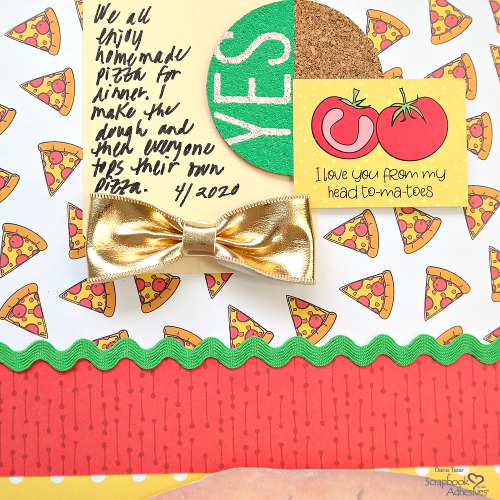 I used Micro Adhesive Dots to attach a strip of ricrac ribbon across the top of the layout to cover the seam of my patterned papers. Then, I created a journaling spot using a blank tag, another cork circle sticker, a cardstock sentiment sticker and a shiny gold bow. I purposely selected embellishments that were circle or triangle shaped to help emphasize the pizza shaped theme.
It is hard to say what is more fun, making a fresh pizza, or creating a pizza themed scrapbook layout! There are some toppings that will never make it onto my pizza; mushrooms, olives, and anchovies. I do, however, love the somewhat controversial topping of pineapple! I'd love to hear what you like on your pizza. Leave me a comment below, or better yet, create your own pizza embellishment and share it with us on Facebook or Instagram!
~Dana Tatar
Creative Time: 90 Minutes
Skill Level: Intermediate
Materials Needed:
Scrapbook Adhesives by 3L®
Adhesive Dots Micro
Adhesive Dots 3D
Metallic Transfer Foil Sheets Variety Colors
3D Foam Squares White Small Size
3D Foam Circles White Mix
Crafty Foam Tape 108ft
3D Foam Strips
E-Z Runner® Ultra Strong Dispenser
Other
Cardstock: Core'dinations; Patterned Paper: Photo Play Paper; Tag: Canvas Corp Brands; Cork Stickers: Studio Calico; Letter Stickers: Tim Holtz; Cardstock Sticker: Photo Play Paper; Gold Bow: Maya Road; RicRac Ribbon; Flocking Powder: Martha Stewart; Mica Flakes: Melissa Frances; Glitter; Dye Ink: Clearsnap; Black Marker
Love It? Save It to Pinterest!