Hi friends! Dana here today sharing a fun Summer layout that I created with the help of my daughter. We are working on painting the planter boxes in our backyard. My daughter designed her box with handprints and hearts. I wanted to document this event and I thought that including her handprint on my scrapbook page would be a great way to coordinate with our project, and also record the size of her hand at age 11.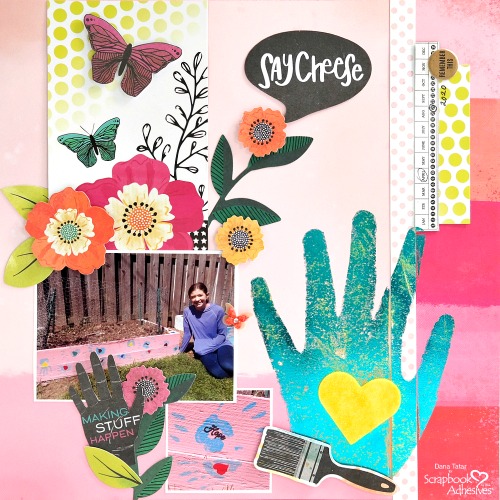 Both my daughter and I enjoyed working on both projects. Having her handprint on this scrapbook layout ensures that I'll remember this moment long after the paint on the planter box fades.
Metallic Transfer Foil Handprint Embellishment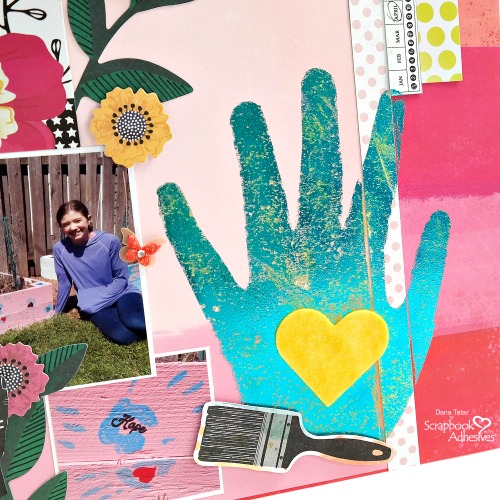 After I assembled the base patterned papers and other page elements, I traced the outline of my daughter's hand onto an Adhesive Sheet 6 x 12-inch. I cut the handprint out and pressed it onto the page. Next, I peeled the top liner from the hand and covered it with a sheet of Metallic Transfer Foil Variety Colors. Finally, after firmly pressing down on the foil sheet (color-side up) to transfer the color, I removed the foil to reveal the metallic handprint embellishment.
To add another layer of color, and to match the design on the planter box, I applied a 3D Foam Heart to the center of the handprint. I sprinkled a layer of glittered yellow flock onto the foam heart. The metallic foil and the glittered flock really sparkle in the light!
Adding Dimension to Die-Cut Flowers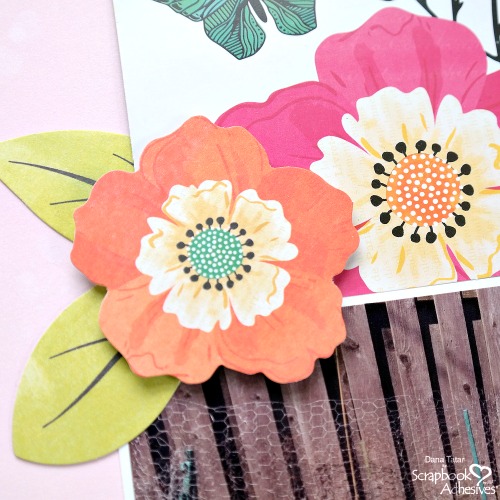 I used 3D Foam Circles to attach several of the die-cut flowers to my layout to help raise the shapes off of the page.
Thanks for stopping by today! I hope I have inspired you to create art with your children!
~Dana Tatar
Creative Time: 30 Minutes
Skill Level: Beginner
Materials Needed:
Scrapbook Adhesives by 3L®
Metallic Transfer Foil Sheets Variety Colors
Adhesive Sheets 6×12 Inch
3D Foam Circles White Mix
E-Z Runner® Ultra Strong Dispenser
3D Foam Hearts
Other
Patterned Paper (American Crafts); Die-Cuts (American Crafts); Butterfly (Prima Marketing); Puffy Sticker (American Crafts); Glittered Flock (Martha Stewart); Product Packaging; Marker (American Crafts)
Save to Pinterest Now!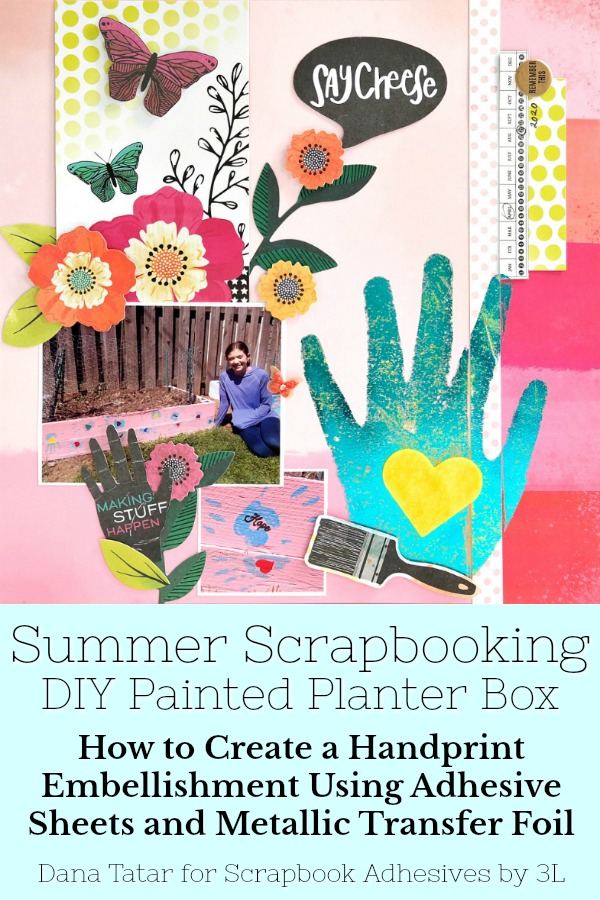 Let's Connect!