Hi friends! Dana here today sharing a scrapbook layout that I created to celebrate national hot dog month. If you're from Detroit, the only way to eat a hot dog is a Detroit-style Coney, which is a beef dog with bean-less chili, mustard, and white onions. Don't forget the side of French fries!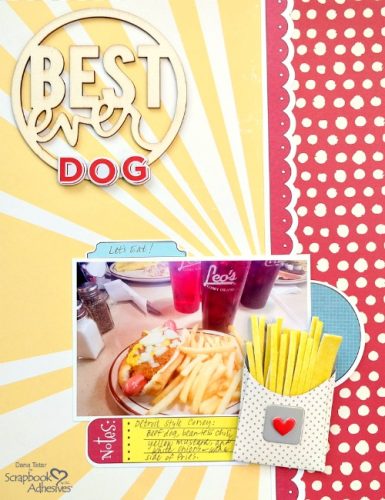 I had a lot of fun creating my own French fries to embellish this page using 3D Foam Strips and White Crafty Foam Tape.
How to Create French Fries with 3D Foam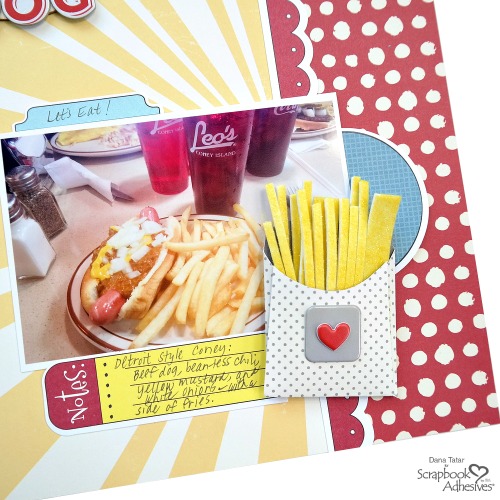 To create my embellishment, I first cut and folded a small container from patterned paper to hold the French fries. I used Extreme Double-Sided Tape 1/8 Inch to hold the sides of the container together.
Next, I cut two pieces of Crafty Foam Tape White approximately 3 inches long. Press the adhesive into glittered yellow flocking powder, removed the adhesive liner from the back of the tape, and then secured the flocked French fries into the container.
Repeat this same technique with 3D Foam Strips until the container was full. I applied puffy stickers to the center of the fry container as a fun finishing touch.
Layered 3D Title with Adhesive Dots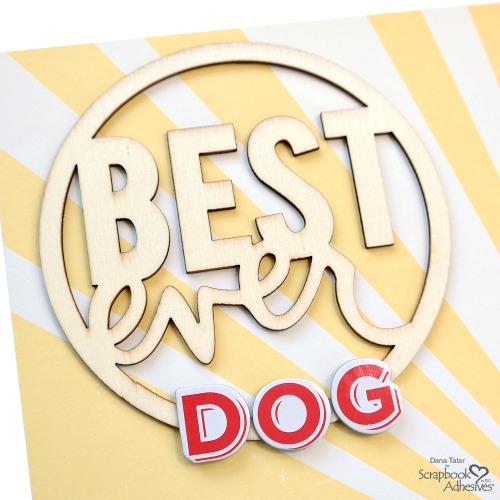 I wanted to create a balanced design, so I added a 3D title to the page. A raw wood veneer die-cut was a fun choice. I secured this embellishment to my layout using Adhesive Dots Mini.
Next, I applied chipboard letter stickers to the bottom of the wood veneer die-cut. I reinforced these stickers with Adhesive Dots Mini to be sure that they stayed in place.
Thanks for stopping by today! I'd love to learn about the signature hot dog in your area. Do you also enjoy a side of fries or are your dogs served with something else?
Leave me a note in the comments section with your must-have toppings!
~Dana Tatar
Creative Time: 45 minutes
Skill Level: Beginner
Materials Needed:
Scrapbook Adhesives by 3L®
E-Z Runner Grand Ultra Strong
Adhesive Dots Mini
Crafty Foam Tape White
3D Foam Strips
Home Hobby by 3L®
Extreme Double-Sided Tape 1/8 Inch
Other
Patterned Paper: American Crafts, October Afternoon; Die-Cuts: Nikki Sivils; Wood Veneer Die-Cut: Heidi Swapp; Puffy Stickers: Bella Blvd; Chipboard Letters: American Crafts; Glittered Flock: Martha Stewart
Save it to Pinterest!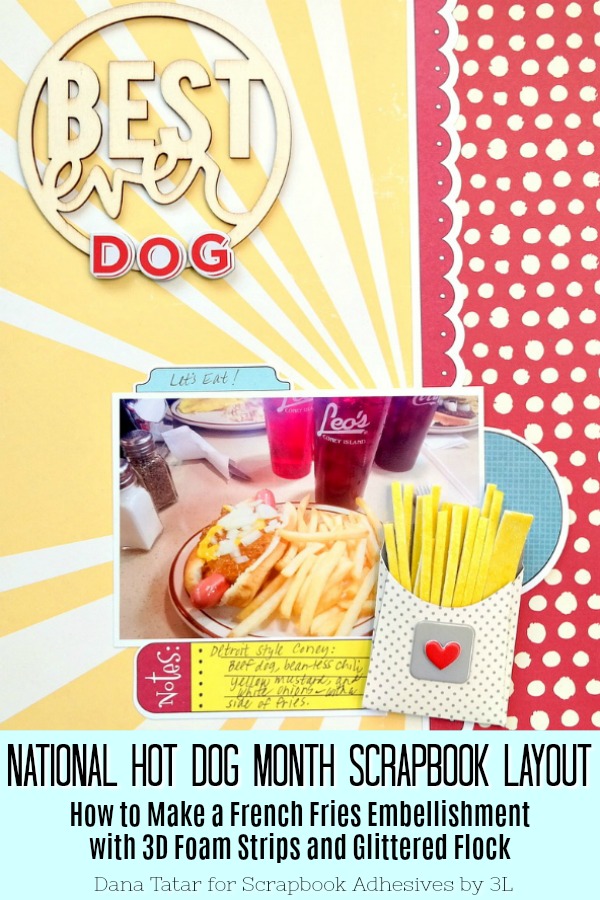 Let's Connect!