Hi friends! Dana here today sharing a fun summer mini album. I used the Photo Play Paper Wild Honey Collection, a sweet combination of beautiful florals and bee-inspired patterns, to decorate the inside of the album. To bring some of the colors out to the album cover, I stitched embellished E-Z Squares® onto the binding fabric for a touch of sparkle.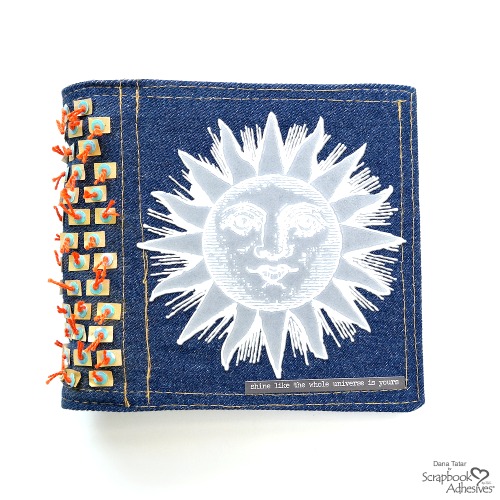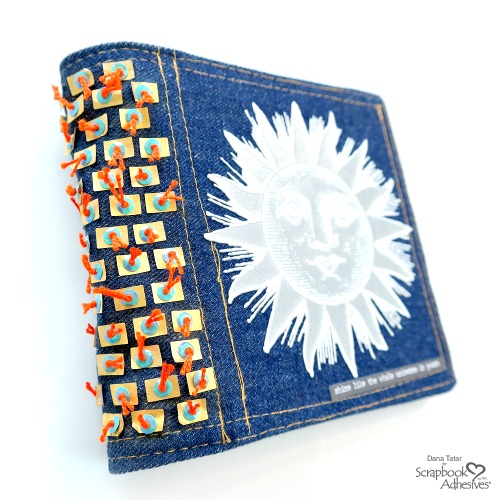 Apply Pigment Powder to E-Z Squares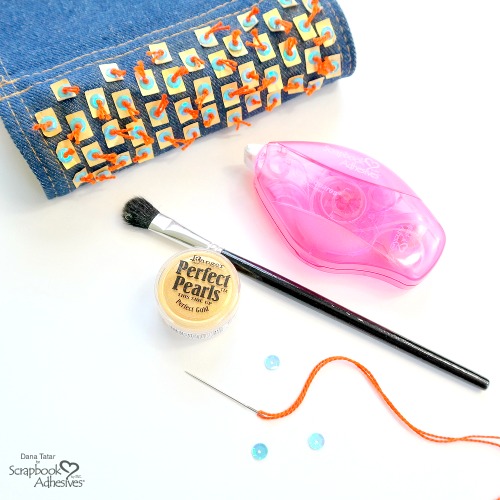 E-Z Squares® are ready to accept pigment powder directly out of the dispenser – no primer medium is required. Simply apply the E-Z Squares to the album binding. Use a soft brush to load and apply the pigment powder to the E-Z Squares.
Next, thread a needle with floss and tie a knot at the end of the string. Slide a sequin onto the floss and stitch it onto the album binding into the center of an E-Z Squares®. Tie a knot on the inside of the album to secure the sequin and cut excess floss.
Repeat this stitching process until each E-Z Squares® has a stitched sequin embellishment and you get the desired look.
Adding Dimension with Adhesive
Use Creative Photo Corners to accent photos in mini albums. These self-adhesive embossed corners are a great way to add texture to a page when space is limited. I like the mixed package, which includes a variety of colors: Black, White, Gold, Silver, Kraft, and Ivory, conveniently packaged on strips.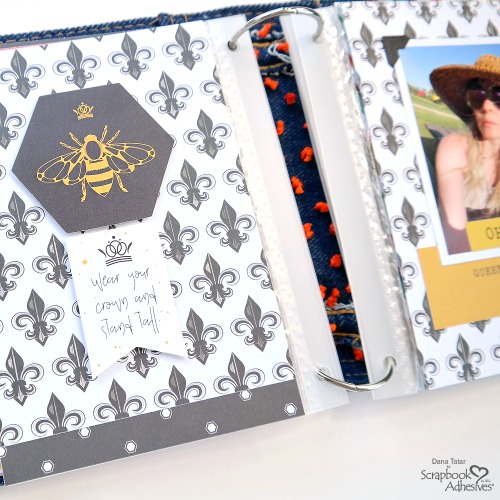 To keep my album spreads from looking flat, I used 3D Foam Squares Small to secure die-cuts to several pages. The high-density foam will not crush, so the dimension will be seen for years to come. I always reach for 3D Foam when I'm designing with patterned papers of the same color, like those shown above, to help define the layers of patterned paper.
I hope to have inspired you to use E-Z Squares® Refillable Dispenser on the outside of your projects.
Thanks so much for stopping by!
~Dana Tatar
Creative Time: 90 Minutes
Skill Level: Intermediate
Materials Needed:
Scrapbook Adhesives by 3L®
3D Foam Squares White Small Size
E-Z Squares Refillable Dispenser
Creative Photo Corners Mix Pack
Other
Denim Mini Album: 7 Gypsies; Patterned Paper: Photo Play Paper; Die-Cuts: Photo Play Paper; Cardstock Stickers: Photo Play Paper; Sentiment Sticker: Ranger; Architextures Sun Base: 7 Gypsies; Perfect Pearls Pigment Powder: Ranger; Floss; Sequins
Save it on Pinterest!