Hello friends! Judy here with a wonderful Pumpkin Truck card. When I was looking for fall ideas for this card, I found this pumpkin truck stamp in my stash. I'm a lover of old farm trucks and pumpkins! So this was perfect for me to make this fall card!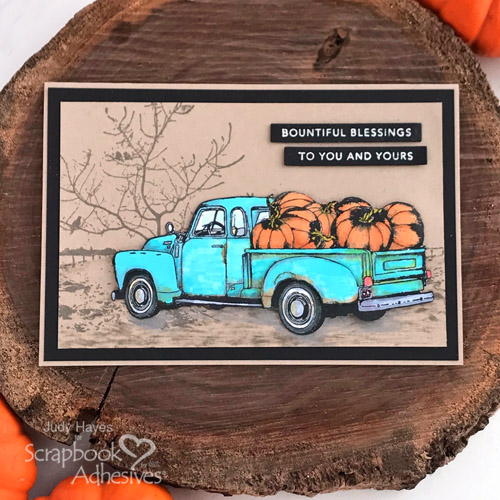 Working the Pumpkin Truck
To make this card, stamp pumpkin truck two times with Versafine Onyx Black ink on white cardstock. I used Misti for stamping so I could re-stamp each image as needed for a good impression.
Color one pumpkin truck image with markers. On the other image, color the front and back fenders only.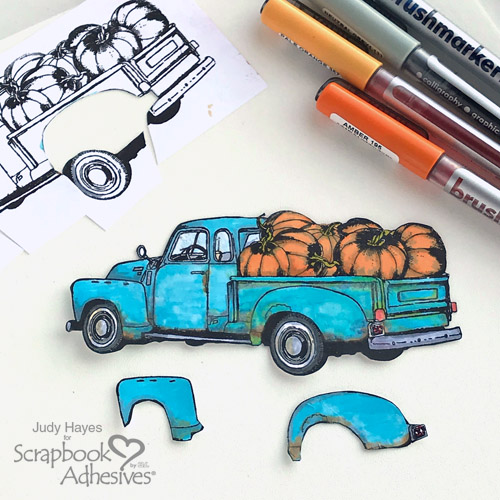 Cut out the colored truck. Cut out each separate fender.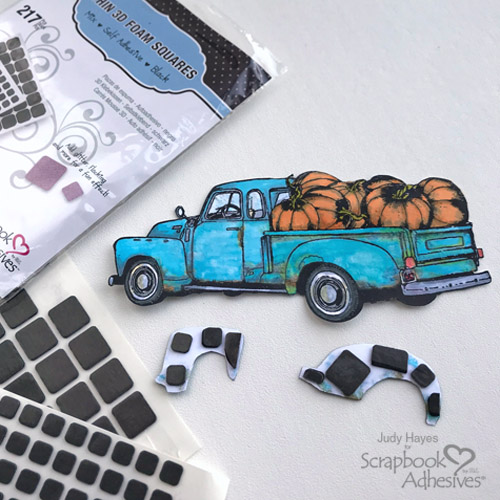 Apply Thin 3D Foam Squares Black Mix to the back of each fender. Squares can be cut in half and trimmed to fit. Fasten each fender in place on the truck.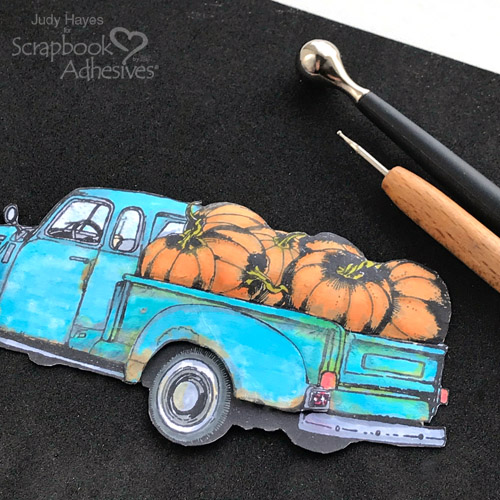 Use a small ball stylus on a piece of foam to trace around the edge of the truck near pumpkins. Use stylus lines as a reference to know where pumpkins are for shaping them.
On the backside, use a large ball stylus to rub over the center of each pumpkin in a circular motion. This will make the paper slightly rounded on the front so pumpkins are slightly dimensional.
To define them even more, place truck face up on foam. Trace around each pumpkin with a small stylus.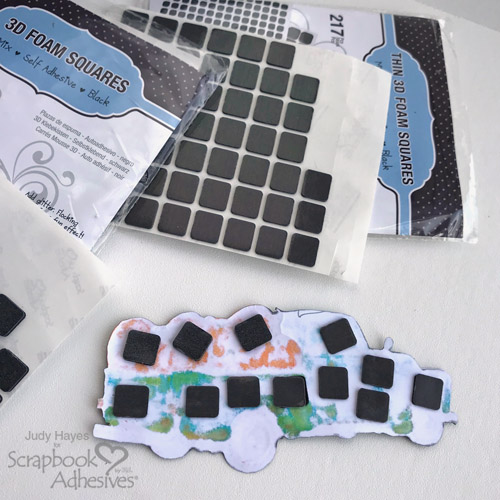 Place Thin 3D Foam Squares Black Mix on the back of the pumpkin truck but not on the pumpkin area.
Place 3D Foam Squares Black Mix on the back of pumpkins. This will raise pumpkins slightly more than truck to keep them dimensional.
Background Building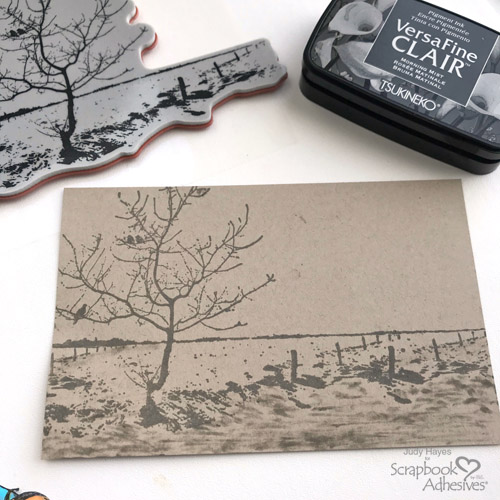 Stamp tree background on 4.125 x 6.375 inch Kraft cardstock using Morning Mist ink. Stamp off the edge of the paper on the left edge. The image will not go clear across the paper. Ink and stamp again on edge with the fence.
Place scrap paper as a mask over the previously stamped background. Stamp on the right edge to continue the background across the paper on the right side.
Notice the two fences in the photo at the center and right side are the same. Use eye shadow applicator or cotton swab with Morning Mist ink to continue horizon if needed and to fill in the lower area below stamped images.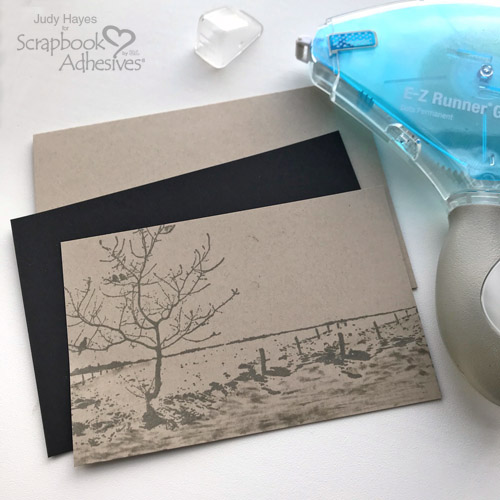 Card Layers
Form 4.75 x 7 inch top fold card from Kraft cardstock. Designer's Tip: this will easily fit in a 5 x 7-inch envelope.
Cut 4.5 x 6.75-inch mat from black cardstock. Use the E-Z Runner Grand Permanent Dots Dispenser to secure the layered card panel to the card front.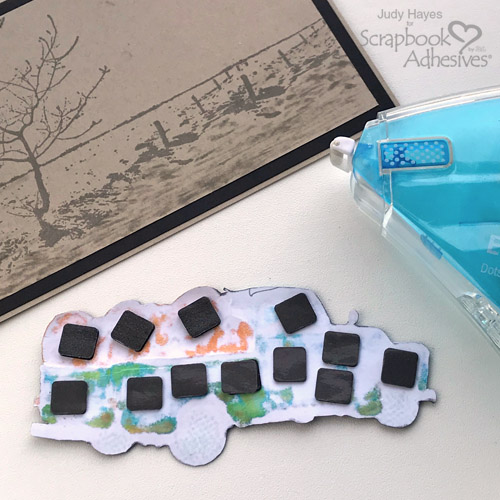 Assemble the Truck
Use the E-Z Runner Grand Permanent Dots Dispenser to apply adhesive to the back of wheels on the truck. This will hold wheels flat on the card so it doesn't appear to be floating. Adhere the pumpkin truck on the card.
Stamp Mini Strips Harvest on black card stock with Versafine Onyx Black Ink. Heat emboss with white embossing powder. Die-cut into strips with matching die.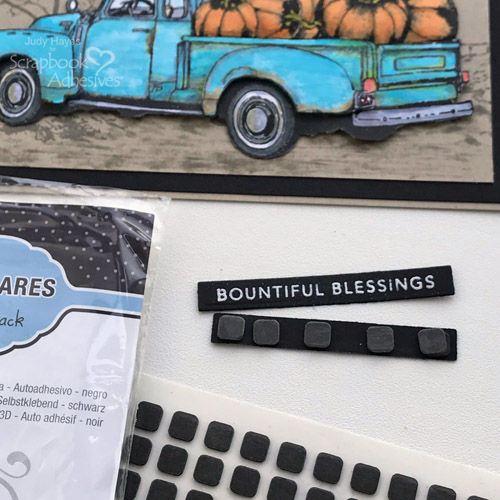 Apply small squares from Thin 3D Foam Squares Black Mix to the back of strips.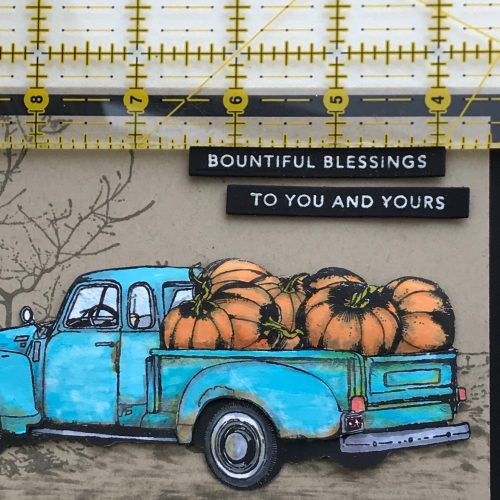 Attach the greeting strips to the card. I use a quilting ruler to line them up straight. It works really well!
Use a gray marker to add shading near the wheels and under the pumpkin truck.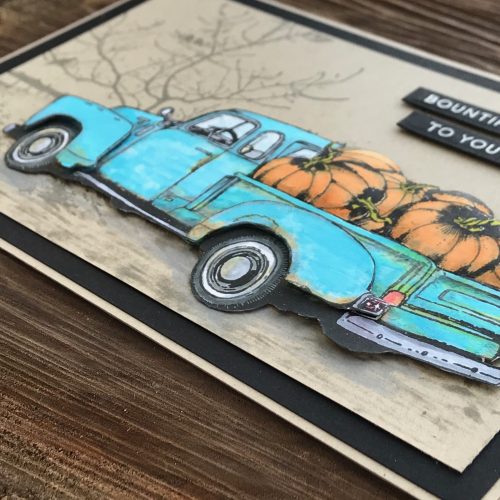 You can see some of the dimension of the fenders in this photo. Although pumpkins feel dimensional, it was difficult to photograph them to show that.
I hope you've enjoyed my Pumpkin Truck Card! Thanks for Visiting!
Judy Hayes
Creative Time: 45 Minutes
Skill Level: Intermediate
Materials Needed
Scrapbook Adhesives by 3L®
Other:
Imagine Crafts/Tsukineko – Versafine Onyx Black Ink Pad, Versafine Clair Morning Mist Ink Pad; Karin Brushmarker Pro markers; Penny Black Stamps – "restful", "pumpkin truck"; Ranger White Embossing Powder; Taylored Expressions – Mini Strips Harvest, Mini Strips Die; Cardstock – White, Kraft, Black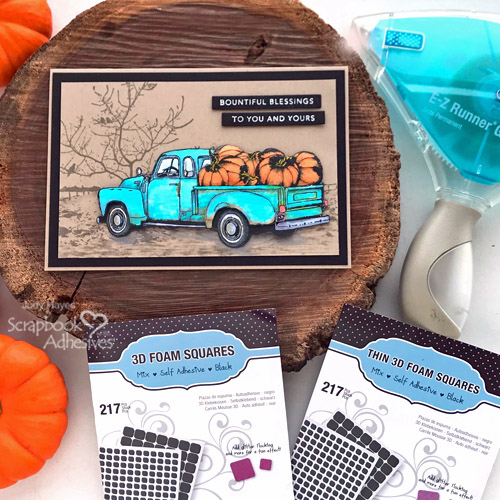 Save it to Pinterest!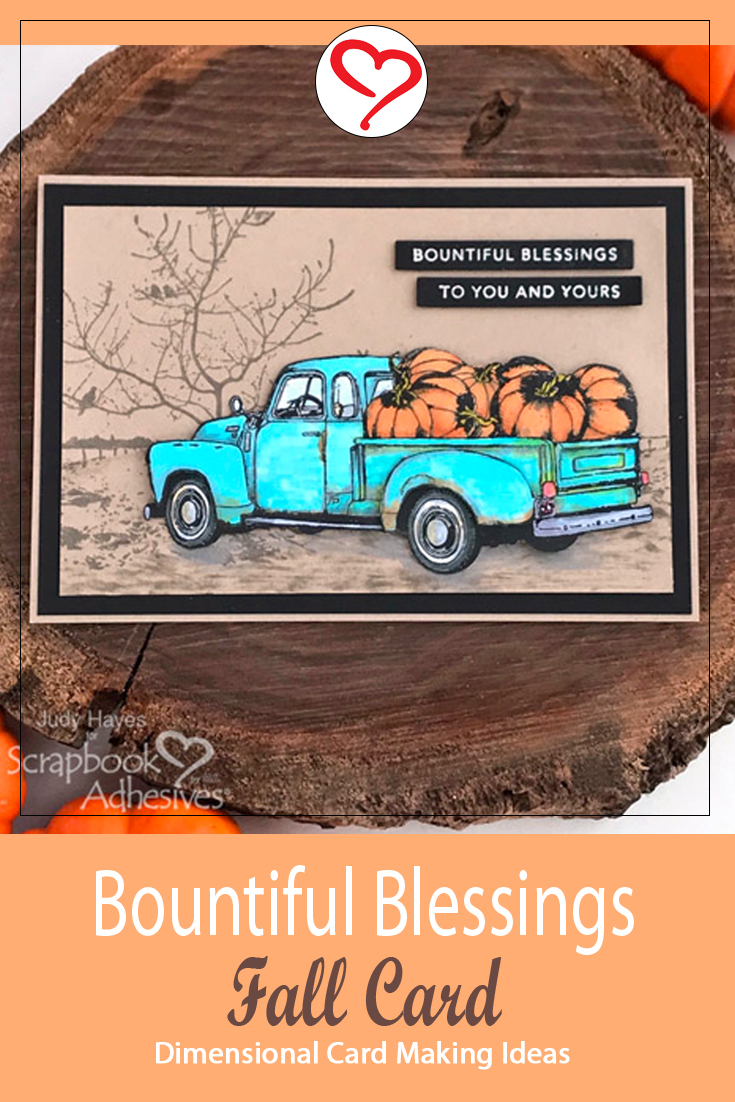 Let's Connect!