Hi friends! Dana here today sharing a fun way to use adhesives to create wearable art. I chose one of my favorite butterfly stamps and some shrink plastic to create earrings. Adhesive Sheets work on more than just paper, read on to learn how to use them in jewelry making!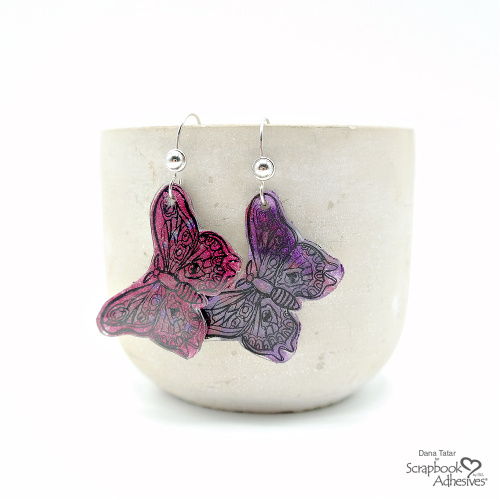 The vibrant color of these butterfly earrings is from the layers of Metallic Transfer Foil that I placed between the layers of stamped plastic.
How to Apply Transfer Foil to Stamped Plastic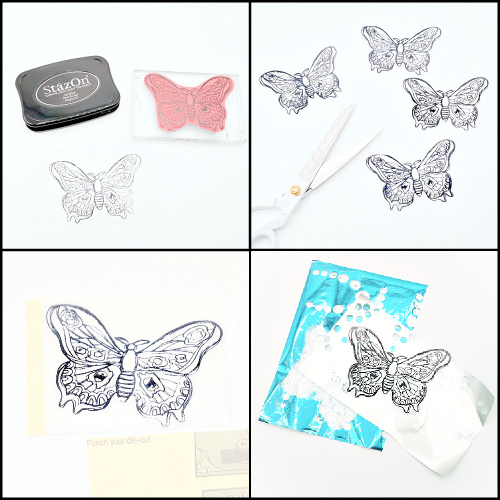 To begin, apply solvent ink to a butterfly stamp and press the design onto a piece of shrink plastic. To create 1 pair of earrings you will need 4 stamped butterflies.
Next, use scissors to carefully cut the excess plastic from the stamped butterflies.
Use a 4×6 inch Adhesive Sheet to apply adhesive onto the back of a stamped butterfly. Peel away to top yellow protective sheet. Place the plastic butterfly onto the exposed adhesive. Then, place the yellow liner on top of the plastic and rub to transfer the adhesive. Note: I cut the Adhesive Sheet in half to make applying adhesive to the small butterflies easier.
Press a Metallic Transfer Foil onto the adhesive on the back of the butterfly. Be sure to place the adhesive on the silver side of the foil. Repeat this process with a second butterfly. Note: I used some used foil sheets for this step so that I could add more than one color of foil to the butterfly wings. The areas of missing foil was a more natural way of applying a second color to the design.
Earring Assembly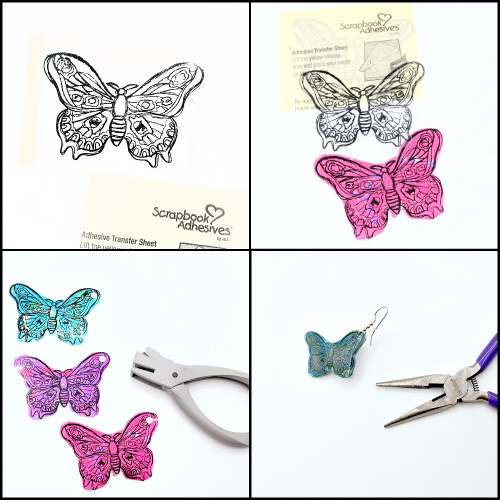 Apply adhesive to a third butterfly using the same process as above.
Place the clear stamped butterfly over a foiled butterfly and press to seal. Repeat this step with the fourth butterfly.
Use a pair of scissors to trim the edges of each butterfly so they match up evenly. Punch a hole in the top right wing of each butterfly. Heat shrink plastic in an oven according to the manufacturer instructions.
Lastly, attach an earring finding to each butterfly.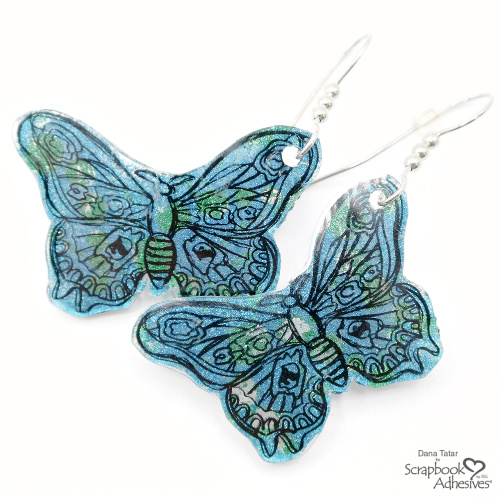 I created two pairs of earrings, one pink and purple and the other blue and green. Try using the Metallic Transfer Foil Sheets in Holographic Colors to create iridescent, silver, or gold butterflies.
Thanks for stopping by today! I hope I have inspired you to literally wear your adhesive on the outside!
~Dana
Creative Time: 45 minutes
Skill Level: Intermediate
Materials Needed:
Scrapbook Adhesives by 3L®
Adhesive Sheets 4×6 Inch
Metallic Transfer Foil Sheets Variety Colors
Other
Dina Wakely Media Butterfly Stamp: Ranger; Solvent Ink: Tsukineko; Earring Findings: Martha Stewart; Shrink Plastic: PolyShrink
Pin It!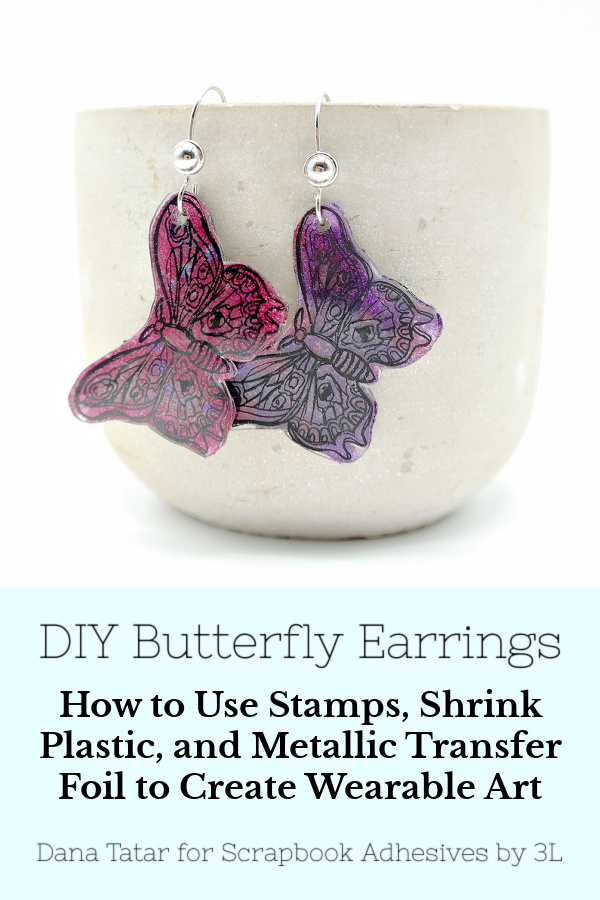 Visit our Website and Blog!
Sign up for our Newsletter so you never miss a contest or giveaway!