Hi, Connie here with a Metallic Foil Gift Tin project using one set from the Metallic Transfer Foil Sheets to cover a tin box. Using it with the Adhesive Sheets 4 x 6 in., makes this project easier to do! I had this tin in my craft stash so it was perfect for a makeover. Grab what you have and let's get started.
Wear Your Adhesive on the Outside with the Gift Tin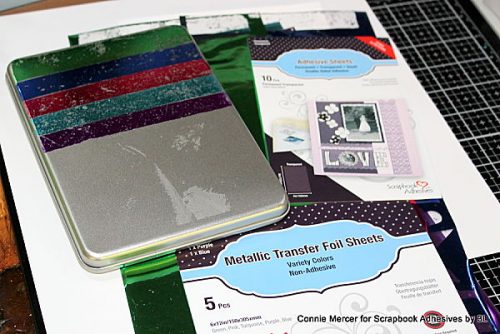 You will need a tin container, Metallic Transfer Foil Sheets in Variety Colors, and Adhesive Sheets 4 x 6 in.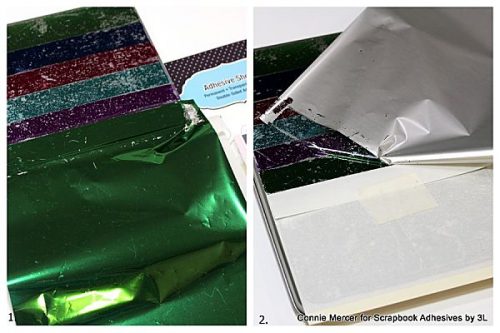 1. The first thing to do is cut your foil sheets in half. They will be easier to handle when laying on the adhesive sheets. Add the 4×6 adhesive sheet to the tin. Rub it on and then pull up. Take the release sheet and cover all but about an inch (so foil doesn't stick until you are ready).
2. Add the foil over the adhesive and rub. Pull up and repeat until the front of the tin is covered. Tip: Keep folding
the release sheet down so you are covering only an inch strip at a time. I really loved the distressed look when the foil was all on.
Creating a Embellishment Cluster
1. I took a rosette embellishment and added a vintage milk cap to the center using the 3D Foam White Circles Mix.
2. Then using the 3D Foam White Circles Mix adhered the rosette to a strip of vintage tags. Extreme Double-Sided 1/2″ Tape was used to secure the tiny tree to the milk cap.
3. The embellishment strip was stapled to ribbon and then tied around the tin. Tip: Making a ribbon tie around will
keep the foil in place. Adhesive will pull up the foil if you ever decide to remove the embellishment.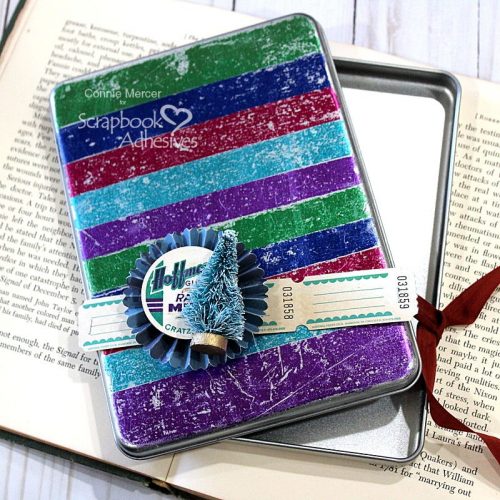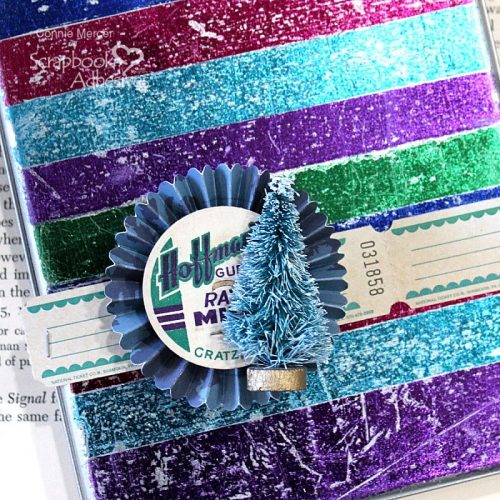 Thanks for stopping by and have a wonderful Holiday!!
Connie Mercer
Creative Time: 40 minutes
Skill Level: Beginner
Materials needed:
Scrapbook Adhesives by 3L®
Metallic Transfer Foil Sheets/Variety
Adhesive Sheets 4X6
3D Foam White Circles Mix
Home Hobby by 3L®
Extreme Double-Sided Tape 1/2″
Other
Staples: Tim Holtz (Tiny Attacher); Tin Container; Ribbon; Embellishments
Save to Pinterest!