Hello crafty friends! Here it is almost February and that brings Valentine's Day. I've put together a pretty card with 3D foam hearts, foil, microbeads, embossing powder, embossed hearts, and more. There's plenty of time to make this You are So Loved Hearts card for someone special!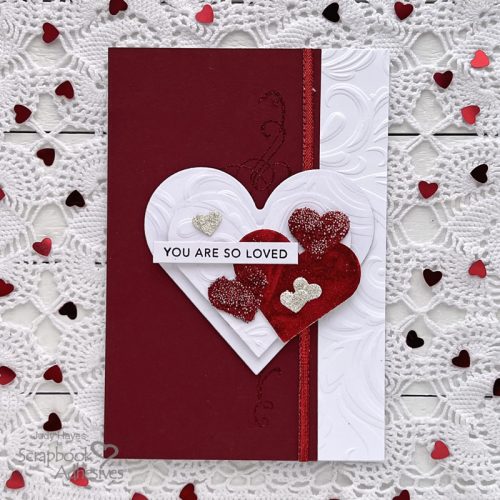 Wear Your Adhesive on the Outside with Hearts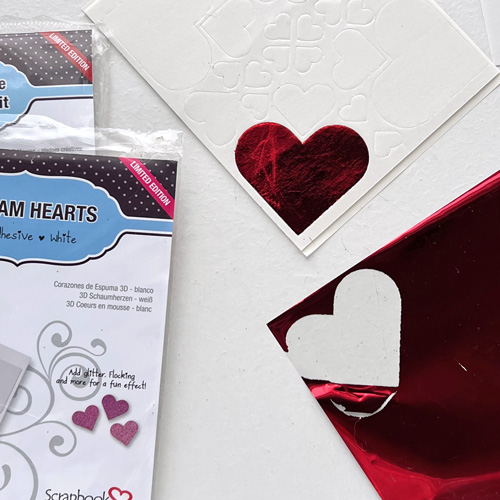 Are you familiar with Wear Your Adhesive on the Outside technique? It is bringing your adhesives from between layers of paper to showcase them as embellishments. In this case, simply remove the liner from a large heart, place a sheet of red foil from 3D Foam Creative Embellishment Kit with Foil over the heart (color side UP), rub and peel the foil sheet off. That's it!
How to Use 3D Foam Shapes Video
Try with Microbeads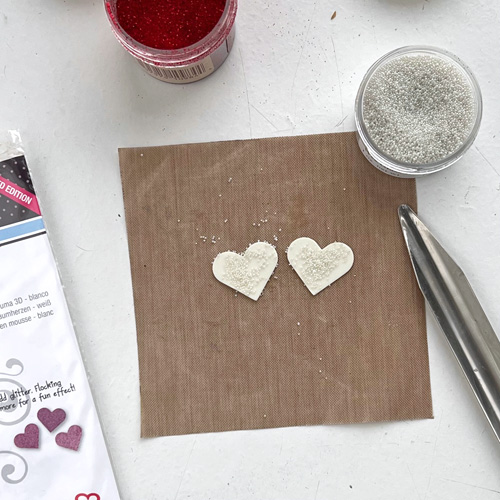 Take two medium 3D Foam Hearts and place them on a non-stick craft mat. Remove the liner and randomly sprinkle pearl microbeads over each heart. Make sure to press them into the foam to secure. Remove excess beads.
Let's Heat Emboss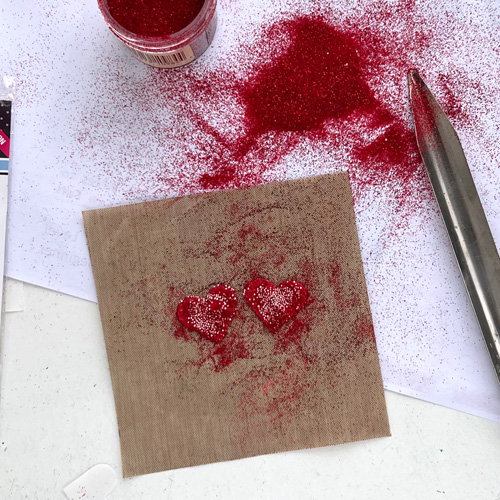 Sprinkle red tinsel embossing powder over hearts, press to secure, remove excess, and heat with a heating tool to emboss. Designer's Tip: while hearts are still warm, sprinkle more embossing powder on them, and heat to emboss for depth in color.
For the three small hearts, repeat the above steps but use white sparkle embossing powder.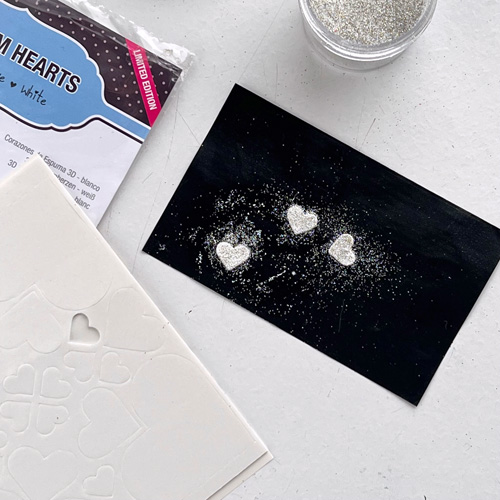 Embossing Accents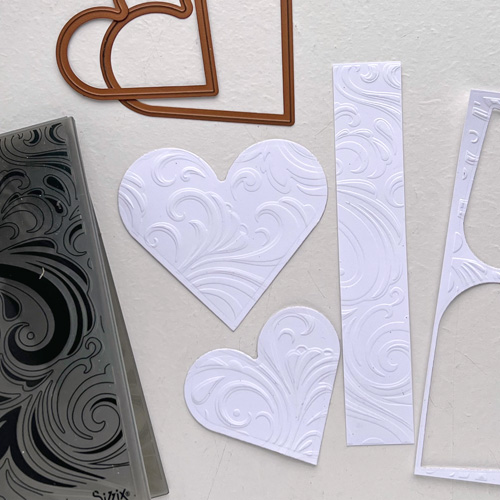 Cut a piece of heavy white cardstock 4.5 x 6.5 inches. Use a die-cutting machine and Swirls embossing folder to emboss paper. Cut off a 1-inch strip along one long edge. Next, die-cut a 2.75-inch heart and a 3.5-inch heart from the embossed cardstock.
Sentiment
Stamp a greeting with black ink on white cardstock and heat emboss with clear embossing powder. Die-cut a greeting strip. Trim points off ends.
Assemble the Hearts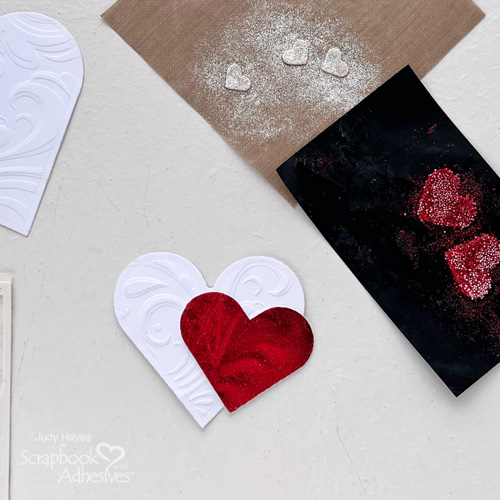 Place the smaller embossed white paper heart on the work surface. Remove the foiled heart from 3D Foam Sheet and place it on the right edge of the white heart. Turn it over and apply powder to the sticky part of the foiled heart that extends beyond the white heart.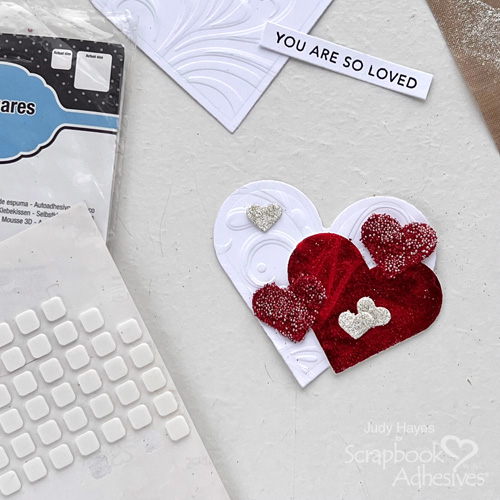 Place medium red tinsel heart lapping over foil heart at bottom left. Remove other red tinsel hearts from non-stick sheet, turn over and place 2 small Thin 3D Foam Squares White Mix near the top edge of the heart. Remove liners and then place heart lapping over foil heart at top right.
Place 2 small white sparkle hearts lapping each other on foil heart. Place the other white sparkle heart at the top left on the embossed white heart.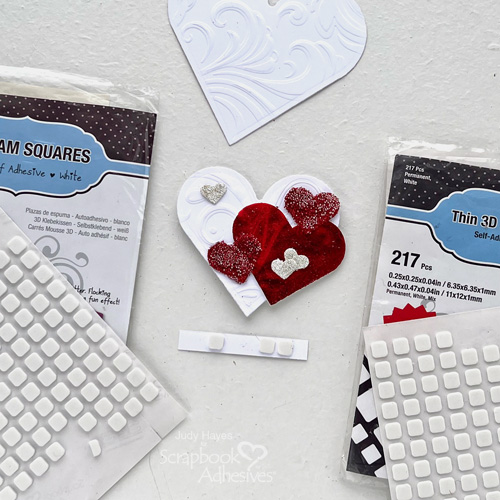 On back of greeting strip, place small 3D Foam Square at left end and one or two small Thin 3D Foam Squares White Mix at the other end. This will keep greeting strip level where it laps over foiled heart. Remove liners and place greeting on heart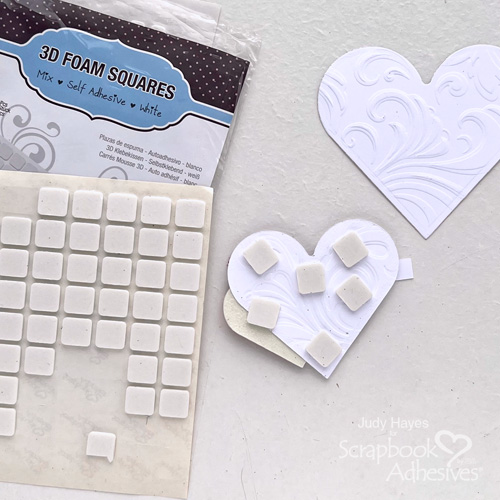 Turn over heart with greeting and place large 3D Foam Squares White on back. Peel liners and fasten it to large white embossed heart.
Prepare Red Panel
Cut 3.25 x 6.25 inch dark red cardstock.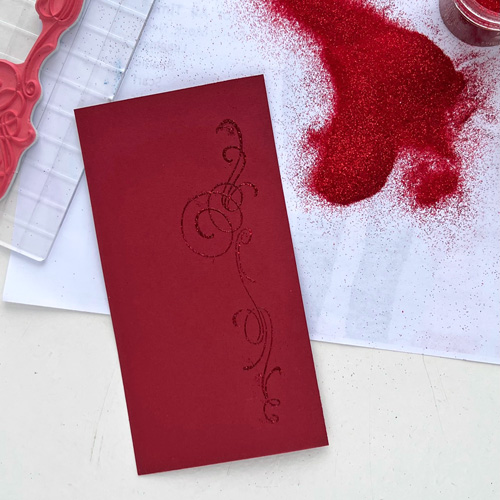 Ink swirl stamp with embossing ink and stamp parallel to long side of red panel. Cover with red tinsel embossing power, remove excess and heat emboss with heat tool.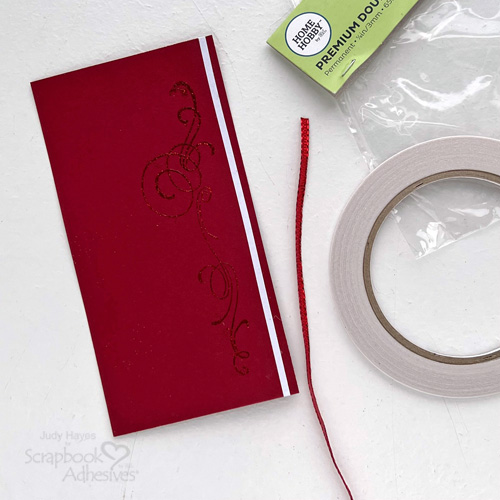 Apply a strip of Premium Double-Sided Tape 1/8in along edge, peel liner and fasten red ribbon over it. Press in place.
Assemble Card Base
Form side fold 4.25 x 6.25 inch card from white cardstock. Use E-Z Runner® Ultra Strong Refillable Dispenser to apply adhesive to back of red panel. Fasten to card front along fold edge.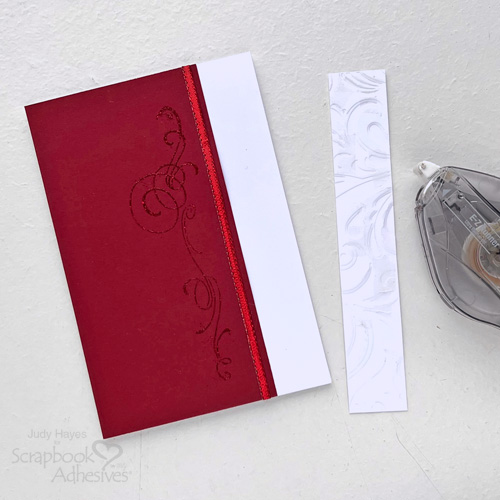 Apply adhesive to back of embossed white cardstock strip using E-Z Runner® Ultra Strong Refillable Dispenser and fasten it next to red panel.
Add Hearts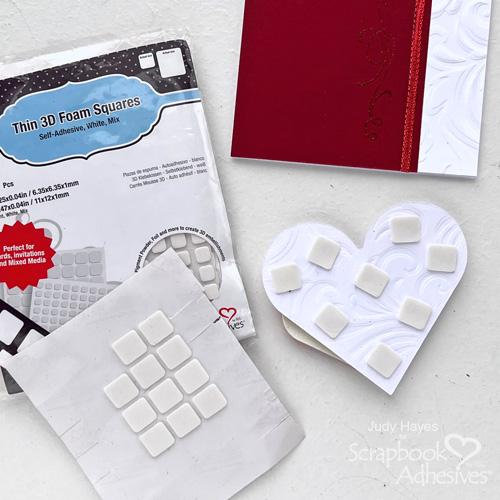 Place large Thin 3D Foam Squares White Mix on back of heart assembly. Peel liners and fasten heart to the card front.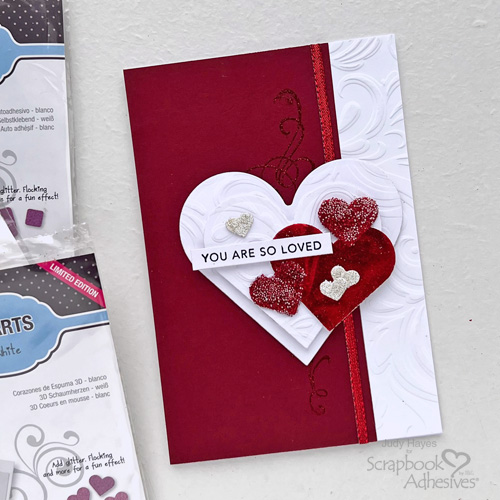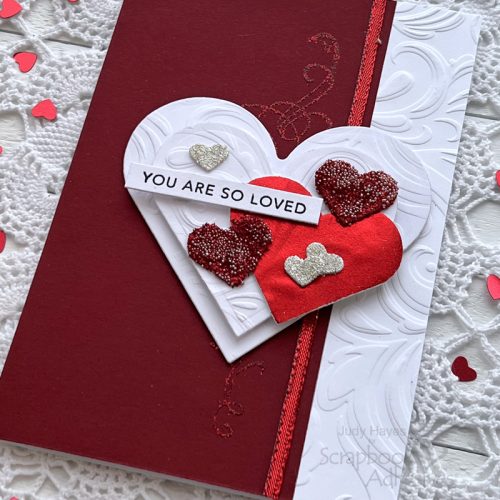 I hope this inspired you to create a sparkly You are So Loved Hearts Card.
Thanks for Visiting!
Judy Hayes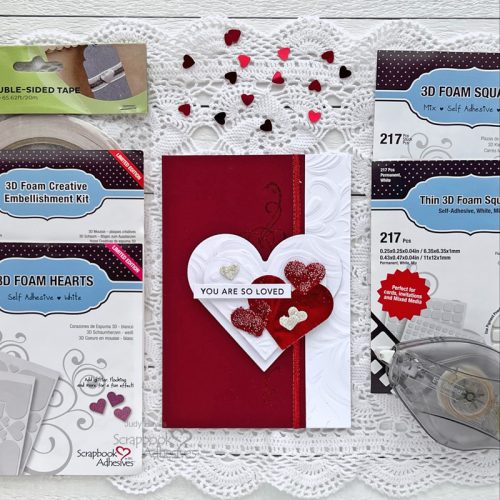 Creative Time: 30 Minutes
Skill Level: Intermediate
Materials Needed
Scrapbook Adhesives by 3L®
HomeHobby by 3L®
Other: Imagine Crafts/Tsukineko – Versafine Onyx Black Ink; Ranger – Clear Embossing Powder, Red Tinsel Embossing Powder, Distress Embossing Ink Pad; Sizzix – Tim Holtz Texture Fades Swirls; Spellbinders Paper Arts – Heart Dies; Stampers Anonymous – Tim Holtz The Poinsettia Stamps; Taylored Expressions – Simple Strips Background, Simple Strips; Cardstock – Heavy White, Dark Red; Red Metallic Ribbon; Micro Beads – Pearl; White Sparkle Embossing Powder
Save to Pinterest!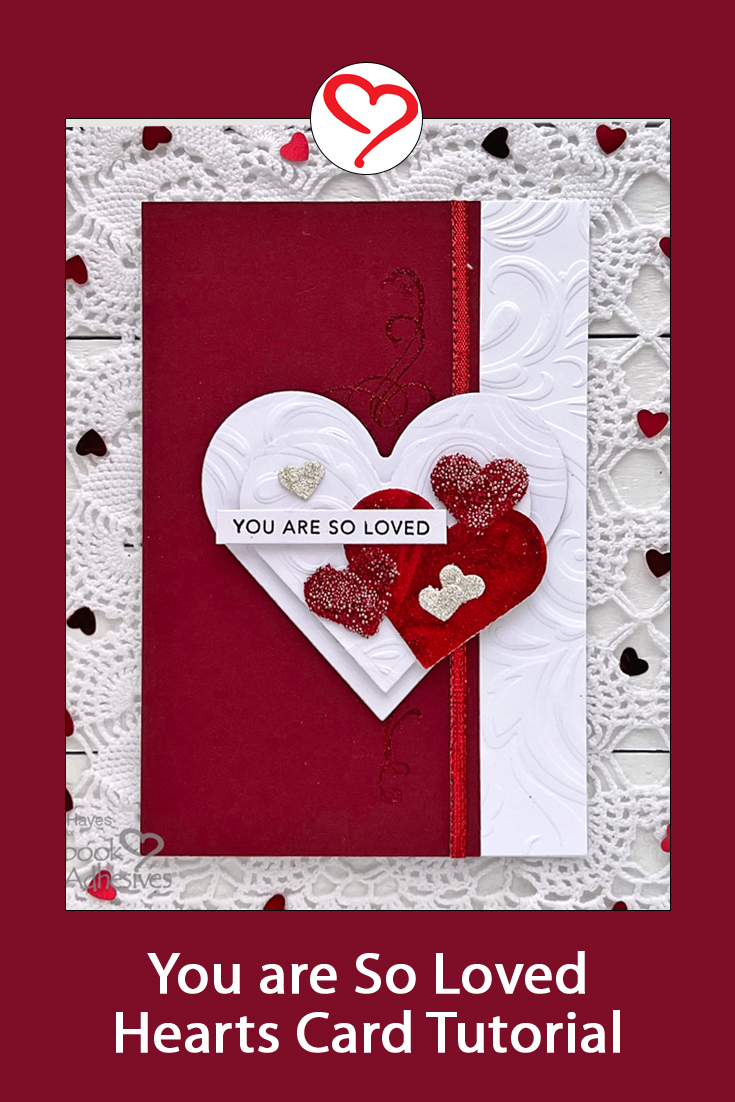 Let's Connect!