Hello friends!  It's Shannon up on the blog today bringing you this fun little glitter shaker card filled on top and bottom with Nuvo Rainbow Quartz Triangles!  This card was super easy to put together.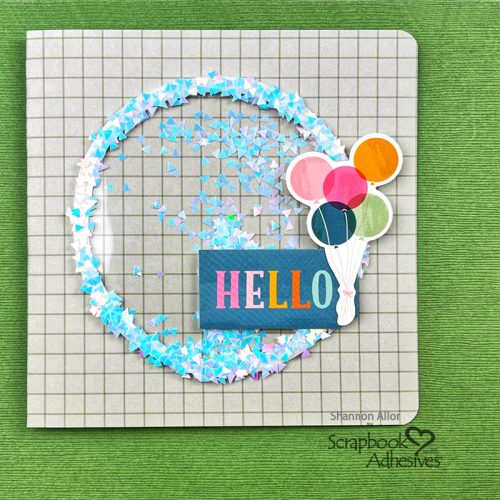 Glitter Shaker Card Base
First, I started with a piece of Jen Hadfield "Stardust" patterned paper in "B.F.F."  I cut the paper 5" x 10" and created a fold down the middle.  I rounded the edges on the right side of the card to keep from creasing the corners.
Next, it's time to have fun with the 3D Foam Circle Frames in White.  I removed the adhesive backing off of one side and placed some acetate onto the surface.  I then cut around the circle to remove the excess.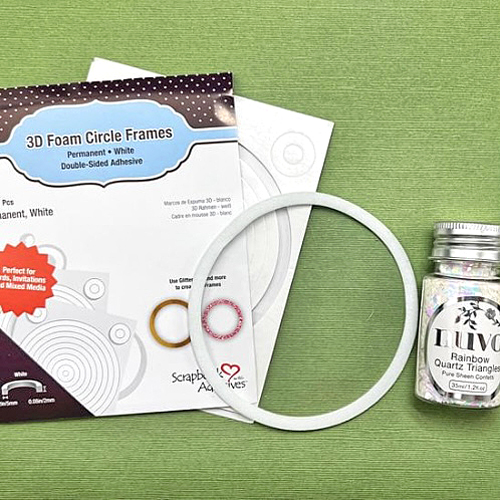 Next, it was time to sprinkle a liberal amount of the Nuvo Rainbow Quartz Triangles all over the sticky surface.  I made sure to press the glitter into the adhesive side.  Make sure to tap off the excess.  You may just get glitter everywhere (don't ask me how I know!).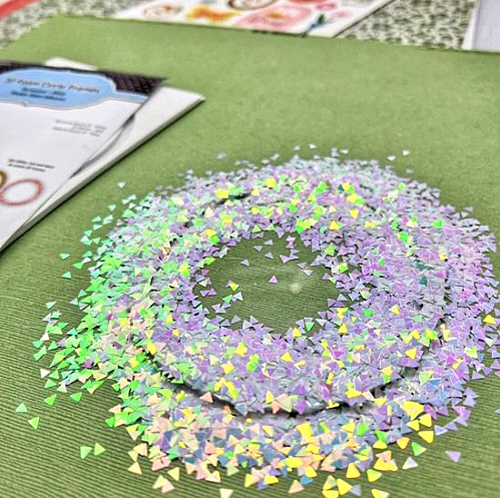 Shaker Feature
Now it is time to sprinkle a little bit of glitter onto your card base right in the middle of where you would like to place your circle. 
Next, gently apply the Premium Double-Sided Tape 1/4in. and remove the backing. Carefully set your glittery circle down. You should have a sparkly shaker on the inside and a gorgeous sparkly circle surrounding all of that shine!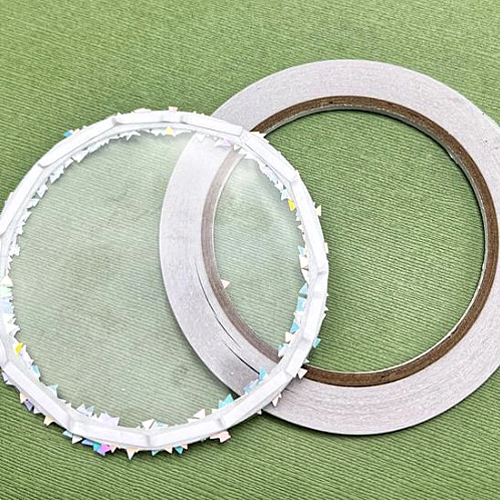 Adding the Finishing Touches
I added some super simple stickers to embellish this sweet little card.  I used 3D Foam Square White Mix.  This is my favorite dimensional foam adhesive mix.  You have the option to choose whichever size suits your project the best!  How clever!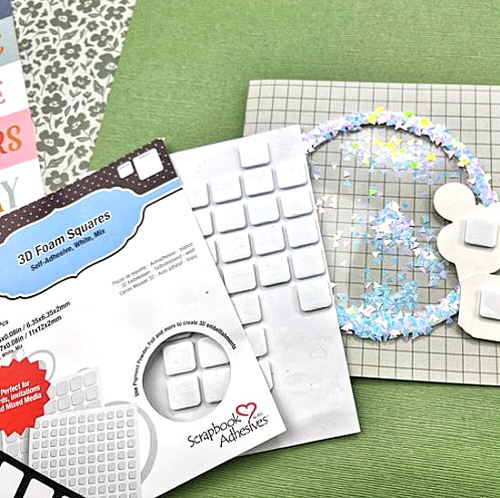 I hope that I was able to inspire you today to create a quick and easy glitter shaker card with impact!
Shannon Allor
Creative Time: 20 minutes
Skill Level: Beginner
Materials Needed:
Scrapbook Adhesives by 3L®
3D Foam Circle Frames in White
3D Foam Squares White Mix
Premium Double-Sided Tape ¼"
Other: Patterned Papers and Stickers: Jen Hadfield (B.F.F. Collection); Shaped Glitter: Nuvo Rainbow Quartz Triangles
Save It to Pinterest!