Hi, everyone! Like to make shaker cards? Teri here with a fun way to make a shaker card with a uniquely decorated window!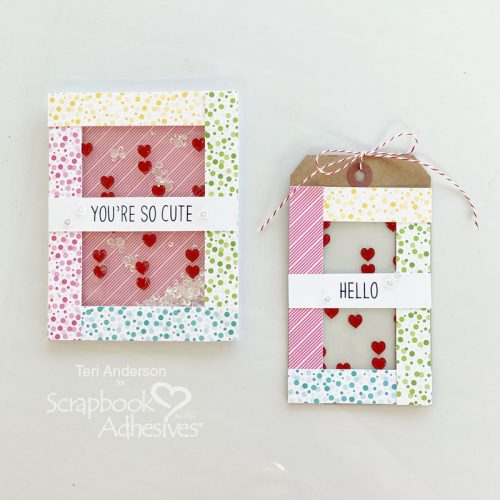 Window shaker cards are a snap to make with Self-Laminating Pouches in Medium!
Create the Shaker Window and the Card Base
Start by opening up a self-laminating pouch, leaving the non-sticky side exposed. Randomly roll some hearts from the E-Z Runner® Hearts on it. Also, the E-Z Runner® Stars would work too!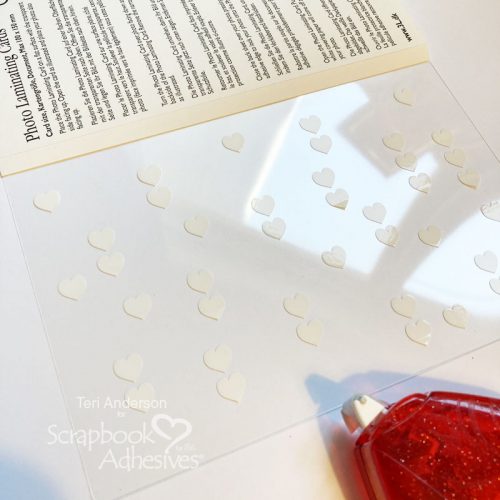 Wear Your Adhesive on the Outside with the E-Z Runner Hearts
Apply red foil from the Metallic Transfer Foil Sheets Celebrate Colors pack to your hearts. With the color side facing you, rub the foil over the hearts to transfer the color. If there are missed areas, simply re-apply the foil to them. Easy, and no special tool/machine is needed!
Continue with the Window
Remove the release paper from the sticky side of the Self-Laminating Pouches in Medium and cover the foiled heart side.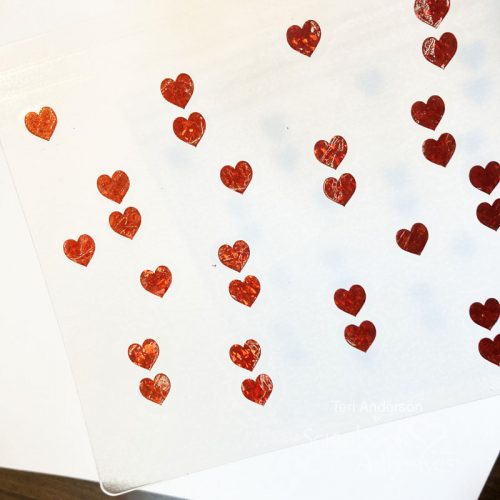 Cut a 4 1/4 x 5 1/2″ rectangle cardstock panel, and trim the window to fit on the panel. Next, adhere the two pieces together. Then add strips of patterned paper around the panel.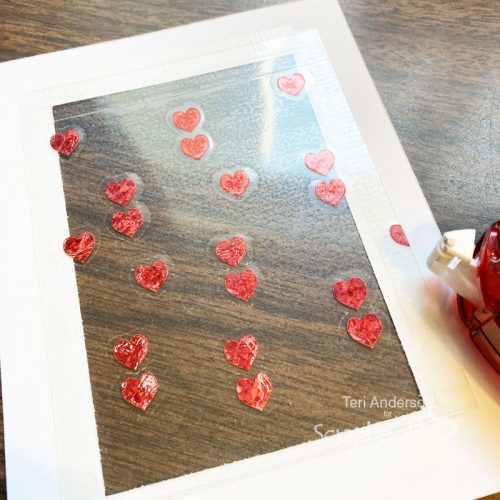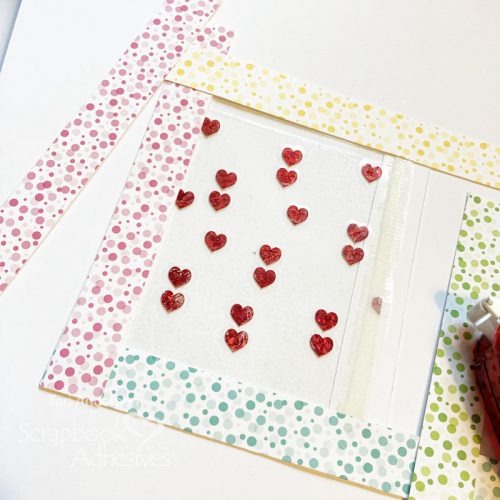 Affix a panel of patterned paper onto a 4 1/4″ x 5 1/2″ card. Set the card aside.
Complete the Shaker Card
Stamp a sentiment on a strip of cardstock and adhere it to the front of the shaker window panel. Flip the window panel over and add strips of Crafty Foam Tape in White around the window.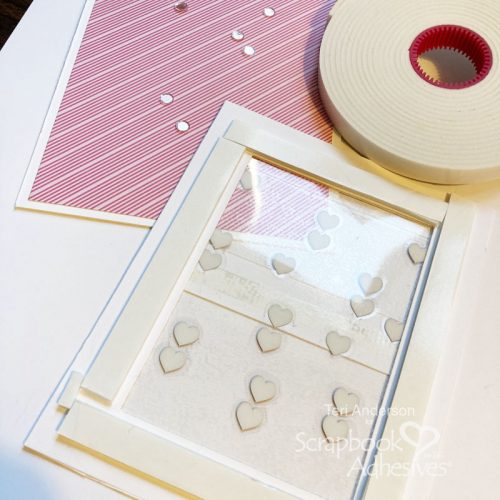 Adhere a few sequins onto your card. Add a few pinches more to the card. Apply the shaker window panel onto your card. Finish your design by adhering a few sequins on top of the shaker card window.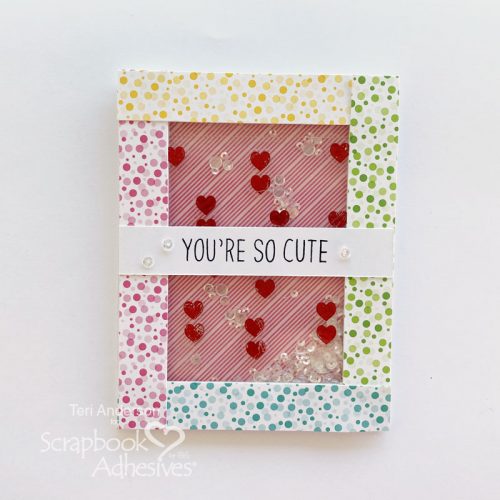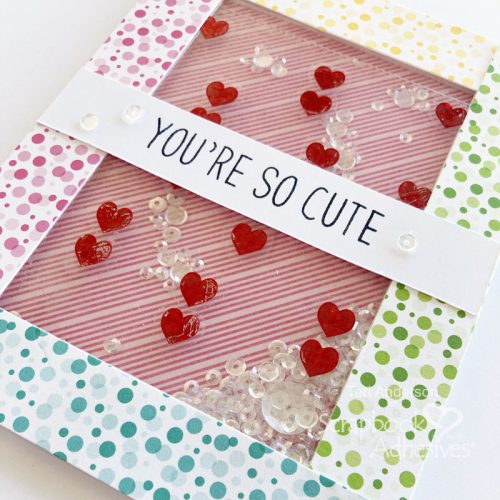 Make a Window Tag
You don't have to make a shaker card with your windows! You can also just make a window tag (or card) by skipping the steps to make a shaker.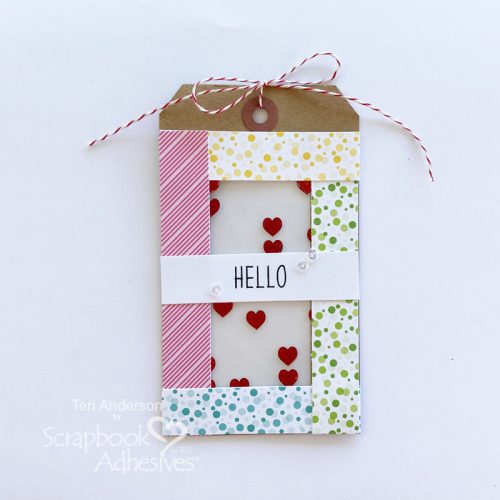 Simply cut a rectangle out of a tag. Add your decorated window to it. Then add strips of patterned paper on top, as well as a sentiment. Finish your tag off with some twine and a few sequins.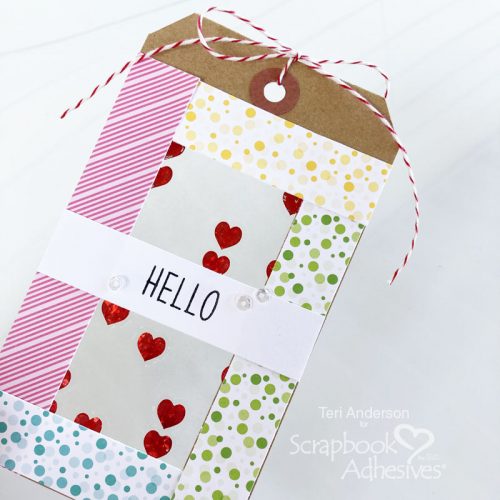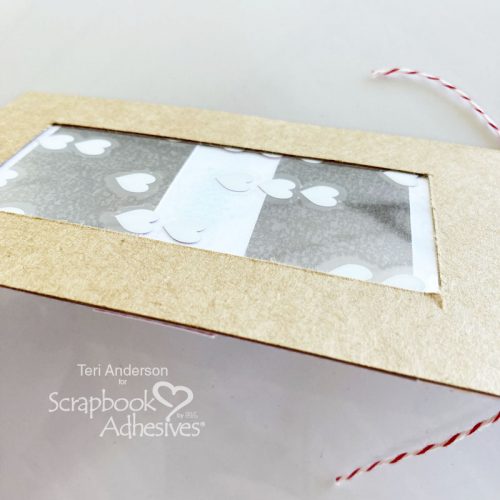 I hope you are inspired to make your own window shaker card or a window tag!
Happy creating!
Teri Anderson
Creative Time: 60 Minutes
Skill Level: Intermediate
Materials Needed
Scrapbook Adhesives by 3L®
HomeHobby by 3L®
Other
White Cardstock: Neenah Paper; Patterned Papers: Lawn Fawn (All the Dots 6×6 Paper Pad); Stamps: Waffle Flower (Bowtiful Stamp Set); Black Ink Pad and Kraft Tag: Ranger Ink; Sequins: Cartwright's Sequins; Twine
Save to Pinterest!