Hi, it's Beth. First, we must establish that I can't sew my way out of a paper bag. But I have this odd obsession with all things sewing. Recently I bought a set of five vintage wooden spools, and this is what I've done with them.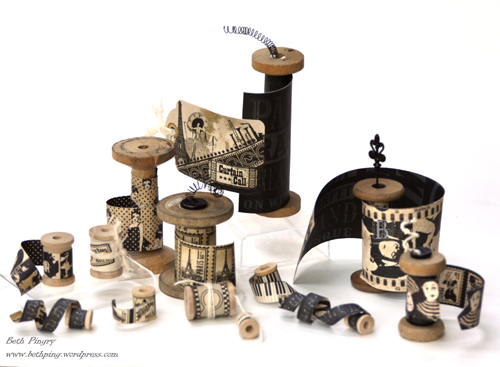 I love (sigh) the Curtain Call papers (and well, all of the papers) from Graphic 45. The patterns lend themselves to so many different projects, with a nice mix of patterns and images in many sizes.
I gathered the many sizes of wooden spools I had and started trimming, wrapping and winding the different patterns.
The paper is easily formed and holds it shape, so I only needed a few spots of E-Z Runner® Permanent Fine Adhesive on each spool. The toppers, which include a button, a metal embellishment and spiral turned wire, are held in place with the new Crafty Foam Tape.  The Crafty Foam tape allows me to cut the exact size I need!
Supplies:
SCRAPBOOK ADHESIVES BY 3L™: Crafty Foam Tape, E-Z Runner Permanent Fine Adhesive
Graphic 45: Curtain Call Papercrafting Paper
Karen Foster Design: Page Pin Ups Baroque Black 5″
Artistic Wire: Black and Silver wire
Darice: Craftwood 1/2 x 5/8″ wood spools
Lara's Crafts: 5/8 x 3/4″ wood spools
Crafts Etc: 3/16 x 7/8″ wood spools
Other: Vintage Wood Spools, various sizes, button, twine, cotton cloth
Just leave a comment right here to be eligible to win!  Come back every day for another chance to win! We are on Facebook, join us there too!
Thanks and happy crafting!
Save