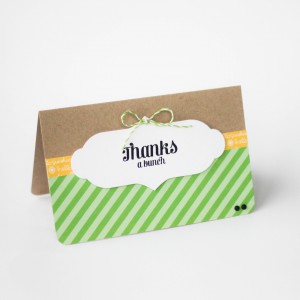 Hello & happy Thursday, Latisha here with you today, sharing a "thanks" card.
A lot of us make "thank you" cards, but how many of us actually send them?  I know I am so guilty of this.  Well, since my daughter just graduated High School, the girl is going to sit down, and write out some thank you's!  I ordered some Thank You notes, from the same place we got her announcements, but we are going to need more than the 25 they sent.  So its time to create some cards that I can mass produce, but are still cute enough and flat enough that I only need one stamp to send.
It is actually harder that it seems lol.
Here are some basic instructions on how I made today's card.
1.  Cut/score cardstock.
2.  Round bottom corners.
3.  Trim pattern paper, round bottom corners.
4.  Adhere green pattern paper using Scrapbook Adhesives by 3L E-Z Dots® Permanent Refillable.
5.  Adhere strip of yellow pattern paper using the same adhesive.
6.  Die cut white cardstock.
7.  Stamp sentiment in black ink onto the the die cut.
8.  Adhere the diecut to the card using Scrapbook Adhesives by 3L 3D Foam Squares (white).
9.  Tie a bow using twine.
10. Adhere bow using Scrapbook Adhesives by 3L Dodz™ Small.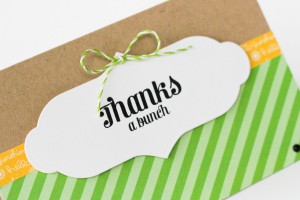 Materials Used:
Scrapbook Adhesives by 3L E-Z Dots® Permanent Refillable,  Dodz Small,  3D Foam Squares White, Regular Lawn Fawn pattern paper,  Lawn Fawn twine, Spellbinders die, corner rounder, Doodlebug Designs pearl dot, Waltzingmouse Stamps, kraft cardstock, white card stock