Please give a warm welcome to Linda Lucas, one of our fabulous Ambassador Team members! Linda, also known online as Lovely Linda, has a wonderful tutorial for us today!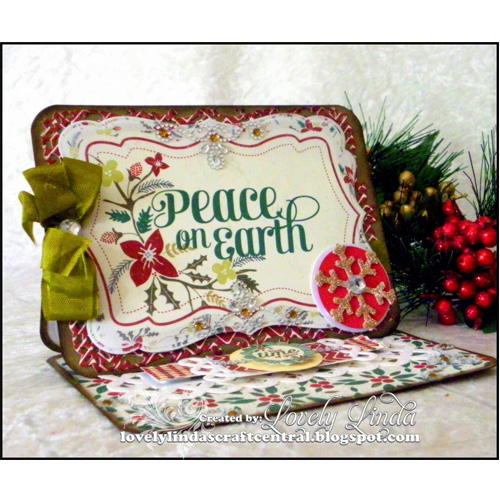 Isn't this gorgeous! Take it away, Linda!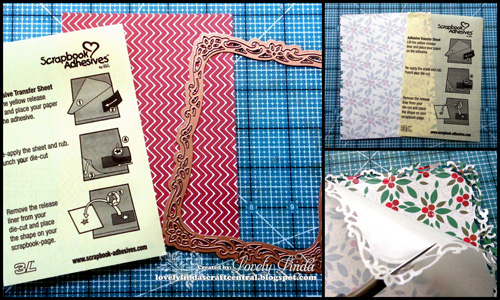 1. Remove the yellow layer from the Adhesive Sheet place the adhesive on the back side of patterned paper.
2. Cut/emboss using the die cutting machine and Decorative Labels Eight.
3. Peel off white layer from the die cut to expose the adhesive.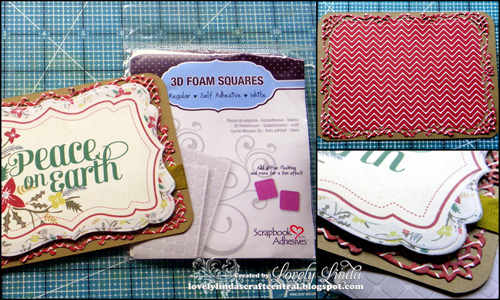 4. Adhere the patterned paper to an Easel Card Base – with pre-rounded corners.
5. Adhere Seam Binding around the middle of the decorative layer with E-Z Runner® Permanent Strips.
6. Cut/emboss Sentiment paper using Labels Seventeen and lightly sand around embossed edges using a sanding block.
7. Adhere to layered card base using 3D Foam Squares for dimension. Add a double seam binding bow to the left of the patterned layer.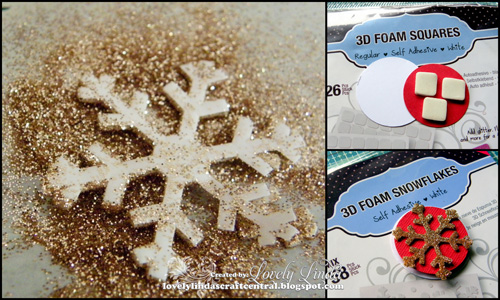 8. Remove the top liner paper from a 3D Foam Snowflake, sprinkle on glitter and wipe off excess. Remove from 3D Foam Snowflakes Sheet and  from the sheet, peel top layer off and sprinkle on gold glitter.
9. Adhere 3D Foam Snowflake to small pre-cut red circle. Adhere 3D Foam Squares and adhere to larger white circle. Adhere to bottom corner of layered die cut using E-Z Dots® Permanent.
10. Attach to Easel Card base, which has had patterned paper added, using E-Z Dots® Permanent.  Attach patterned border strip using the E-Z Runner® Permanent Strips.
11. Using 3D Foam Squares, adhere to a thin strip of card across the centre of the card base, adding sentiment and embellishments as desired.
12. Finish off by adding bling as shown in the main photo above.
Thank you Linda! If you want to see more of her work, you can find her  at Lovely Linda's Craft Central.
Linda uses these supplies: