Happy Holidays! With Christmas just around the corner, I thought I'd share an idea to put sparkle into your gift giving. Using the 3D Foam Trees, I put together a hanger tag that will bring a smile to your recipient instead of a boring wine bag.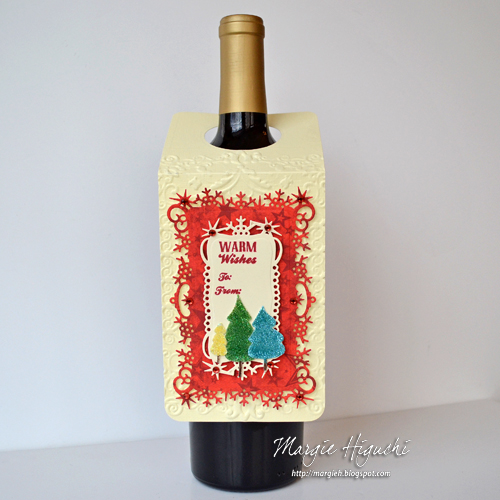 Start with a sheet of 3D Foam Trees shapes. I swiped the liner with anti-static powder to control the glittery mess 🙂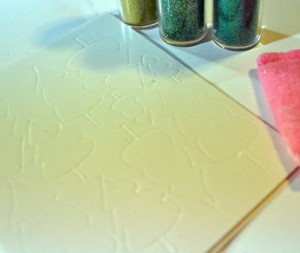 Went a little crazy on the glitter – just bought a pack of 18 WONDERFUL COLORS! LOL!! Some have tri-color (just tear the liner ⅓ of the tree, add glitter and repeat two more times to achieve the effect) and others have either silver, teal, yellow, etc.
After I decided which tree to use, I took off its trunk liner and colored it with Stamper's Big Brush Walnut Brown Pen – I colored two coats (dry between coats).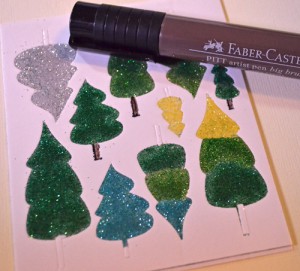 For the base I cut/embossed Snowflakes View Die #2 (the smallest die size is #1) with red patterned paper and Die #1 with ivory cardstock.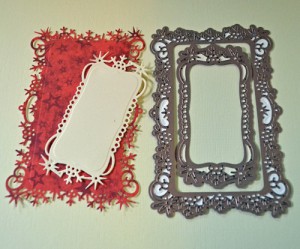 Stamp the sentiments to the ivory die cut. Add the glittered 3D Foam Trees shapes at the bottom of the stamped die cut.
Tip: to remove the shapes from the sheet of 3D Foam trees, I used my Tool 'N One.
Place 3D Foam Squares – Black, Regular in the back and center on the red die cut.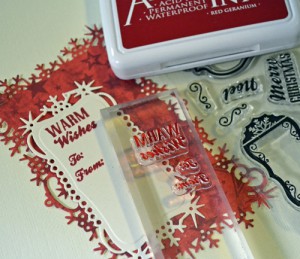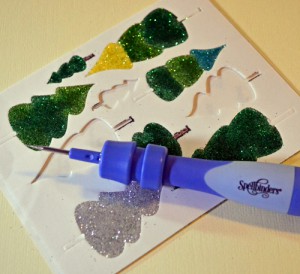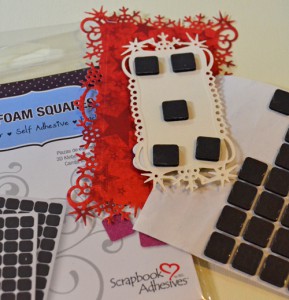 To create the hanger part, I cut a 3¾ x 12″ strip of ivory cardstock and scored at 6″ on the long side.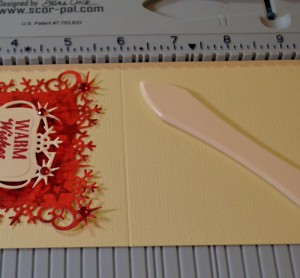 About 1″ from the score line, I cut/embossed Standard Circles LG Die #3 to create an opening for the bottle neck. Then I trimmed about ½" from the circle and rounded all the corners to finish the hanger.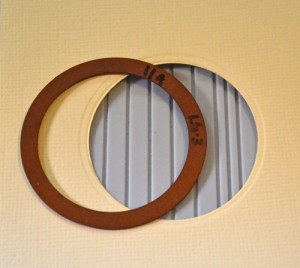 I just had add a little texture to the hanger so I used 3D M-Bossibilities™ European Tapestry Folder. Very lightly mist water on the cardstock to soften the fibers and put it through my Grand Calibur® Die Cutting and Embossing Machine for a deep embossing.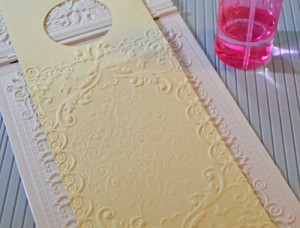 Add the tag with 3D Foam Squares – Black, Regular onto the hanger –  you are ready to give a bottle of wine with a little sparkle for the holidays!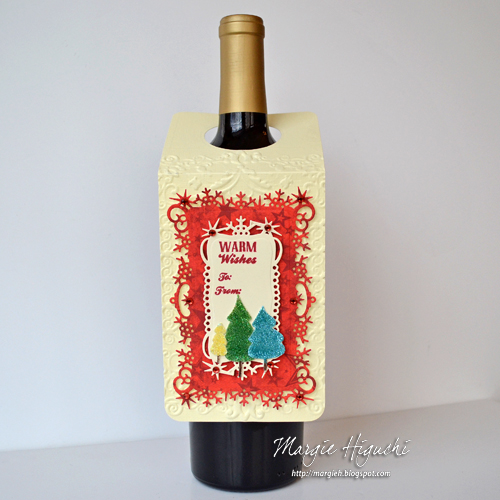 Project Supplies:
SCRAPBOOK ADHESIVES BY 3L®: 3D Foam Trees and 3D Foam Squares – Black, Regular
Cardstock – WorldWin Papers (Ivory Cardstock)
Patterned Papers – Bo Bunny® Press (Christmas Collage Collection)
Die Templates, Embossing Folder and Tool – Spellbinders® Creative Arts (Grand Calibur Die Cutting and Embossing Machine, Standard Circles LG, Snowflakes View, European Tapestry and Tool 'N One)
Stamp – JustRite® Papercraft (Snowflake Vintage Labels Seven Clear Stamp Set)
Ink – Ranger Ink (Archival Ink™ Designer Series Wendy Veechi – Red Geranium)
Marker – Faber-Castell® Design Memory Craft® (Stamper's Big Brush – Walnut Brown)
Glitter – Hampton Arts (Extra Fine Glitter in Yellow, Teal and Green)
Other – Wine Bottle; Anti-Static Powder
For a lot more inspiration, come visit Scrapbook Adhesives by 3L Pinterest Boards!
Thank you for visiting!
Margie Higuchi (MargieH)