Welcome to the Spellbinders® Partner Road Trip! We're thrilled to be partnering with Spellbinders for Day 3 of this blog hop! Today we're featuring not only Spellbinders dies, but a few new adhesives too! Beth Pingry and Erica Houghton are showing them off below – and don't forget we've got Giveaways!
Explore Tag
Hi, it's Beth Pingry and I'm sharing a tutorial for this flower filled Explore tag today!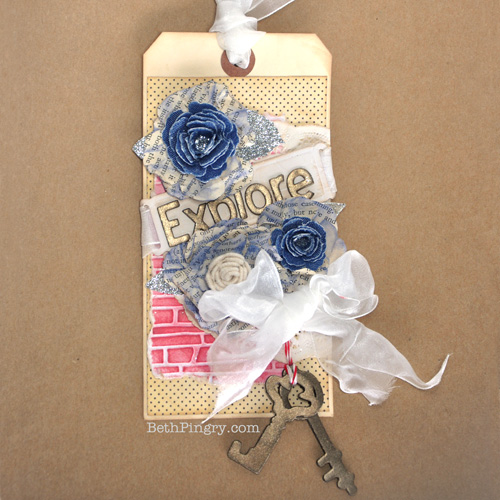 Make the Flowers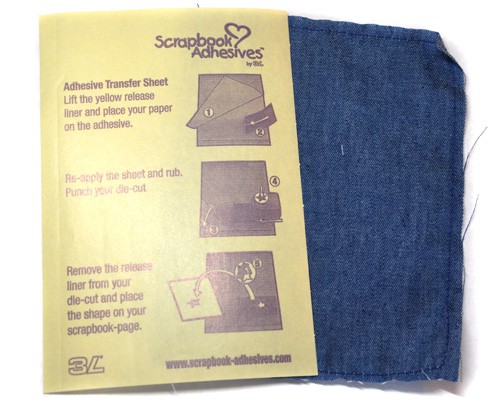 Apply an Adhesive Sheet 4×6″ to back of denim fabric then adhere to cardstock.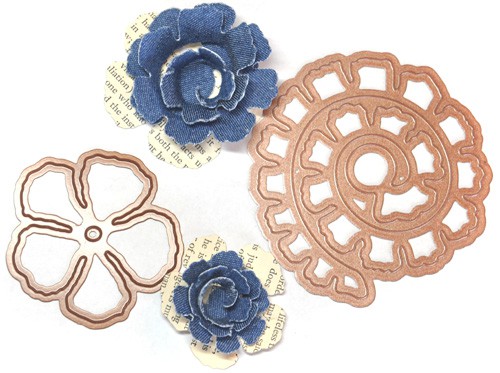 Die cut with Bitty Blossoms die, run thru the machine twice, you may need to finish with scissors to cut small threads. Roll the flowers from the outside secure with Adhesive Dots 3D in the centers. Die cut and emboss old book pages with Rose Creations die – not pictured – just tear some pages out and die cut several pages at once with 3-4 different sized dies.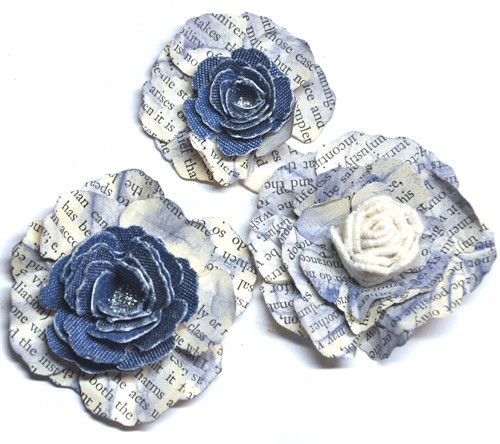 Crinkle and ink the Rose Creations die cuts, layer 2-3 of each size using  Adhesive  Dots Medium, then add rolled denim flowers. Add glitter to center of roses to stick to the exposed Dodz adhesive.  For the third flower, roll 6″ of lace, add to top of Rose Creations with Adhesive Dots 3D.
The Rest of the Tag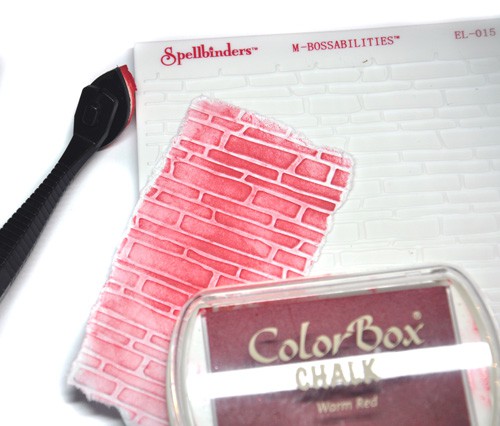 Emboss white cardstock in Bricks & Bark embossing folder, ink with red to give the look of bricks. Tear the edges and add brown ink around edges. Trim dotted paper to fit tag, ink edges with brown ink. Add brown ink to doily edges, then adhere to tag using the E-Z Runner® Grand.
Add brown ink to doily edges, then adhere to tag using the E-Z Runner® Grand.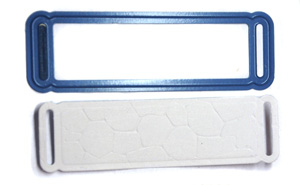 Cut and emboss the Basic Tag One, ink the top and sides.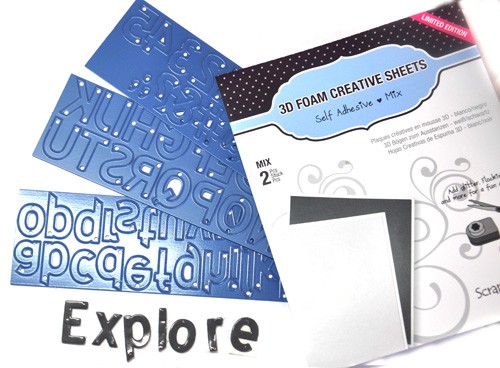 Cut letters "Explore" with Numbers and Letters Two dies and 3D Foam Creative Sheets in black- you get both a black and white sheet in each package!
Remove top liners from letters, rub on brown pigment powder to cover the letters.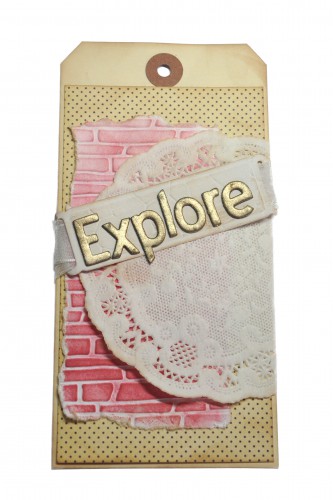 Remove the letters from the sheet and adhere to the Basic Tag One die cut. Pull organza through the tag ends and secure on back with E-Z Runner Grand. Adhere the tag at an angle onto the doily.
Adhere flowers above and below the tag with Adhesive Dots Medium.
Add glitter to 3D Foam Leaves, tuck under flowers.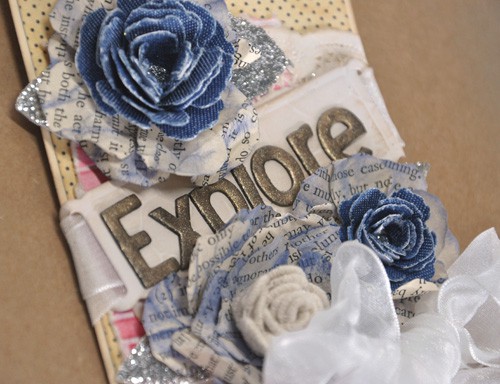 Cut about 10″ of organza and tie a bow. Heat it slightly to melt the organza and create a crinkled look (short blasts of heat work best, one section at a time).
Tie keys with twine, secure onto tag with Adhesive Dots Medium, then add the ribbon too.
Pull Organza through top hole of tag to complete the tag, add it to a gift box or bag!
These are my supplies:
Scrapbook Adhesives by 3L®:  3D Foam Leaves, 3D Foam Creative Sheets,  Adhesive Dots 3D, Adhesive Dots Medium, Adhesive Sheets 4×6″, E-Z Runner Grand
Home and Hobby by 3L®: Double Sided Tape Runner 
Spellbinders Paper Arts: Sapphire PHS-510 Numbers and Letters Two, Sapphire PHD-008 Basic Tag One; Bitty Blossoms, Rose Creations, Bricks & Bark Embossing Folder, Grand Calibur Machine
Stampendous – Silver glitter
DCWV – Pebbles paper pack
Graphic 45 – Raining Cats and Dogs 6×6″ paper pad
Clearsnap Colorbox Fluid Chalk Inks – Creamy Brown, Warm Red, Prussian Blue
Misc: tag, old book pages, doily, heat tool, twine, organza, keys
For more of my projects, check out my blog: Beth Pingry – Cookies for Breakfast
Hello Card Tutorial
Erica has a gorgeous card tutorial: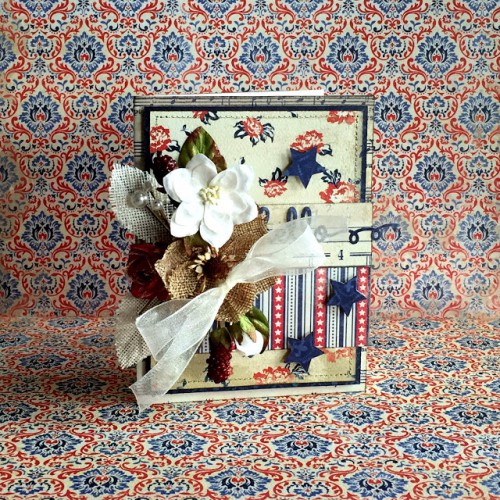 Step 1: I adhered a piece of pattern paper to the base of my card using the Double Sided Tape Runner.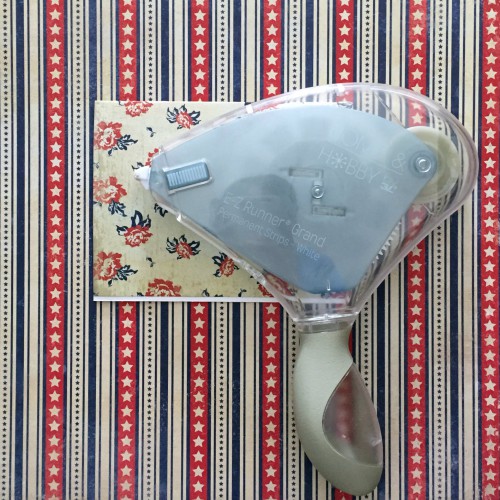 Step 2: I adhered two additional layers of pattern paper to the base of my card using Crafty Foam Tape (I love giving my cards dimension).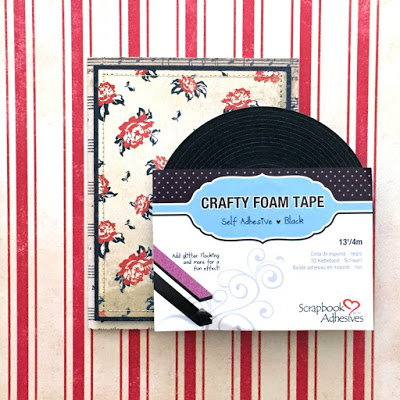 Step 3: I adhered two pattern paper banners to my card using the Double Sided Tape Runner.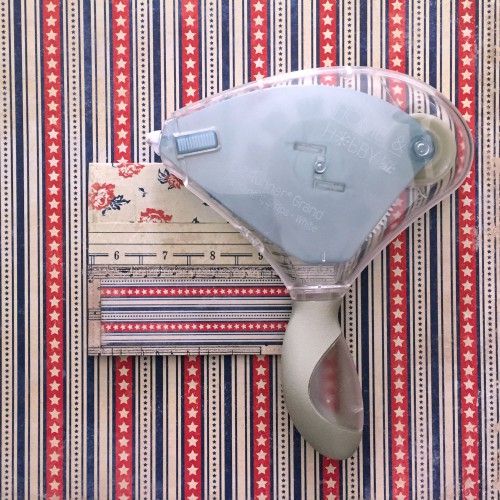 Step 4. I cut several stars using the Spellbinders® Sapphire PHS-508 Celebrate Set which includes these Stars dies.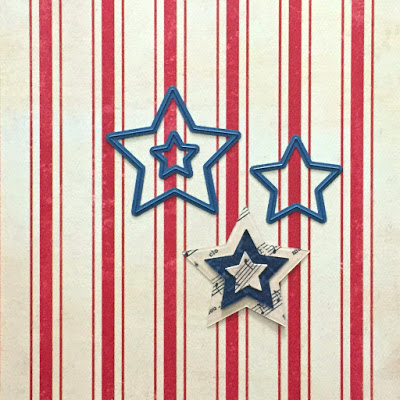 Step 5. I also cut a 'hello' sentiment using the Die D-Lites Sentiments 5 die.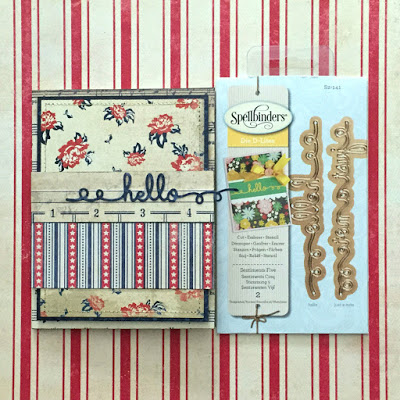 Step 6. I adhered flowers, a bow and the stars I cut to finish my card.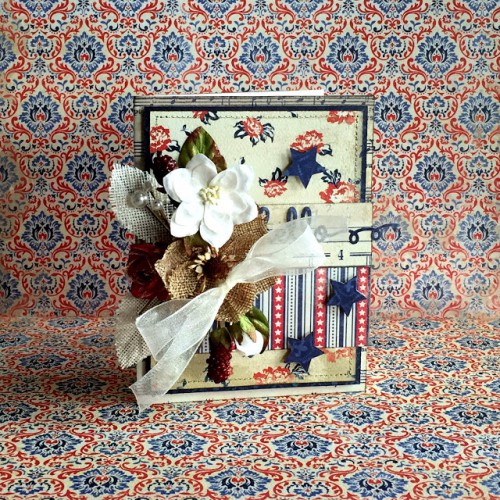 Here are a few close-ups: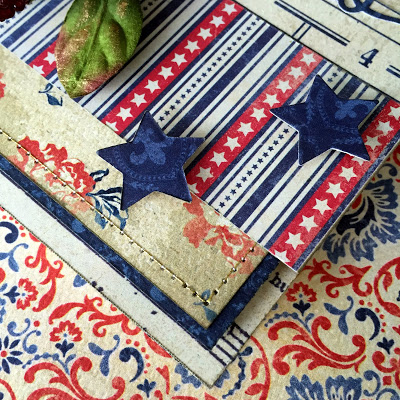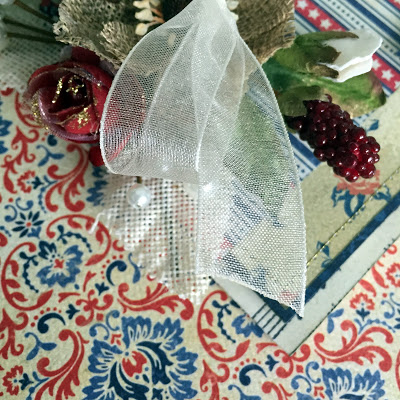 Be sure to visit all the Partners posting today:
There will be 4 Spellbinders winners – 1 each day and 1 Grand Prize winner!
Today's winner will get prizes from each of these manufacturers and the Spellbinders Sapphire dies!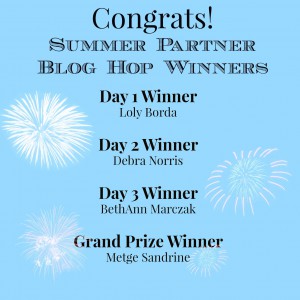 Enter a comment into the Rafflecopter app to enter to win a selection of our New HomeHobby  tapes!
Thanks for stopping by!
Save