Hi everyone! It's Lisa with you on this very special day…Veteran's Day (here in the U.S.) and I'm especially proud to be posting on behalf of the Design Team as I AM a Veteran. Today means a great deal to myself and my family as we all served in the military (the United States Air Force) and swore to protect and serve this beautiful nation that we live in. So, I'm thrilled that I'm able to share a card that I made to celebrate this day.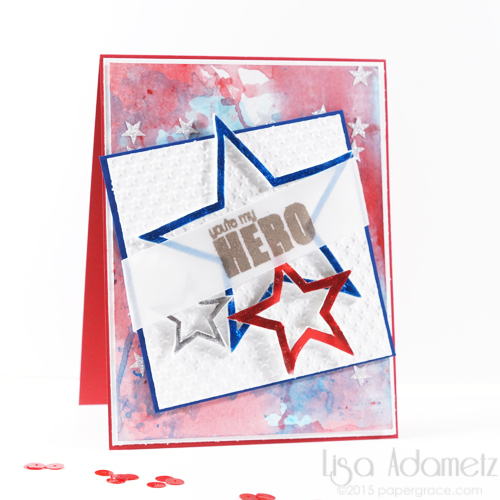 I used the amazing 3D Foam Stars with Foil from the 3D Foam Holiday Embellishment Kit to create the focal stars. It's so simple to do!  I then adhered the stars to an embossed piece of cardstock which I had already trimmed to size.
I stamped the sentiment in an embossing ink and heat set with a silver embossing powder onto a piece of cardstock weight vellum which I wrapped in a banner style around the piece with the foiled stars. This was adhered in place using Thin 3D Foam Squares – Mix, White.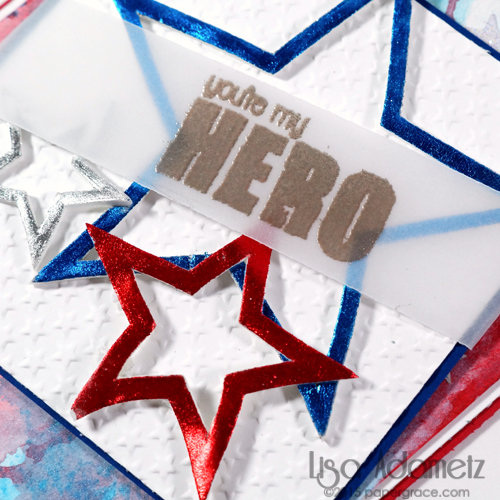 I then created a background using Gelatos® by scribbling them onto my work surface, spritzing with water, and then "smooshing" my paper directly into the wet Gelatos®. I dried the paper in between until I achieved the look I desired. On top of this background I added stars and sprinkled glitter on top to adhere to to adhere to the stars.
All the panels were adhered using plenty of E-Z Dots® Permanent Refillable Adhesive.
Thank you so much for joining me on this Veteran's Day.
SUPPLIES:
E-Z Dots® Permanent Refillable Adhesive
Thin 3D Foam Squares – Mix, White
3D Foam Stars

Save
Save