Hi there,
it's Stephanie here today and I want to show you a mixed media Christmas canvas I made.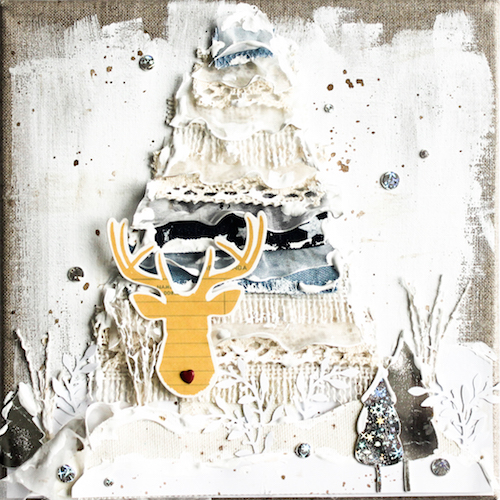 I use this as wall decoration. It' a simple project (next time I will try it with my kids) and here is my tutorial for you.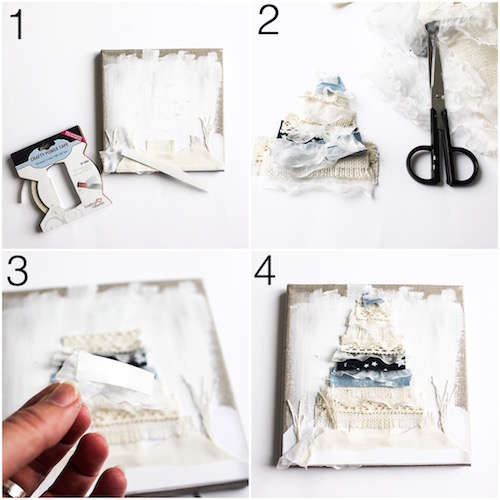 1 – Prepare your canvas background with white Gesso and add some Canvas Ribbon. Cut it in a shape of landscape. Use also white Paper to create a dimensional look. Adhere it all with the Crafty Power Tape.
2 – Prepare different fabrics and ribbons for a Christmas tree. I used Denim Ribbons, Lace Ribbons, Texture Ribbons and Canvas Ribbon. Cut it in a way to get from big at the bottom to small upwardly.
3 – Adhere the ribbons one after the other with the Crafty Power Tape.
4 – This is what it looks after adhering the ribbons. I also used some threads from the canvas ribbon to create shrubs.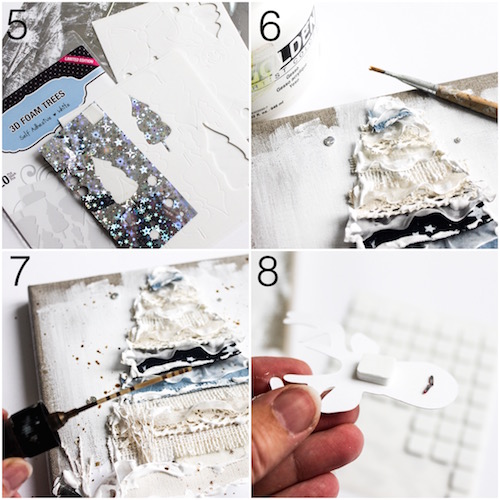 5 – Add some Christmas elements, like Dots and tree from 3D Foam Christmas Shape and 3D Foam Trees. Use silver or wintry printed foil on your shapes and adhere them here and there. I also added some Die cutting leaves.
6 – Add some snow with white Gesso on your tree and landscape.
7 – Sprinkle with some Glimmer Mist kraft.
8 – Adhere a embellishment with the 3D Foam Squares – White Mix.
I hope you will give it a try and have fun.
Thanks for visiting us today!
Have a nice day!
Stephanie 🙂
Supplies from Scrapbook Adhesives by 3L®
Other
White Gesso
Glimmer Mist kraft
Silver and wintry printed Foil
Sizzix Paper Punch – Laurel large
Save