I had a tag that was pink…now I like pink but this color did not speak to me. LOL! So I covered it with tissue tape in Denim – who doesn't love denim? It would be the perfect background to what I had in mind.
This tag is dedicated to my sweet friend, Ellen, who I will always remember her wearing blue jeans, boots and a cowgirl hat…she was my hip friend. We lost her this past weekend to a tragic house fire. Will miss her…
I covered this tag with Tissue Tape. This tape is forgiving….if you missed a spot, you can pick up the tape and re-do.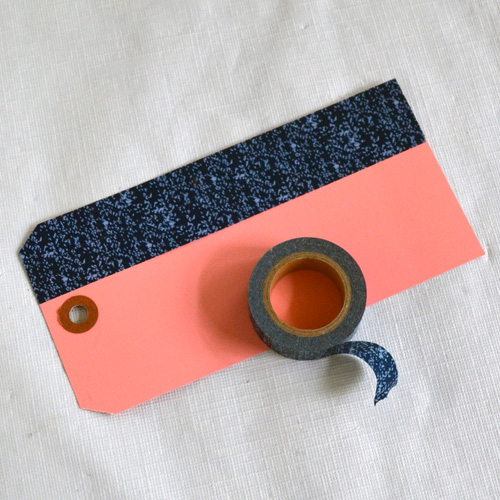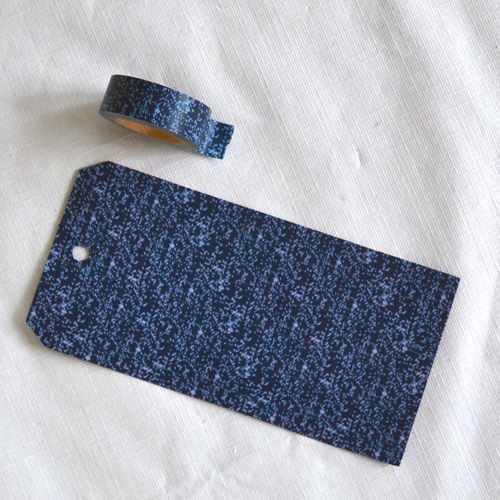 Next I tinted  Art Medium with Pigment Powder Gold. Add a little water to make a little more liquidity (is that a word? lol!). Then I painted on to a piece of 6″ strip o White Burlap – this will not only stiffen the ribbon but it gives it a beautiful golden color. Let dry (I let it dry overnite).
When the gold burlap dried, I die-cut a letter "E" using my steel rule die and manual die-cutting machine. I also die-cut two different sizes of my labels die to frame the initial. I used the Dual Tip Glue Pen to adhere the letter to the small label and for the small label, 3D Foam Squares – White, Regular.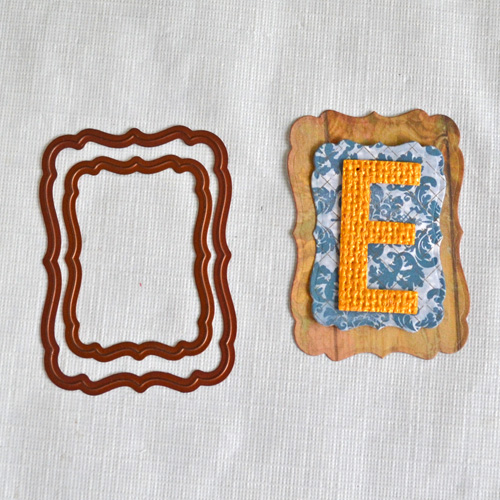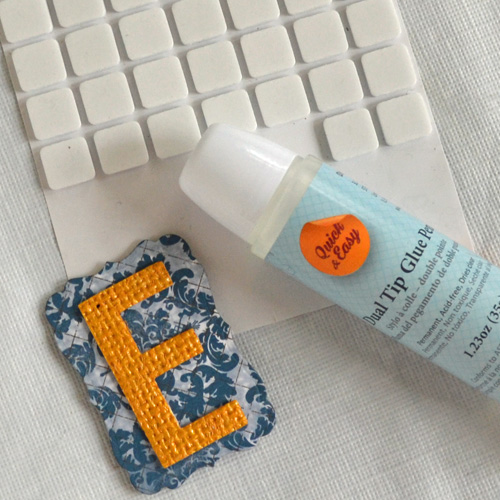 Set the die cuts aside to work on the bottom of the tag to create a layered border using Lace Ribbons and Twine in Navy. I used Extreme Double-Sided Tape 1/8″ Permanent and Dodz Adhesive Dots Mini to secure all on the tag.
Using the bottom border as a guide, I adhered the layered die cut with E-Z Runner® Permanent Strips Refillable Dispenser to the center of the tag. Then I tied a knot with the Lace Ribbons in Crocheted Lace Trim to finish.
Supplies:
Scrapbook Adhesives by 3L®:
3D Foam Squares – White, Regular
Dodz Adhesive Dots Mini
E-Z Runner® Permanent Strips Refillable Dispenser
Home Hobby Dual Tip Glue Pen
Home Hobby Extreme Double-Sided Tape 1/8″
Other:
Dies and Die Cutting & Embossing Machine: Spellbinders® Creative Arts
Patterned Paper: Bo Bunny Press
Tag
Hug your friends today – consider yourself hugged!
Thanks for stopping by!
Margie Higuchi