Welcome to our blog hop with Graphic 45! We are excited to be sharing inspiration from both design teams and products this week. Enjoy lots of eye candy and don't forget to enter to win giveaways that are being offered…look for it at the end of the post. Now for the FUN part – take it away team!
Stephanie Schütze
Hello Stephanie here today and I am thrilled to start off in Day 1 of our Graphic 45 Blog Hop. Our challenge for this hop was to create a pop-up element in our projects. I made a fantasy shadow box with a tiny little mini book inside as my "pop-up" element as it comes out of the box. I had so much fun with it because this is something I do rarely. Now the little book needs to be filled. For this I'm still waiting for the perfect photos.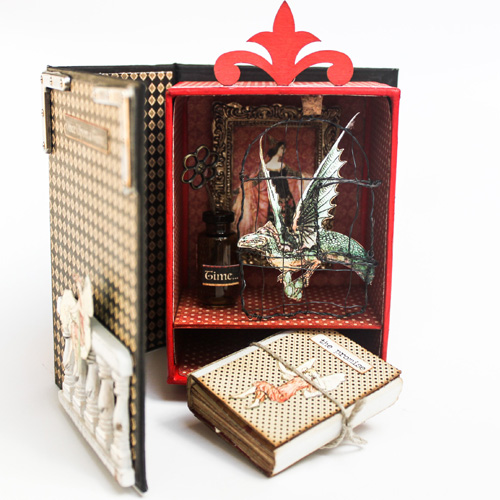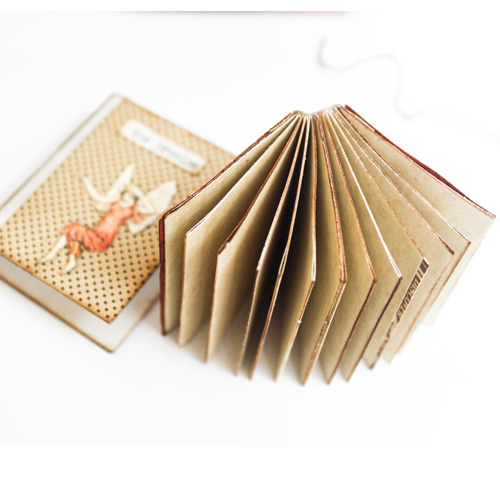 Supplies:
Scrapbook Adhesives by 3L®:
E-Z Dots® Permanent – Refillable
3D Foam Squares – White Mix
Adhesive Dots Mini
Graphic 45:
Enchanted Forest Paper Collection
ATC Book Box – Ivory
Michele Kovack
Hello! Michele here with a fun altered Graphic 45 ATC Book Box that can house some fun birthday items! I covered the box with coordinating papers from the Safari Adventure Collection. I used Extreme Double-Sided Tape 1/2″ to hold everything in place.  I love the Ornate Metal Label Holder and thought it would be perfect to accent the front of the box.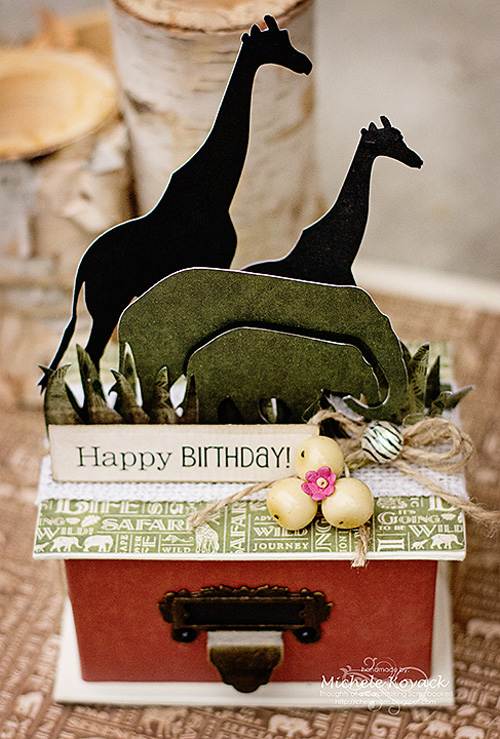 The burlap on top of the box and the label holder were adhered with the Dual Tip Glue Pen. The box is closed with a piece of rustic twine I had in my stash. I die-cut various animal silhouettes and long grass shapes to place on the top of the box using the Enchanted Forest 6 x 6 Pad. Then adhered all the pieces to the top of the box, along with berries and a little flower. An animal inspired gem was added using Adhesive Dots Medium on the bow twine. A sentiment sticker was placed on a strip of paper, folded at the bottom and glued to the box in a pop-up style.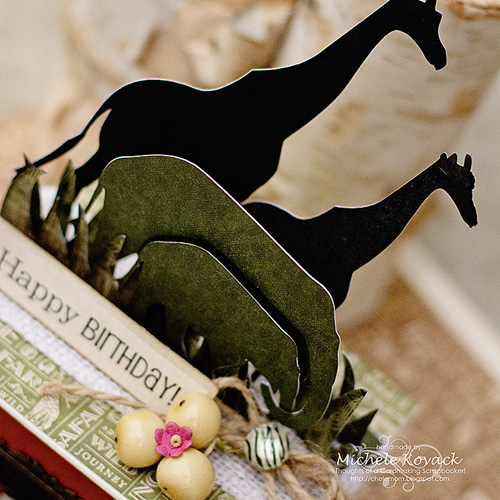 Supplies used:
Scrapbook Adhesives by 3L®:
Adhesive Dots Medium
HomeHobby Dual Tip Glue Pen
HomeHobby Extreme Double-Sided Tape 1/2″
Graphic 45:
ATC Book Box
Ornate Metal Label Holder
Graphic 45 Safari Adventure Paper
Enchanted Forest 6 x 6 Paper Pad
Other:
Sticker sentiment: SRM, Silhouette, Burlap Twine, Animal Gem
Don't forget to hop over to our friends at Graphic 45 by clicking:
Blog Hop with Graphic 45 – Day 1
Blog Hop Prize Details

Enter to win by leaving a comment through the Rafflecopter App. A winner will be randomly picked. International entries are welcome.
**If you cannot see the comment section (at the bottom of this post), please click: Blog Hop 2016 with Graphic 45 – Day 1
Connect with Graphic 45:
Facebook – https://www.facebook.com/Graphic45/
Website – http://g45papers.com/
Blog – http://g45papers.typepad.com/
Instagram – https://www.instagram.com/graphic45/
Pinterest – https://www.pinterest.com/graphic45/
Twitter – https://twitter.com/graphic45
YouTube – https://www.youtube.com/user/graphic45papers
Newsletter – http://eepurl.com/d7J8L
Save
Save
Save