We're looking for Design Team Members! Join us in this exciting opportunity to work with a leading manufacturer in the craft and hobby industry!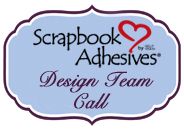 The Scrapbook Adhesives by 3L® Design Team is looking for creative Card Makers, Scrapbookers, and Mixed Media Artists to join us as regular and guest designers!
Expectations
Design Team term is from April 1, 2017, to March 31, 2018
Guest Design Team term is 3 months, to be scheduled
Designers will create 2 projects per month based on provided theme/product requirements, plus 2 cross-promotional events during the term
Draft blog posts and images on our WordPress blog according to provided schedules and guidelines
Looking for great photography, with the ability to perform basic photo editing (resizing, renaming, adjustment of images as needed)
Create step by step tutorials with photos and/or videos and written instructions
Must have blog and social media platforms (such as FaceBook, Twitter, Instagram, Pinterest, Youtube) to share and promote posts
Designers use Scrapbook Adhesives by 3L® products exclusively for all personal and professional projects (no other adhesives or products that directly compete with ours.)
Drama-free team members and management
Benefits
Receive 4 generous quarterly shipments of Scrapbook Adhesives by 3L® products
Receive new release products throughout the term
Receive product from industry partners for cross-promotion
Communication via email and a private Facebook group
Your name, headshot, and link to your blog on the Design Team page of the Scrapbook Adhesives by 3L® website
Design Team badge for your blog
Pay for publication in print magazines
Projects displayed at the Craft & Hobby Association and other trade shows
Payment for special project requests for marketing and trade shows
How To Apply
Send one email to Margie at mhi@3Lcorp.com with the subject line: Your Name -2017 Scrapbook Adhesives by 3L® Design Team Call, that includes this:

Attach 3 images showing the type and style of projects we should expect from you. Images should be JPEG, sized 500×500 pixels at 72dpi. Watermarks OK. Name the images: YourName-1.jpg, YourName-2.jpg, YourName-3.jpg
In a Word document, introduce yourself and tell us why you are applying for our team, a paragraph or two is fine. Include links to your blog and active social media platforms. Name this file: YourName-intro.doc

Your information and images will only be used for this Design Team call, and will not be published or shared externally.
Use of Scrapbook Adhesives by 3L® products in your project is not required
Submissions will be accepted through February 5, 2017, 11:59pm Central.
Design Team members will be notified via email no later than February 10, 2017
Our Design Team call is open worldwide
For questions not addressed here, email mhi@3Lcorp.com with the subject: Your Name – DT Call Question
About Us
3L Consumer Products A/S has more than 40 years of experience designing adhesive for the creative industry. In 2004 we launched the Scrapbook Adhesives by 3L® brand focusing on providing a full-line of rigorously tested and approved adhesives that are safe for all your crafts.
Join our email list for news, product information and giveaways!
Find us here, just click on the icons:
We look forward to meeting you!
Please share this post with your crafty friends!