Hi friends! Dana Tatar here today with another off-the-page project for my Guest Design term. The summer months covers patriotic holidays in the US such as Memorial Day, Flag Day and 4th of July. These occasions are often celebratory in nature, and I enjoy gathering with friends and family, decorating, sharing a meal, and all the entertainment that goes with it. I had a lot of fun adding stars and stripes to a hand grater to create a rustic décor piece that I will be able to display several times a year.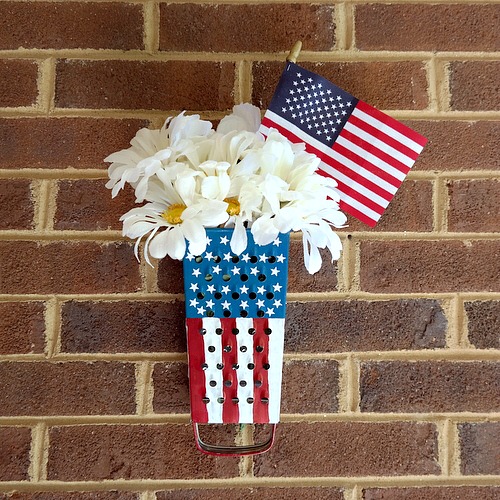 I used an ink formulated to color metal to apply red, white, and blue sections of color to a grater. (Any paint or ink that will adhere to metal will work great here!) Once the ink was dry, I applied adhesive star shapes (3D Foam Stars would work great!) to the blue portion of the grater. After the stars were in place, I sprinkled them with shimmery glitter.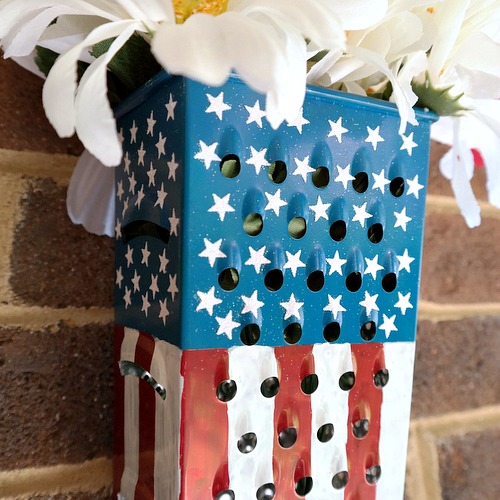 Next, I hung the grater and filled the inside with white fabric flowers and a flag. I applied Adhesive Lines to the flower stems and the flag pole to secure the embellishments to the sides of the grater.
For me, the American flag is a symbol of pride, but also serves as a great reminder to pause and give thanks to those who have made sacrifices to secure our freedoms. I want to give special thanks to my fellow military families and friends for their service.
Scrapbook Adhesives by 3L Supplies:
Adhesive Lines
3D Foam Stars
Other:
ColoriQue by Lisa Marie Jimenez (Pacific Ocean, Ruby Slipper, Snow Summit); Glitter (Clearsnap Sugar Shimmer Twinkle Dust); Fabric Flower Stems; American Flag